Seth Burgett, founder and chief executive officer of Gateway Bronco, has built his company to be one of the leading niche restomod specialists in the world. In fact, Gateway is so steeped in Bronco culture that it owns the very first Bronco prototype, which had once even belonged to the legendary Carroll Shelby. To say that Seth eats, sleeps, and breathes Broncos would be a vast understatement!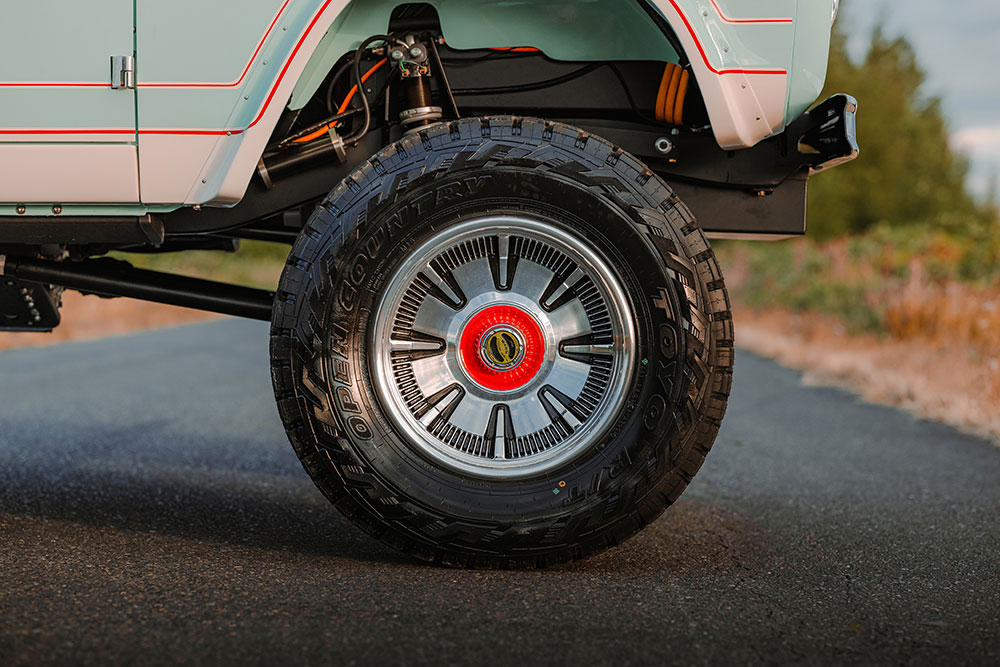 Gateway Bronco has built lots of beautiful Broncos over the years, each better than the one before. With each iteration, the company infused the latest technology to bring classic Broncos into the 21st century. So, it makes complete sense that the company would be involved in the next historic chapter of the Bronco—electric power! And, of course, since all of Gateway Bronco's builds as capable off road as well as on, this thing had to be able to traverse the toughest terrain while also making good time on the highway.
The battery package is a collection of NMC lithium-ion cells, placed both under the hood and in a compartment where the fuel tank would normally be located.


New Chassis and More
Dubbed the Luxe-GT Electric Bronco, this '72 was stripped of its original chassis and replaced with a fully linked Kincer chassis with proprietary touches like bespoke coilovers with adjustable active ride and custom 18-inch CNC'd billet wheels with Toyo A/T tires in front of Wilwood brakes. The small-but-tall SUV can not only clear most any obstacle, but its suspension quickly switches between off-road and street settings at the push of a button.
Motivation comes from a complete drivetrain package put together by Legacy EV. A liquid-cooled UQM Danfoss HD-220 motor putting out about 300 horsepower and 980 lb-ft of torque was adapted to the 5-speed transmission, and it maintains its 4WD capabilities while providing the smoothest power the Bronco has ever seen. UQM Motor Diagnostic software was used to seamlessly control power delivery through the signal processor controller.
The battery package is a collection of NMC lithium-ion cells, placed both under the hood and in a compartment where the fuel tank would normally be located. It puts out 300 amp-hours of juice and a range of about 300 miles. At 5,200 pounds, the Bronco can still hit 60 mph in less than 5 seconds!
Creature Comforts
As you'd expect from a Bronco that sports a $265,000-plus price tag, the Luxe-GT is stuffed with creature comforts such as cleverly disguised power windows (the "cranks" are actually switches), power electric steps, climate control, heated/cooled seats (wrapped in Porsche leather), houndstooth inserts, and a Kenwood-based Apple Carplay sound system with Focal speakers. A full array of EV-specific gauges from Dakota Digital provides all of the vital information at a glance.
The Bronco is finished in Seafoam Green with brilliant Ranger stripes to break things up just the right amount. LED lighting was installed inside and out for maximum visibility. As you can see from the flawless finish, the Gateway Bronco team was as serious about the outside of the truck as it was with its underpinnings!
To give you an idea of the caliber of this thing, it has not only been featured at SEMA, but it was also a welcomed guest at the Quail Gathering during Monterey Car Week in California last August. If you know you know, but the takeaway is that very few rides get that honor; it's reserved for the best and most exotic cars in the world.
We can't wait to see future EV builds from Gateway Bronco, and we're pretty sure you can't either!
Monterey Car Week
WHAT: The Quail, a Motorsports Gathering. See 11 major vehicle debuts and anniversary celebrations from eight different automotive manufacturers as part of its annual event. These displays will include debut entries from Lotus Cars, Bugatti, Aston Martin, Bentley Motors, Acura, Pagani Automobili, and Drako Motors along with anniversary celebrations for Singer Vehicle Design, Pagani Automobili, and Bentley Motors
WHEN: August 12-21; the Quail held on Friday, Aug. 19
WHERE: Monterey, California
SPECS
Owner: Gateway Bronco
Hamel, Illinois
1972 Luxe-GT Electric Ford Bronco
Motor / Drivetrain
Motor Swap Performed By Legacy EV
Motor Drive Unit(s):  Danfoss HD-220
Motor/transmission mounts: Legacy EV
Control Software: UQM Motor Diagnostic software
Batteries: NMC Lithium Ion
Chassis/Suspension
Custom Kincer chassis for Gateway Bronco
Custom adjustable active ride coilovers with Eibach springs
Wheels, Tires & Brakes
Custom 18-inch CNC one-piece billet wheels
33-inch Toyo Open Country  tires
Wilwood brakes front and rear
Kincer axles
Body/Paint
Painted Seafoam Green by Gateway Bronco
Ranger stripes
Custom barnwood bed floor
LED headlights and taillights
Interior
Work by Gateway Bronco
Seats upholstered with Porsche leather and houndstooth material
Dakota Digital gauges
Custom billet steering wheel
LegacyEV A/C System
Kenwood head unit and amplifiers
Focal speakers and subwoofer