When Rob Ward of Gilbert, Arizona, decided he needed a new toy, he decided to do something really different. Turning a classic heavy sled of American power and steel into a green, efficient, battery powered vehicle is just about as different as you can be! The choice for Rob was a 1966 Cadillac De Ville. This body of De Ville was built from 1965-1968, and most were featured with a 429 cubic inch, 7.0-liter V-8, weighing in at a stout 4,534 pounds. Crazy that back then, you got all that style, size, and power for around $5,500 fully loaded, right?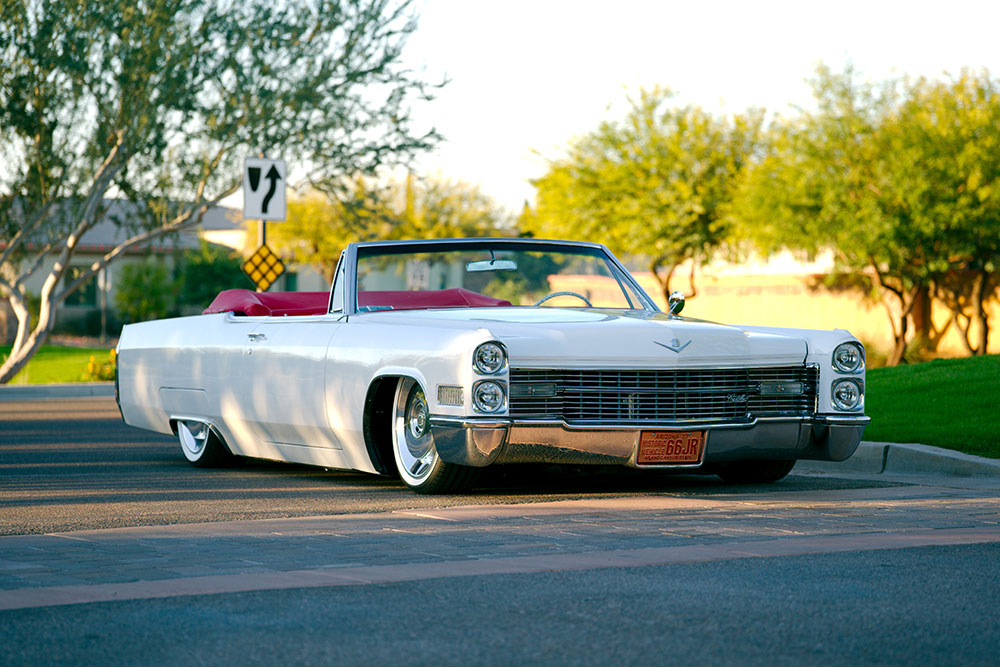 Well, as you can assume, that's a little bit less than Rob has invested into his redesigned Cadillac, affectionately dubbed "dEVille". Mr. Ward is the CEO and founder of a company named Legacy EV, and so he thought, why not practice what he preaches when it comes to the drivetrain? (While we have not actually confirmed this with him… surely there is a way he could write this off on his taxes as a business expense, right?? A promotional/display car for his company's products and services sounds logical to us. For your sake Rob, we hope you wrote this off on your taxes. Either way, we are very happy you built it.) In just an eight-month time span, Rob and his crew fulfilled his vision for the once gas guzzling Cadillac to now have an updated and fully battery powered drivetrain.
Old Meets New
As you can see, this modern twist on the Cadillac has not been completely forced into the future, which we love. Retaining almost all the era's original and correct looks from the interior of the car to the body, it is truly the best of both worlds, old and new. From the custom door panels with an updated stereo to the subtle LED headlights and taillights, the Legacy EV team played it pretty cool with any changes they made to the naked eye.
The all-red interior and matching convertible top ties perfectly into the custom-made engine cover, as well as also contrasting beautifully with the Bright White paint laid down by Burges Customs. One of the wild things people do not always remember with EV cars is the weight that comes along with their batteries and motors. Building the De Ville in this manner was probably the only way possible to make this car even heavier than it was originally built, but now it has no footprint verses the gas and oil consumption beast it was before the swap.
The Final Frontier
One of the biggest struggles in not only this EV build, but most EV builds, is space (and we are not talking about how to pull an Elon and launch your EV into outer space). We are talking space for batteries, space for the motor (or in this case three motors), and the logistics of fitting all of these things into spaces that were not originally built for them.
…all the weight and power needs to find a healthy balance to distribute it properly for the most efficient, and the most fun, you can have with your finished project.
Luckily, this is a Cadillac, so the engine bay, trunk, and car in general are built with an excess of extra room for the parts it was originally created with. Initially, Rob and his team were pretty concerned with these challenges. However, as things came together, the issues began to fade away and parts fell into place.
When asked what some of the biggest lessons Rob and his team learned during the Eville De Ville build were, this is what he said: "As a team we learned more about how to properly weight a vehicle during this build."
Which makes a lot of sense, because all the weight and power needs to find a healthy balance to distribute it properly for the most efficient, and the most fun, you can have with your finished project.
SPECS
Owner
Rob Ward
Location: Gilbert, Arizona
Year, Make, Model: 1966 Cadillac De Ville
Vehicle Name: dEVille
Overall Vehicle Weight: 5,800 pounds
Amount of Time to Build: Full restoration in eight months
Cost to Build: $220,000
Occupation: Founder/CEO of Legacy EV
Motor / Drivetrain
Motor Swap Performed By: Legacy EV
Motor Drive Unit Year, Make, Model: 3 inline Hyper9 Motors
Horsepower/Kilowatt: 394 hp (292.5 kW)
Torque/Newton Meters: 1000 lb-ft
Motor/Transmission mounts: Legacy EV
Control Software: SmartView Motor software
Batteries: NMC Lithium Ion
Number of amp-hours: 500 (55.5 kWh)
Chassis/Suspension
Installation Shop: Legacy EV
Chassis: Stock
Lift/Lowering Kit: Legacy EV
Control Arms: Stock
Spindles: Stock
Springs: Stock
Air Management System: Airlift
Shocks: Gas
Fuel tank: Battery Boxes!
Wheels, Tires & Brakes
Front Wheel Brand, Size, Width, Backspacing: 22in EVOD Wheels
Front Brakes: Stock
Rear Brakes: Stock
Gears/Ratio: Stock
Axles: Stock
Driveshaft: Shortened Two piece
Body/Paint
Paint Shop: Burges Customs
Color: Bright White
Headlights: LED
Taillights: LED
Rubber Moldings: Caddy Daddy
Interior
Gauges: Dakota Digital
Steering Wheel: PearlCraft
A/C System: Legacy EV A/C System