A Silent but Deadly Plymouth
EV conversions are, for some people, a hard pill to swallow. It's true! Dyed-in-the-wool ICE folks just can't imagine that anything that doesn't sound a can of dry beans tumbling down a set of stairs or make you want to pass out from an overdose of fumes could possibly have any soul. Hey, we get it—we all grew up with gasoline in our veins, and of course our ears perk up whenever that guy down the street starts up his uncorked Hemi on Sunday mornings. 
Good Ol' Boys
You could say that Kevin Erickson was a lot like that, as well. Having grown up around and being influenced by muscle cars of the '60s and '70s as a kid, Kevin remembers pulling on the family TV set's plastic, chrome plated knob in order to turn it on in time for CBS' greatest Friday evening show, "Dukes of Hazard!" And while the Dukes were technically the stars of the show, it was the cars that really made it worth watching.
Everyone's favorite, by far, was the Duke Boys' '69 Dodge Charger, and for good reason. Not only did it look the business, but it managed to outrun Roscoe P. Coltrane, Enos, and, on occasion, Cletus—usually by virtue of an impossible jump. And no matter how many times we saw the General Lee land and irreparably crunch its front end as it landed headfirst, our suspension of disbelief allowed us to move on to the next scene.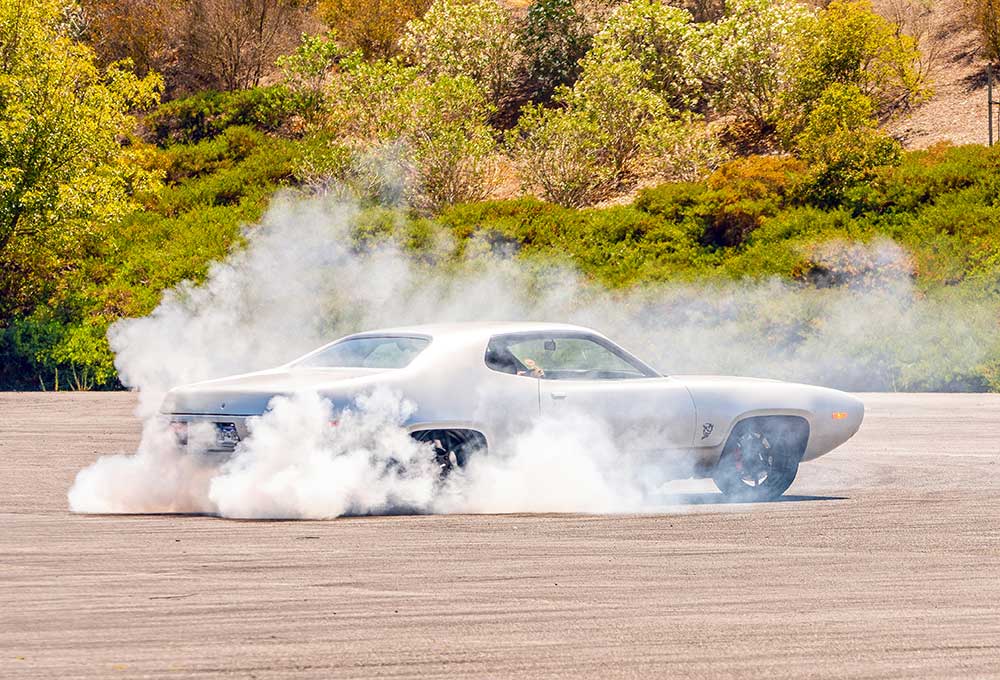 But, as iconic as the General Lee would become, a select few were instantly drawn to a bright yellow '74 Plymouth Road Runner, driven by none other than Daisy Duke. That car would eventually be replaced in later episodes with a '71 Plymouth Satellite painted to match the '74 (and later, unfortunately, killed off altogether in favor of Daisy's new Jeep CJ-7), but for Kevin Erickson of Commerce City, Colorado, those Chrysler B-bodies struck a chord no matter the year.
Daisy's EV Satellite
As a youngster, Kevin first built a '69 Dodge Dart (which he still has!) the old school way, learning the ins and outs as he went along. More recently, however, he came across a '72 Satellite (which, of course, is the same body style as Daisy's car!) and quickly made plans to turn it into a fire-breathing, gasoline-chugging beast. That is, until the idea of Tesla power took over and just wouldn't let go!
Without any prior experience with EV conversions, Kevin studied up before laying out a road map for the build, which would include a 2016 Model S drive unit putting out 636hp thanks to the 100kWh battery pack. That's enough to push the Satellite through the quarter-mile traps in 12.04 seconds at 109 mph! Kevin also got in touch with San Diego-based Stealth EV for tips and solutions that allowed him to retain the Plymouth rear-wheel-drive configuration and feel.
Plenty of supporting modifications were done to make sure that both the Satellite and Kevin would stay in one piece, such as 6-piston, 14-inch Wilwood brakes up front, and Tesla P100D Ludicrous Brembos at the rear that hide behind wide 19- and 20-inch American Racing AR924 wheels and sticky Firestone Firehawk Indy 500 tires. The suspension was dialed in with the help of a reinforced K-member, QA1 tubular control arms, and double-adjustable Viking coilovers, allowing Kevin to keep up with just about anything on the local twisties.
When all was said and done, the Satellite sat at 4,358-lbs, with a 45/55% front/rear weight bias. And while the car now weighs a bit more than the average stock Satellite, it more than makes up for it in every other facet.
Coming Up Next …
After learning so much about electric conversions during the build of his Satellite and helping out others with his knowledge, Kevin has started his own EV conversion shop by the name of EV Muscle Cars. Makes sense, since Kevin spent countless hours not only figuring out what to do, but what not to do, when building an electric vehicle.
SPECS
Kevin Erickson
Commerce City, CO
1972 Plymouth Satellite
Motor/Drivetrain
Motor Swap performed by Kevin Erickson at EV Muscle Cars
Motor: 2016 Tesla Model S Rear Drive Unit
Power: 475kW/636hp
Torque: 600 nm/442 lb-ft
Batteries: Tesla P100D 100kWh battery pack
Capacity: 274Ah
Motor mounts: Custom build mounts for Model S rear sub clip
Control Software: EV controls T2C
0 to 60:3.2s
60-ft time: 1.8s
¼ mile time: 12.04@109mph
Charging/Battery Management
Installation Shop: Kevin Erickson / EV Muscle Cars LLC
Charging Standards: J1772 level 1, level 2, CHAdeMO fast DC
Charging Speeds: Level 2 charging with onboard liquid cooled 6.6kW/15-19 amps. CHAdeMO fast DC charging: 50kw/125 Amps up to 80% state of charge. Can also be "Turbocharged" to 75kw/200 Amps below 68% SoC.
Battery Thermal Management System: Fully automatic liquid thermal management system using CAN bus temp sensors, race pack Smartwire PDU, Orion BMS, and custom programming.
Chassis/Suspension
Chassis: Plymouth B-Body with US Car Tool subframe connectors, Wilwood Drop Spindles, QA1 front control arms and Custom mounted Tesla Rear Subframe. custom mounted EPAS Performance quick ratio electric rack and pinion
Rear Suspension Setup: Custom built inboard cantilever/pushrod suspension with double Viking adjustable coilovers and all aluminum independent multi-link. Viking coil springs (400lb front, 450lb rear)
Battery pack: Custom built battery boxes
Wheels, Tires & Brakes
Front: 19×8.5'' American Racing AR924 rims with 6.72" backspacing wrapped in Firestone Firehawk Indy 500 in 275/35R19
Rear: 20×10'' American Racing AR924 rims with 8.45" backspacing, with 64.1 – 70.3 hub centric rings wrapped in Firestone Firehawk Indy 500 305/35R20
Front Brakes: Wilwood 6-piston 14" forged Superlite with drilled &slotted rotors
Rear Brakes: factory Tesla P100D Ludicrous Brembo 14.3" and electric parking brake calipers
Gears/Ratio: 9.73:1 Tesla gears with Quaife Limited slip differential
Body/Paint
Color: Chrysler Bright Silver Metallic
Wheel wells: Factory wide body
Bumpers: Painted body color
Headlights: Hi/Low LED White and Hi/Low LED Amber
Taillights: LED
Glass: Factory blue tinted glass
Interior
Seats: Corbeau heated leather sport
Gauges: Dual Samsung tablets with customizable data including: GPS speed, current draw, charging current (and regen), SoC, high and low battery temps, high and low cell voltages, total pack voltage, pack resistance, relay status (discharge enable, charge safety etc..), Error status. All 96 battery cells can be displayed on one page. Tablets are quick removable with wireless charging, Bluetooth interface to battery management, rear camera, audio, and Over the Air updates
Steering wheel: Momo Race on custom mounted Ididit tilt steering column
A/C System: Benling 27cc, 400-volt, variable speed compressor, Factory evaporator, aftermarket expansion valve, large aftermarket condenser, Vintage air dryer and trinary switch, programmable thermostat, PWM controller for variable speed operation. Automatic operation from thermostat, defrost, and battery chilling.
Heating system: Electric 400V heater core mounted in factory HVAC box, programmable thermostat, factory controls.
Custom painted dash: Custom recovered, stitched, dash pad
Radio head unit: SSV Bluetooth amplifier with Carling Rocker sized controller
Amplifiers: SSV
Speakers: Pioneer and Wetsounds
Special Thanks:
Matt Hauber at Stealth EV