What if we said someone is swapping out the combustion engine in an old classic farm truck for a new fully electric Tesla Model S motor. Pretty cool, but you've heard that one before, right?
That's what Mikey Rolleri and the crew at Savage to Salvage in Boca Raton, Florida, thought when they were planning their next big build. So, when someone mentioned adding a second Tesla Maodel S motor in the front, brainpower overtook horsepower and the excitement built up faster than the price tag, which is a factor to consider when taking on a project like this.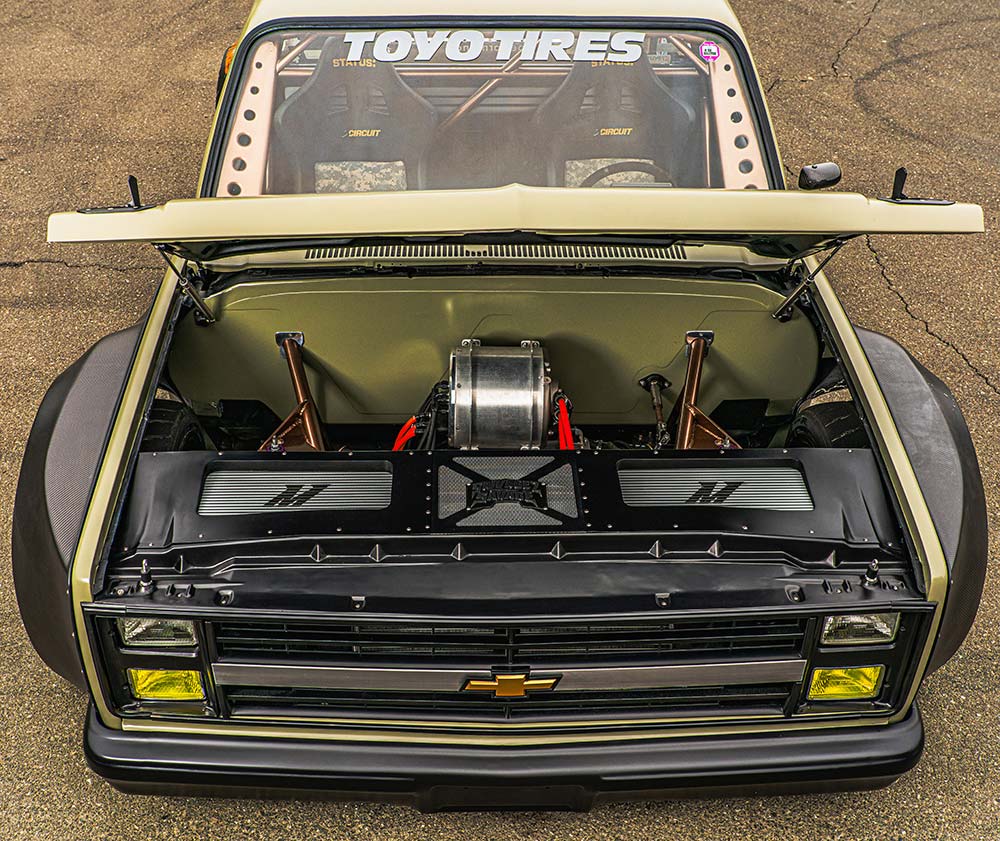 With this particular classic Chevy truck, money doesn't exist. Only the absolute best will be considered, and Mikey better be able to do epic burnouts when it's complete. On top of all that, the team decided it would be a good idea to film it all and share the progress a few times per week on their quickly growing YouTube channel. Based on the soaring numbers their videos get, we would say this was possibly their best decision to date, other than stuffing two motors in one squarebody, of course.
Dual Tesla motors from 2017 Model 3 vehicles were plucked and shipped to the bay at S2S. These were the long-range units with original specs of 220 miles of range, a 0-60 time of 5.6 aseconds, and a top speed of 130 mph.
Misfit Crew
This single-location speed shop that employs less than five fabricators at any given time is always looking to push the boundaries. Their motto: "We are misfits, proud to stand out from the crowd on a daily basis. We are fast flyers, ass kickers, name-takers, and heartbreakers."
With a tag like that, their work has to be good, am I right? The completion goal for this build was SEMA 2021 and they actually made it to the Toyo Tires booth with time to spare. But enough about the concept, let's talk about the combination.
Custom Chassis
Starting off with a clapped out 1985 Chevy C10 truck that was sitting in the back lot of S2S, the complete crew cleared their schedules, workbenches, and minds to tackle the teardown. All the new technology Mickey is hoping to shove in the Square definitely cannot get bolted onto that old Chevy framerail, so the Salvage to Savage crew built an all-new chassis with a 117-inch wheelbase designed to sit low and hold the Tesla Model 3 battery pack centered in the frame.
The suspension components that were attached to the frame are comprised of Front Corvette C5 spindle, Tesla Model S rear spindle, Tesla Model S rear control arms, Part Shop Max front control arms, a rear Pushrod Suspension, and Viking Performance springs.
New body panels from Auto Metal Direct were added to the new chassis, but even some of those parts would get the custom treatment as well. The front and rear fenders were cut and an all new carbon fiber wide body was built and installed in house. Door handles from a Nissan GTR are a trick addition and a big window kit adds a cool custom detail not many will notice. Finally, to top off all the madness, the truck was combined from front to back to make one large unibody. Did you notice?
Tesla Power
Now let's get to the good stuff, and I mean power! Dual Tesla motors from 2017 Model 3 vehicles were plucked and shipped to the bay at S2S. These were the long-range units with original specs of 220 miles of range, a 0-60 time of 5.6 seconds, and a top speed of 130 mph. A Tesla gear reduction and custom built 1,500-hp half-shafts from the Driveshaft Shop transfer the power to the wheels, while Wilwood front brakes and Tesla rear brakes bring the truck to a stop with the help of an original Tesla master cylinder.
The truck needed multiple coolant radiators and fans from Mishimoto to keep temperatures in check, while all the fittings and hoses came from Earls and Holley Performance. Controlling the batteries and motors turned out to be one of the trickiest parts of this project. Luckily Mikey has a large network of supporters that can get him out of any sticky situation. The final fix was to include a ZeroEV Battery Control Unit by GenX.
Upgrades and Graphics
Rounding off the list of major mods were the interior upgrades and exterior graphics. To protect that insane person driving this rocket ship is a 1 5/8-inch chromoly roll cage was built to perfection and a set of Status Carbon Fiber racing seats were bolted up. A custom Carbon Fiber dash and door panel combo was formed in house before adding the Haltech digital gauges and IC7 gauge panel. A few last touched include a Status steering wheel and Billet Restomod A/C vents and controls which look amazing.
The final piece of the S2SLA puzzle was an exterior design that would impress the best. After adding new Auto Metal Direct bumpers and grille, the complete body and S2S Carbon fiber wide body kit were wrapped in this killer design thanks to the team at Mimessi Auto Design. Holley Classic Truck headlights and some trim pieces were last on the list before the first test fire.
"Nothing is impossible" says Mike, and after this ambitious undertaking, it's clear that there is a new talent in town. This truck has already made a presence at The SEMA show in 2021 as well as the first ever Holley High-Voltage EV fest. The project has had a few unexpected issues when it came to understanding how to operate an all-wheel drive powered truck, but after making some very valuable relationships in the EV world, Mike's team cleared the problem path and are now on their way to victory.
SPECS
owner
Michael Rolleri
Truck
1985 Chevy C10 Squarebody
Shop: Salvage to Savage
Overall Weight: 4700lbs
Cost to build: $200,000
Engine
Twin 2015 Model S long range units
ZeroEV Battery Control Unit by GenX
Batteries: Full long range Tesla pack
Coolant radiators and fans from Mishimoto
Fitting and hoses Earls and Holley Performance
Chassis harness from Street Smartwire Power Control
Tesla gear reduction
Custom built 1500-hp half-shafts from the Driveshaft Shop
Wilwood front brakes with Tesla rear brakes
Tesla master cylinder
Chassis/Suspension
Salvage to Savage built chassis with an 117-inch wheelbase
Rear Pushrod Suspension
Part Shop Max front control arms
Tesla Model S rear control arms
Front Corvetter C5 spindle
Tesla Model S rear spindle
Viking Performance springs
Wheels/Tires
Front and rear 20×14 Finspeed Wheels
Toyo R888 tires
Front Brakes: Wilwood disc Brakes
Rear Brakes: Tesla rear brakes
Front Axle: Custom built by Driveshaft Shop
Rear Axle: Tesla Model 3
Exterior
Custom Unibody Exterior built by S2S
Vehicle wrap by Mimessi Auto Design
Auto Metal Direct Bumpers
Auto Metal Direct Grille
S2S Carbon fiber wide body kit
Nissan GTR door handles
Big rear window conversion
Holley Classic Truck headlights
Interior
Status Carbon Fiber racing seats
1 ⅝-inch chromoly roll cage
Carbon Fiber dash
Carbon Fiber door panels
Billet Restomod A/C system, vents and controls
Haltech Guages and IC7 gauge panel
Status steering wheel
Rockford Fosgate stereo equipment