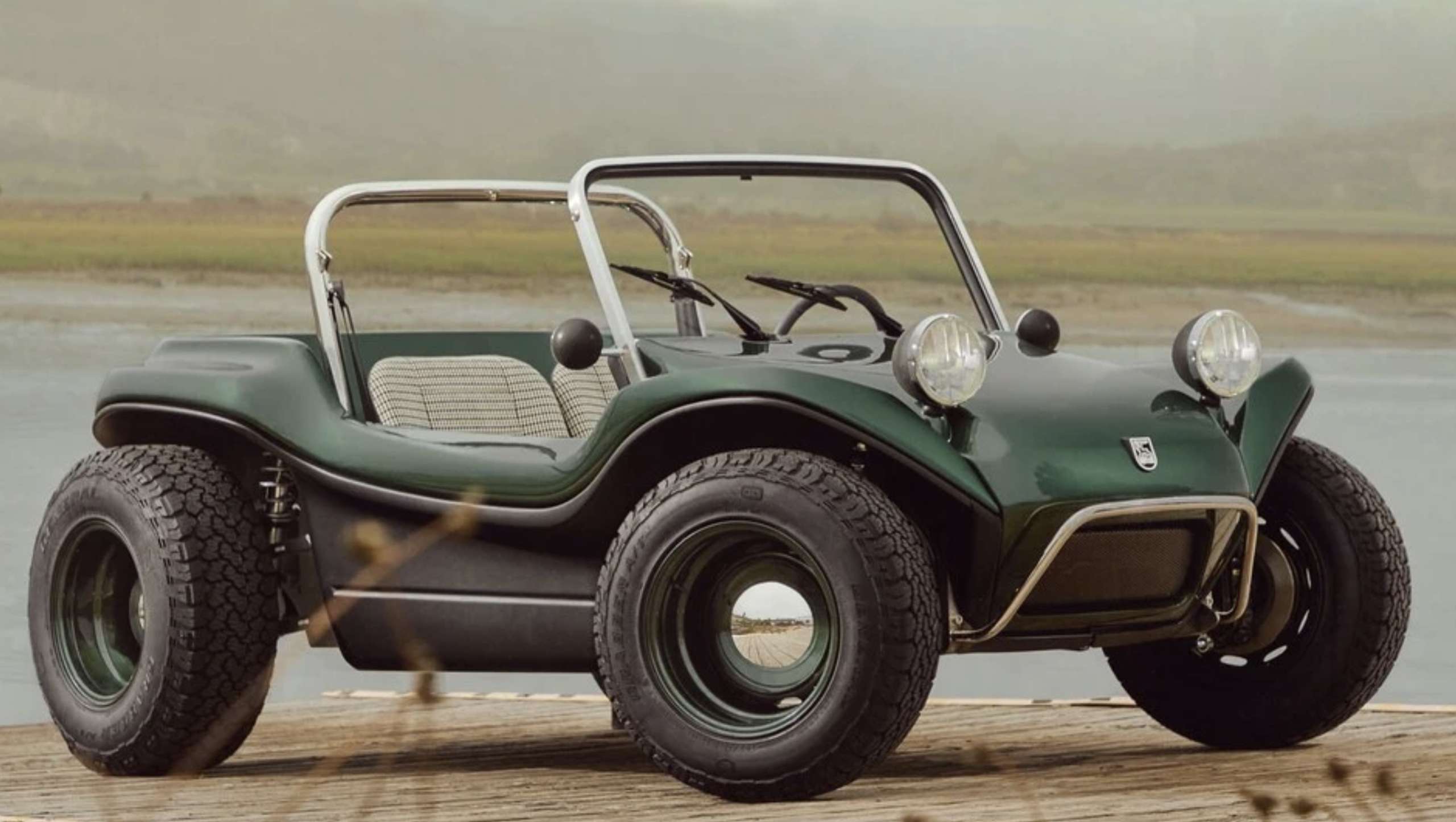 Our friends at electrek have just posted some fantastic news: The Meyers Manx is coming back in 2024 as a hot electric dune buggy!
The original Manx, the first "dune buggy," was a kit car, built on a modified VW Beetle chassis with a fiberglass body kit. It was popular in desert racing in the 60s, though the company folded in 1971. Bruce Meyers, the founder, brought the company back in 1999 and showed off an electric prototype in 2014. The company was sold to venture capital firm Trousdale in 2020.
The new company, Meyers Manx, LLC, has now introduced an updated and fully electric version of the buggy, which was unveiled this weekend in Malibu. And unlike VW's ID. BUGGY concept, which was based on the original Manx, Meyers is planning to bring the new electric Manx 2.0 into production.
The new vehicle isn't a kit car anymore. Instead, it will come fully assembled from the manufacturer with a design aesthetic similar to the original Meyers Manx but modernized (and with a very cool retro dash). The car was designed by Freeman Thomas, who designed the Audi TT and the modern VW New Beetle.
As for specs, like most early looks at electric cars, they may well change before the car comes out. Currently the company is planning two different battery options, 20kWh and 40kWh, which it says will be capable of 150 and 300 miles of range. The car can be charged at 6kW on AC power or 60kW at a DC fast charger (as an option) – low compared to modern EVs, but with a smaller battery, it should still charge plenty quickly.
These range numbers seem high given that the 40kWh Leaf gets 150 miles of range, but since the Meyers Manx 2.0 is much smaller than a normal electric car, it should be more efficient.
The Manx will only weigh around 1,500lbs, or 1,650lbs for the larger battery. That's about a third of the weight of a normal full-size vehicle and a full ton lighter than the 40kWh Leaf. Though, the vehicle is less aerodynamic and has less-efficient knobby off-road tires.
The Manx will be driven by two rear motors, and the company says the 40kWh version can do 0–60 in 4.5 seconds with 202hp and 240 lb-ft of torque.
As a low-volume manufacturer, the car should still be street legal under US regulations.  The official public debut of the car comes on August 19, and reservations will open on the company's website after that debut
Source: electrek