Iconic Design Meets Out-of-This-World Performance
For the last five years, Fellten, one of the key global players in the retrofit industry, has been expanding exponentially following the explosion of the retrofit culture and industry. The Bristol, UK-based company has been developing, manufacturing, and distributing top-notch retrofit components. The specialist also made a name for itself in the trade for its OEM-level production and supply chain support, EV systems engineering, along with unprecedented after-sales support and training. 
More recently, it has introduced complete bolt-in conversion packages to the market for a growing selection of classic vehicles. In parallel, it has just announced its partnership with Recharged Heritage and BMW/MINI. Together, they offer showroom-fresh electric classic Minis through Mini Recharged, using Fellten's technology.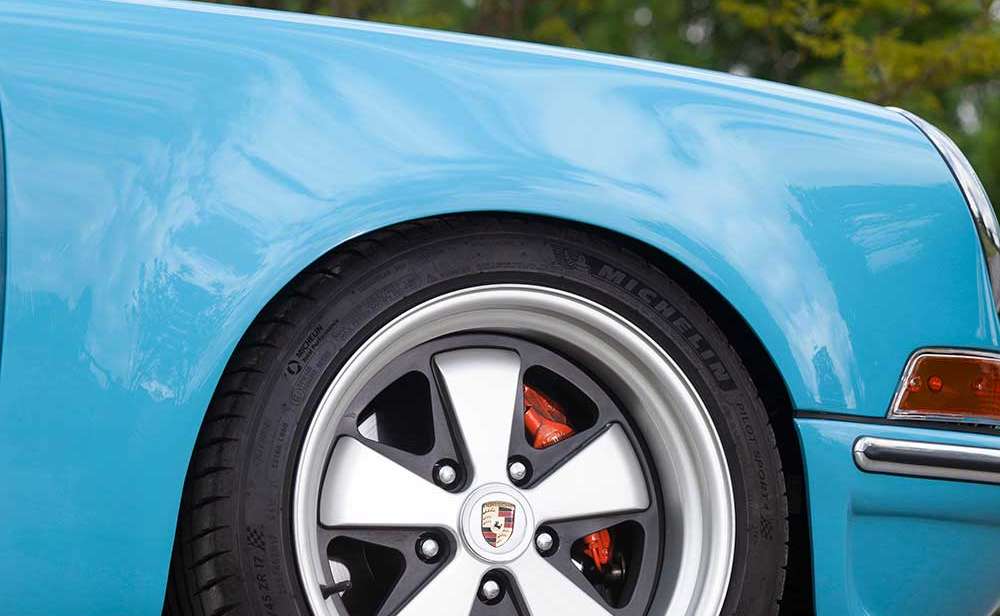 Zero to Fellten
Now expanding globally, the company has fused with praised Australian EV conversion specialist Jaunt Motors. The Aussie specialist has a history of developing stylish off-road electric vehicles and is Australia's largest EV retrofit plant. This union will allow them to expand to a larger scale and gain commercial-grade production capacity.
The British twisty backroads at the wheel of an EV Porsche are what dreams are made of.
Together, they became Fellten—meaning lightning in Welsh. In both locations, the company manufactures complete bolt-in solutions for specialists, significantly reducing conversion times. While Fellten does not convert vehicles itself, it produces systems in the hundreds for its approved conversion specialist international network. In addition, it supplies retrofitters with solutions for business fleets, from Land Rovers in Africa and the Emirates to Land Cruisers in Australia and potentially in the USA through key partners such as Legacy EV in Arizona.
To tell us more about this impressive journey, we met with Chief Executive Officer Chris Hazell and co-founder Alex Dawood), as they prepare to celebrate Fellten's 5th anniversary. And to show us the company's Porsche complete systems offering, Chris has brought a superb Miami Blue 911—with superpowers!
Despite the look, this is not a G-Model, but a superbly converted 964—more on that later. First, let's see what this 911 kit is all about. Fellten set upon itself to deliver a "proper" complete kit … meaning absolutely everything is included to convert a 964 or G-body Classic 911. More importantly, it has been developed to allow full reversibility should anyone want to refit the original flat-six. No cutting or welding is required, keeping the British Driver and vehicle licensing agency happy and, simply because, on vehicles like this, this is the right thing to do.
Bolt-in Kit
Right out of the box, the kit seemingly only uses a handful of components, with two boxes, brackets, and wiring. However, it hides hundreds of elements built upon thousands of hours of research and development. The company's hardware development follows modern engineering practices starting with 3D scanning of the vehicles and CAD design. This allows simulations of yield stress, deflection, and fatigue to meet global safety and reliability standards—an impressive step up in the retrofitting game.
With CCS Fast Charging, drive your retrofitted classic car anywhere a new EV would take you.
The main parts are the battery boxes, onboard charger, and the electric motor. The latter comes in the form of an upgraded and fully serviced Tesla large-drive unit. Borrowed from a Model S, it received a Quaife ATB limited-slip differential. Furthermore, it has been enhanced with a modified control board unlocking the unit's full potential with 328kW/440hp and 460Nm/339lb-ft. That is what gives our 911 its tire-slaying superpower!
To feed the beast, two battery packs are spread across the 911, totaling a 62kWh capacity. Controlled and monitored by a Fellten system and Orion battery management, they run at 350-Volt and peak at 1,200 Amps. Thanks to proprietary liquid cooling plates, they can handle the requirement of the Tesla drive unit without breaking a sweat. The system also incorporates two cooling systems. One serves the battery pack, the second the drive unit. These use off-the-shelf components for easy servicing and, here again, come with pre-made piping and wiring.
Fast Charging
With a 200-mile range, there is no risk of suffering from range anxiety, even if you thrash the 911 to check its claimed 4.1 seconds zero to 60 time, as we have been. But the CCS Type 1 or Type 2 fast charging ability is a game changer. You can genuinely drive your retrofitted classic car anywhere a brand new EV would take you—fast charging allows 0 to 80% in 60 minutes!
Completing the kit is a dedicated 12-volt loom feeding the whole car and plugging directly into the original Porsche connectors—this significantly decreases install time. For a first conversion, Chris estimates it can be performed within 100 hours – bar any restoration jobs on the car. A Type 2 socket sits under the original gas filler flap to juice it all up.
Hands-On
Despite its superb classic pre-1973 look, this wide-body 911 is not a G-model but a more modern 964. It results from a thorough conversion from 911 Retro Work, also based in the UK. Since 2008, they have transformed 911 and 964 into their ancestors' sportier variants—or invented unique configurations, such as a wide-body Targa 911. They call this version the Retro Works GTR Targa and comprise a total bodywork conversion and interior transformation.
Sat in the fantastic leather-covered Cobra Milano Sports seat, behind the Momo Prototypo steering wheel I discover a set of superb dials. All gauges have been replaced yet offer a pleasing period-correct look. They monitor the battery packs' voltage and the 12V battery system, state of charge, speed (in mph or kph), charging indicator, and motor and battery temperatures. Last, in the center, we have the kilowatts used or production upon regen. It also features a discreet LCD screen displaying an estimated range—a novelty in the retrofit world.
The interior is covered in caramel leather, down to the kick panels. Even the dash receives the lovely woven leatherwork. My favorite bit might be the billet gearstick knob. Of course, there's no gearbox here, but this F/N/R billet aluminum selector does look the business, and still offers that analog feel when you put it in Drive. Porsche 964s are renowned for their troublesome heating system. So Fellten and Classic Retrofit have partnered to bring an upgraded system that replaces the original HVAC entirely and offers better heating and an efficient AC, thanks to ceramic heaters and new fans.
The Drive
The British twisty backroads at the wheel of an EV Porsche are what dreams are made of. As much as the electric powertrain revolutionizes the Porsche, the finely tuned power delivery and ideal weight distribution succeed in maintaining the legendary laser-sharp cornering and handling of the 911. You can definitely feel the mass of the battery and motors sitting loooow-down, gluing the car to the road heavenly. You can push the Porsche to its limits, but this brings you close to the beefy Michelin Pilot Sport's own limits—which tells you how well the 964 grips. Out of corners, you feel just serene crushing the right pedal, the Porsche just soldiers-on without any tail whip—it is on rails.
The Fellten team brought a superb solution for classic 911 enthusiasts. Inevitably, purists will pull their hair out, but the performance of the converted 964 far exceeds anything the best German tuners could even dream of delivering with a flat-six. This solution brings significant benefits on top of being straightforward to install: an all-in-one package, impressive performance, and fast charging! All this, beautifully slid under the 911 Retro Works bodywork, makes this 964 a beauty to long for. The good news is this kit is already on the shelves, with the similar one for G-body 911s shipping next spring. With this technology and its iconic looks, the two British firms really have backdated this Porsche to the Future.
SPECS
Car: Porsche 911 (964)
Time to convert: 100 hours
Cost: $78,000 Fellten system only
Motor Swap: Fellten
Motor: Tesla Model S with Fellten controller
Power: 328kW/440hp
Torque: 460Nm/339lb-ft
Control Software: Fellten on Orion BMS
Battery pack(s): 62kWh
Amp-hours: 155Ah
Volts: 350 nominal
Chassis/Suspension
H&R adjustable coilover suspension
Upgraded anti-roll bars
Wheels/Brakes
Front wheels: Two-tone 17-inch Fuchs
Front tires: 255/45R17 Michelin Pilot Sport
Rear wheels: Two-tone 17-inch Fuchs
Rear tires: 275/40R17 Michelin Pilot Sport
Gears/Ratio: 9.73:1
Axles: Tesla Model S Large Drive Unit
Body/Paint
Paint Shop: 911 Retro Works
Color: Miami Blue
Interior
Install Shop: 911 Retro Works
Seats: Cobra Misano Sports with custom woven leatherwork by 911 Retro Works
Gauges: Fellten
Steering wheel: Momo Prototypo
Head unit: Alpine floating 9-inch screen with Navigation, Apple CarPlay, and rearview camera
Contact
Fellten
Fellten.com
911 Retro Works
911-retro-works.co.uk