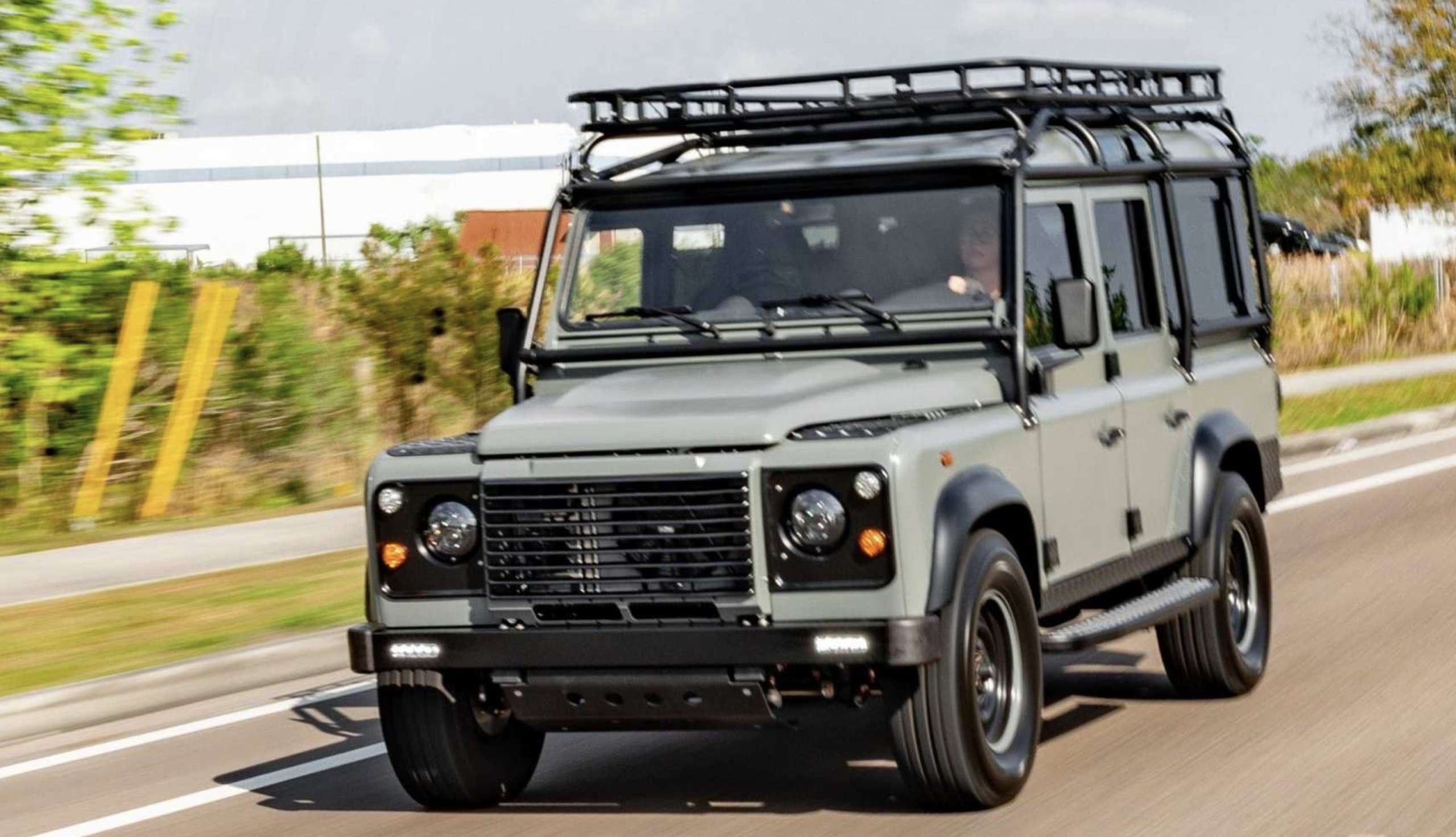 Rumor has it that an all-electric Land Rover Defender will be available in 2025, but if you're not willing to wait that long and prefer the classic model, you might be interested in this Defender 110. It has been converted to an EV by ECD Automotive Design, a renowned Land Rover restoration specialist. The 110 now boasts a Tesla Model S 450-horsepower motor and a 100-kilowatt-hour battery pack. It can go from 0 to 60 miles per hour in about 4 seconds and travel up to 200 miles on a full charge.
This custom build, called Project Ghost features ECD Air Ride suspension, high-performance Alcon brakes, and bulletproof axles. The exterior is painted in matte Quantum Gray with black accents, including the roll cage, steering guard, and vents. The vehicle sits on 16-inch Land Rover military specs 'Wolf' steel rims in matte black fitted with BF Goodrich All Terrain tires.
ECD customized Project Ghost based on the client's height, resulting in a smaller and lowered seat box to accommodate a taller driver than original Defenders typically would.
The restored and electrified Defender has been given modern black leather Corbeau Trailcat reclining seats with a scarlet red vertical diamond single stitch on the seat backs, while the dashboard has also been wrapped in black leather. For driver convenience, ECD Automotive Design switched the traditional panel and center console positions and finished it off with ECD electric gauges. Other custom features include a black Momo Prototipo steering wheel and metal billet buttons on the center console.
The infotainment system of this Land Rover Defender 110 is an Alpine Halo touchscreen that offers Bluetooth connectivity, CarPlay, Sirius XM and traditional radio stations, all of which can be played through the JL Audio speakers and JBL Active subwoofer. There are also three USB ports, WiFi and a backup camera.
The Defender EV has a seating capacity of seven people: two in the front, three in the middle, and two forward-facing jump seats in the back. While the owner intends to use it mainly for city cruising, it is also hoped that the Defender will see some off-road use.
Info: https://ecdautodesign.com/