What if we said someone is swapping out the combustion engine in an old classic farm truck for a new fully electric Tesla motor. Pretty cool, but you've heard that one before, right? That's what Mike Rolleri and the crew at Salvage to Savage thought when they were planning their next big build. So, when someone mentioned adding a second Tesla motor in the front, brainpower overtook horsepower and the excitement built up faster than the price tag, which is going to be massive at this end of this build. Do you think that factor even once left a doubt in Mike's mind? With this one, money doesn't exist, and only the absolute best will be considered. On top of all that, Mike decided it would be a good idea to film it all and share the progress a few times per week on their quickly growing YouTube channel. Based on the soaring numbers their videos get, we would say it was possibly his best decision to date, but we are media makers also, so we can relate!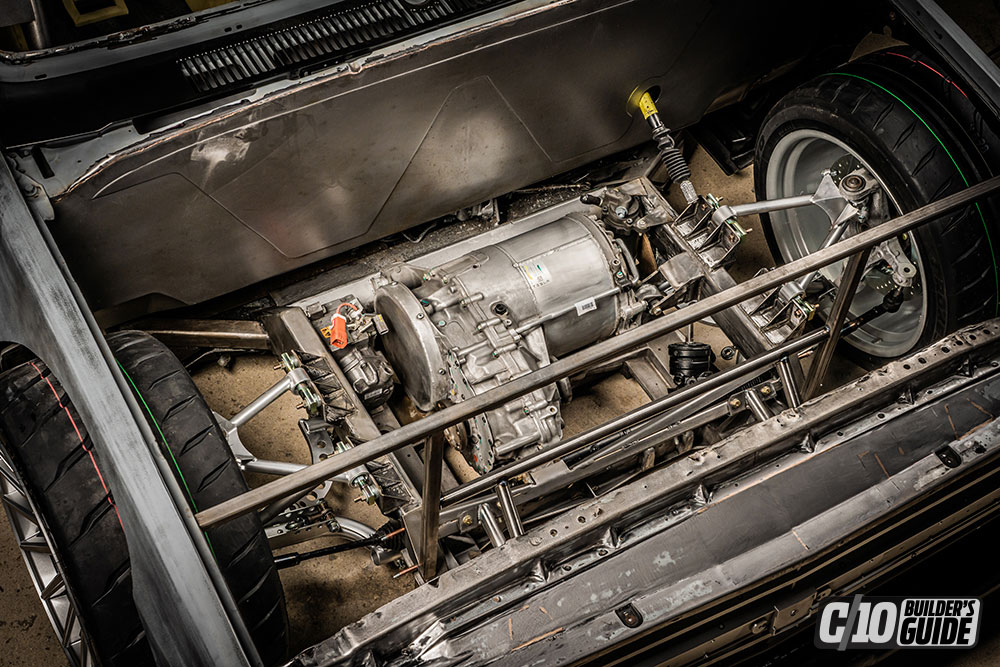 This single location speed shop is based in Boca Raton, Florida, and they are always looking to push the boundaries. Here's their motto: "We are misfits, proud to stand out from the crowd on a daily basis. We are fast flyers, ass kickers, name-takers, and heartbreakers." With a tagline like that, their work must be good. The completion goal for this build is SEMA 2021 and, based on their current progress, it looks like they will make it with time to spare. The project has had a few unexpected issues when it came to understanding how to operate an all-wheel drive powered truck, but after making some very valuable relationships in the EV world, Mike's team cleared the problem path and are now on their way to victory.
 …after making some very valuable relationships in the EV world,  Mike's  team cleared the problem path  and are now on their way to victory.
The
Tesla
motors are from
2017 Model3
vehicles and are the large range units. The original specs for this motor were 220 miles of range, a 0-60 time of 5.6 seconds and a top speed of 130 mph. Now imagine two of those powering an Army Green
1985 Chevy C10 truck
. It's going to be wild! The truck will need multiple coolant radiators and fans from
Mishimoto
to keep temperatures in check, and all the fitting and hoses came from Earls and
Holley
Performance. The chassis wiring harness is from Street Smartwire Power Control. A Tesla gear reduction and custom built 1500-hp half-shafts from the Driveshaft Shop transfers the power to the wheels. Wilwood front brakes and Tesla rear brakes bring the truck to a stop along with a Tesla master cylinder. All this technology and engineering can't go onto that old Chevy frame, so the Salvage to Savage crew built an all-new chassis with a 117-inch wheelbase. The suspension components are comprised of parts from a C6 Corvette, Tesla Model3 along with springs from
Belltech
Suspension.
Toyo
R888 tires reside at all four corners and protect those amazing 20×12 Finspeed wheels from touching the ground. New body panels from
Auto Metal Direct
were a no-brainer, but even some of those parts would get the custom treatment as well. The fenders were cut, and an all-carbon fiber wide body is going to be installed. Door handles from a Nissan GTR will be a trick addition, and a big window kit will give it a cool custom detail not many will notice. Finally, to top off all the madness, the truck body will be will be combined from front to back to create one long unibody. We can't wait to see it!
Rounding off the list of major mods are the interior upgrades. A 1
5
/
8
-inch chromoly roll cage was built to perfection and a custom carbon fiber dash and door panel combo was formed in house. Billet Restomod A/C vents and controls along with a Haltech IC7 gauge panel and a Status steering wheel is all that they need to cruise. "Nothing is impossible," says Mike, and after this ambitious undertaking, it's clear that there is a new talent in town. And just like MMA fighter Conor McGregor once said, "They're not here to take part, they're here to take over!"
BUILD SPECS
OWNER
Michael Rolleri
Boca Raton, FL
1985 Chevy C10 Squarebody
Shop: Salvage to Savage
Engine
Twin 2017 Model3 large range units
Coolant radiators and fans from Mishimoto
Fitting and hoses Earls and Holley Performance
Chassis harness from Street Smartwire Power Control
Tesla gear reduction
Custom built 1500-hp half-shafts from the Driveshaft Shop
Wilwood front brakes with Tesla rear brakes
Tesla master cylinder
Salvage to Savage
chassis with an 117-inch wheelbase
Suspension
C6 Corvette front
Tesla Model3 rear
Belltech springs
Toyo R888 tires
20×12 Finspeed
Exterior
Custom Unibody Exterior
Auto Metal Direct Bumpers
Auto Metal Direct Grille
S2S Carbon fiber wide body kit
Nissan GTR door handles
Big rear window conversion
 Interior
1 5/8 -inch chromoly roll cage
Carbon Fiber dash
Carbon Fiber door panels
Billet Restomod A/C vents and controls
Haltech IC7 gauge panel
Status steering wheel
Rockford Fosgate stereo equipment