Conductive Classics' Full Electric 1964 Ford Galaxie Conversion
 Conductive Classics out of Boise, Idaho, first took the plunge into the EV world with its last build: a 1958 Chevy Apache that the company cleverly dubbed the E-Pache. That truck had a very straightforward concept, as its patina-clad exterior was left in place to highlight that a "barn find"-style truck could be completely transformed into an electric vehicle with the right orchestration of parts and design. 
To keep things classic, the original blue paint code for 1964 was used…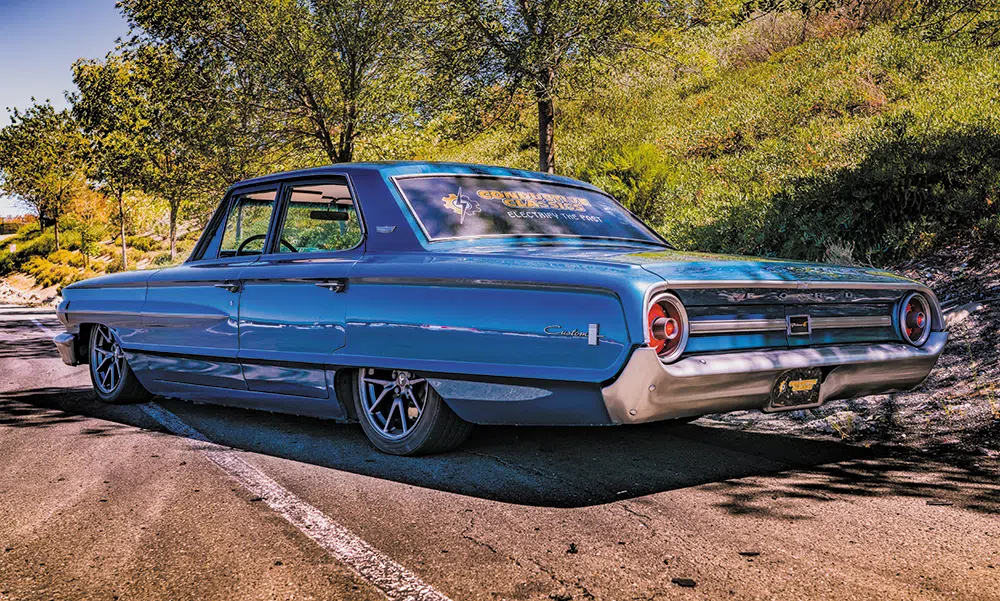 Well, the E-Pache was well received to say the least. The marriage of a classic vehicle with modern, high-voltage power has proven to spark a new revolution since the release of its first electric build, and Shane Rolph and Mike Sallee of Conductive Classics were just itching to begin work on their follow up EV-conversion vehicle.
BLASTING OFF
The guys didn't choose another pickup truck to electrify, but they did choose an equally awesome car—a 1964 Ford Galaxie that is now better known as the Galax-E. (The names the guys at Conductive give their EV vehicles are arguably just as cool as the vehicles themselves.) For this build, Shane and Mike were looking to pick up right where they left off with the E-Pache. More power and better range were two of the foremost characteristics they were looking to add to the Galax-E. The entire car was set to receive a much more complex design that would further push the car past what they accomplished with the Apache.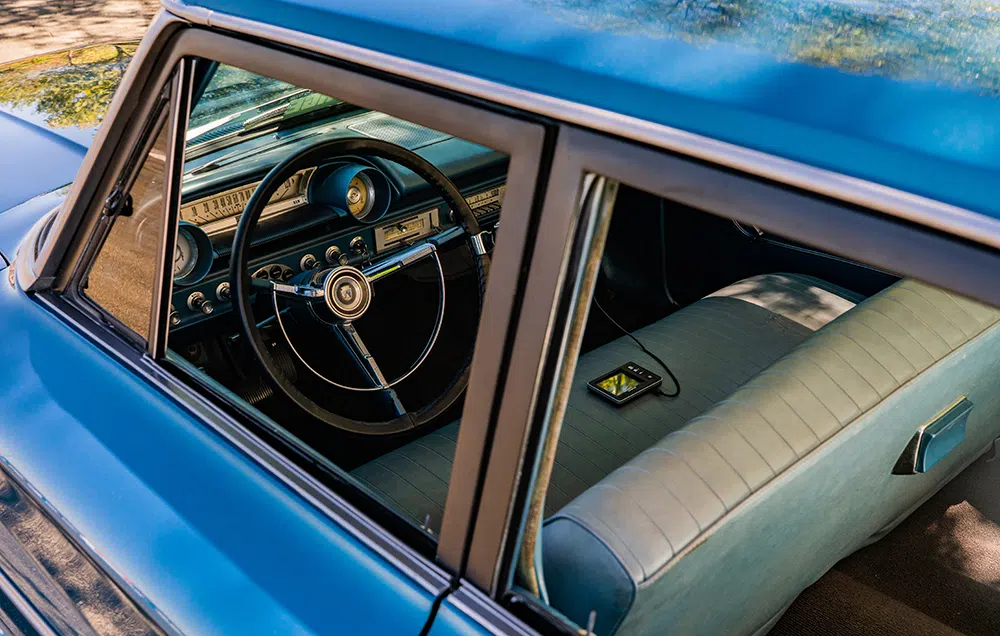 While a great deal of EV conversions out there incorporate Tesla motors to power the vehicle, Conductive planned to string many more Tesla components cohesively this time around. Along with the powerful Model 3 rear motor, Shane and Mike also utilized a full 2018 Tesla Model 3 subframe as well as the full battery pack and braking components. Right off the bat, this was a big improvement from what the guys used on the Apache, and they instantly gained the power and longer range they were looking for.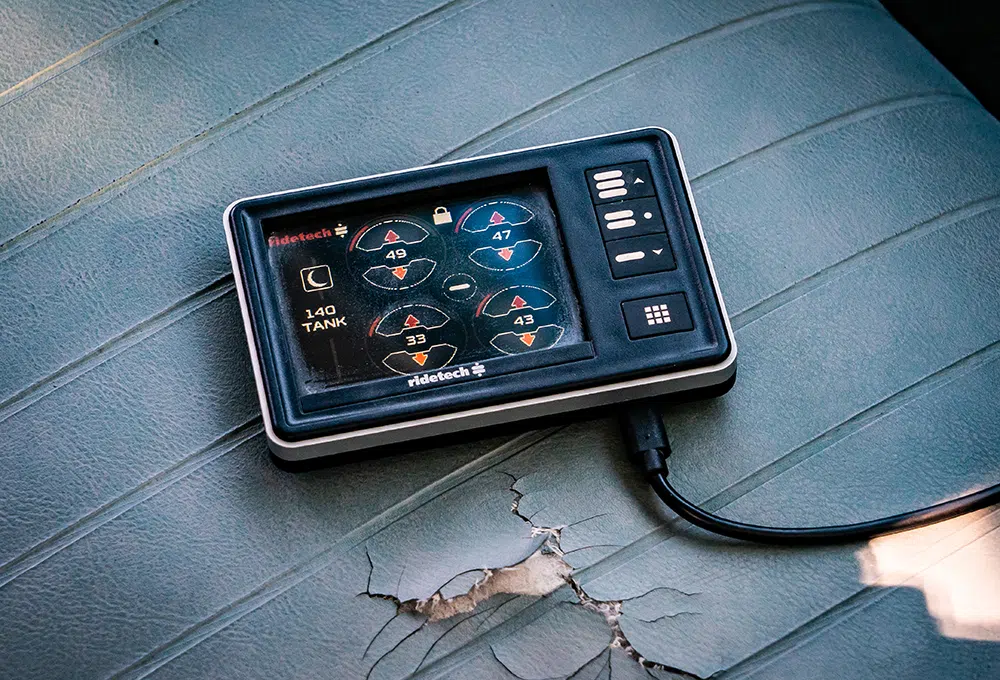 As far as the car's control software, Ingenext was selected as Shane, along with lots of other EV builders out there, are having a hard time tracking down motor control systems for the Model 3.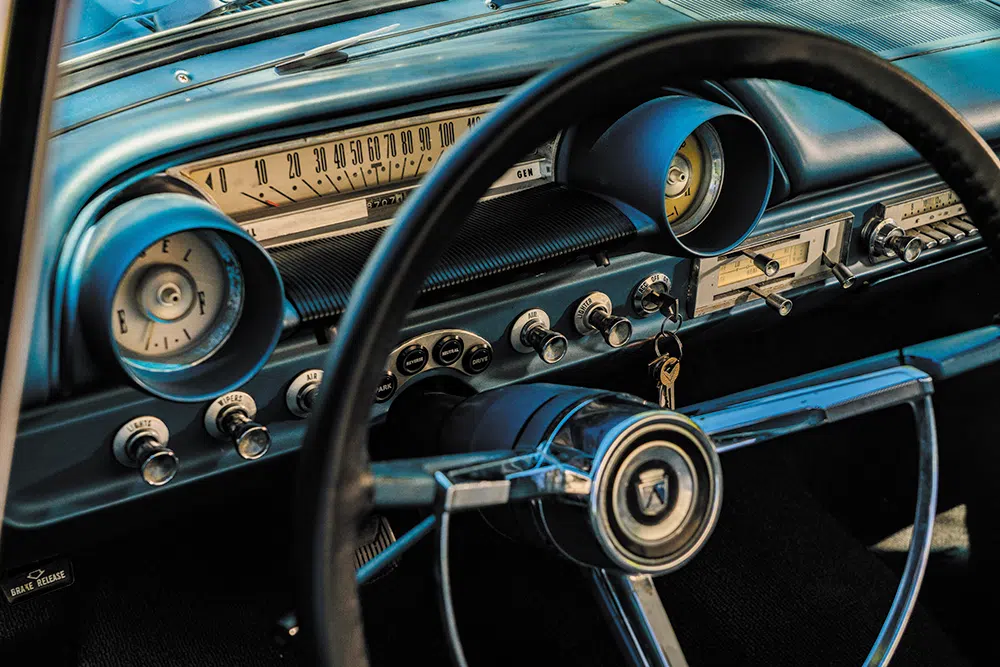 "We struggled a bit but got things working," Shane says. "We've been able to work out most of the bugs and are still working on getting rid of a few more, but it'll all turn out well in the end."
BACK TO EARTH
To get the Galax-E to sit at a much more aggressive stance, air-ride components from RideTech were installed onto the modified chassis. The Shockwave units at each corner and RideTech's own air management system help keep the car sitting right with both style and comfort in mind. Surprisingly, the factory Tesla Model 3 wheels and tires even look right at home on the 59-year-old Ford.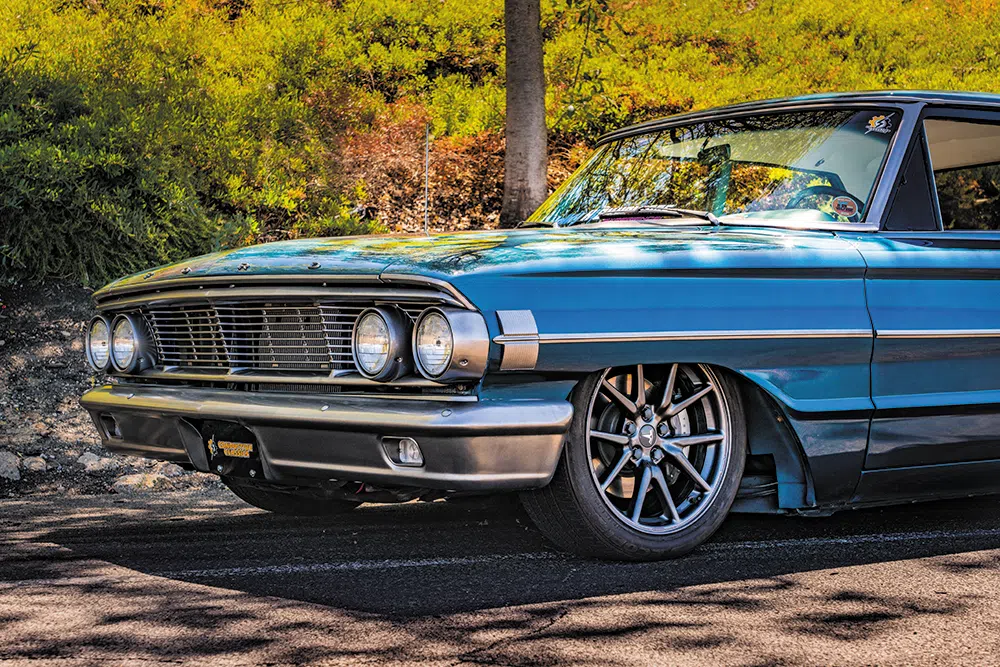 Next, the Conductive crew handed the car over to Next Level Customs to have some body and paintwork done—something that hadn't been done in depth with the Apache. To keep things classic, the original blue paint code for 1964 was used, and everything that was chrome plated was painted to match the gunmetal hue of the Tesla wheels.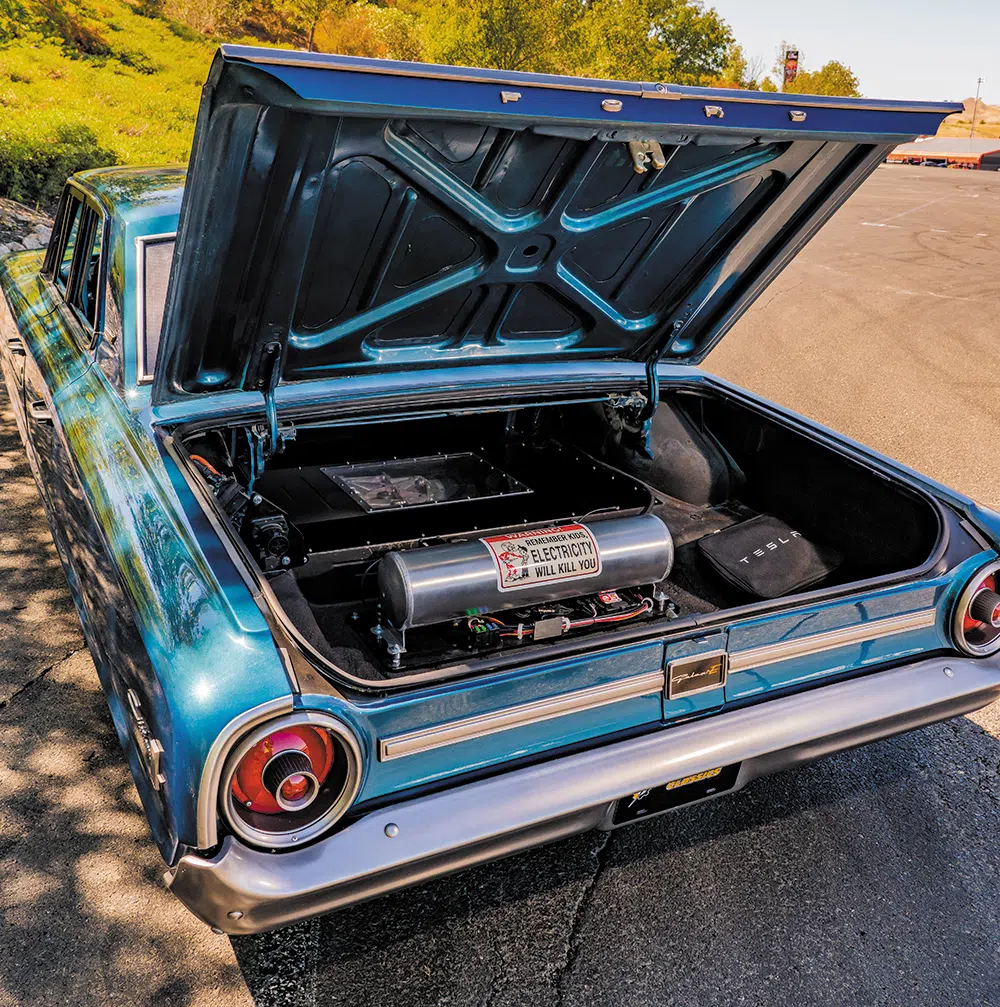 The look and feel of the exterior is cool and clean and isn't exactly indicative of the car being fully electric powered, which is a key factor of what makes these classic vehicle conversions so damn cool in the first place.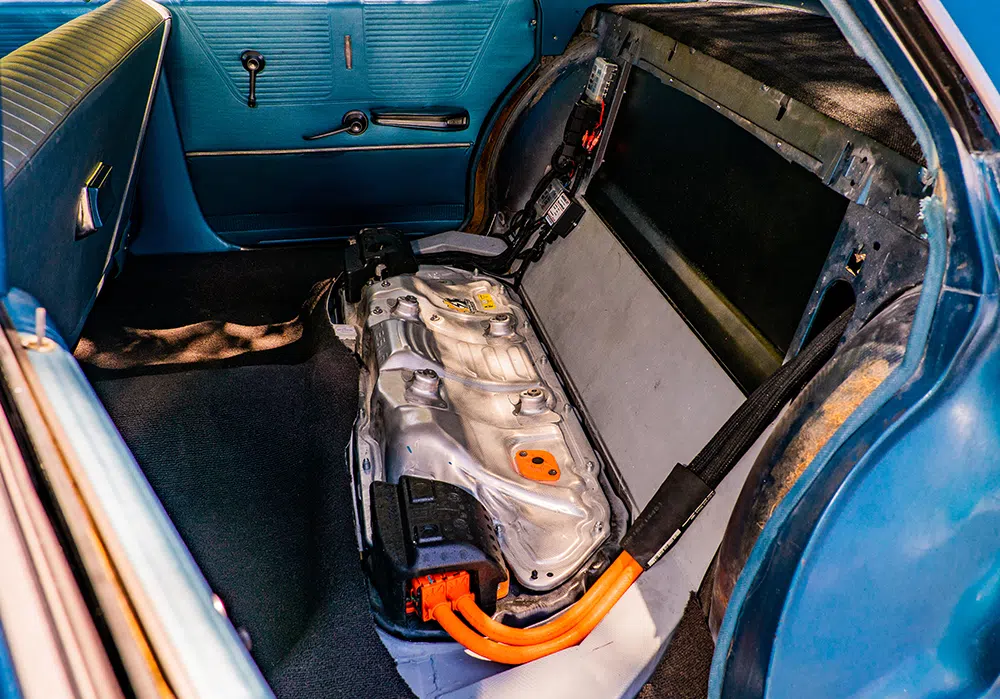 Some improvements have been made inside the car, but for the most part it was simply cleaned up and given attention where needed. A full A/C system will be coming up soon, and quite possibly a stereo system, too, as the original AM radio firing through on one, single, working speaker doesn't exactly make for exciting cruising music.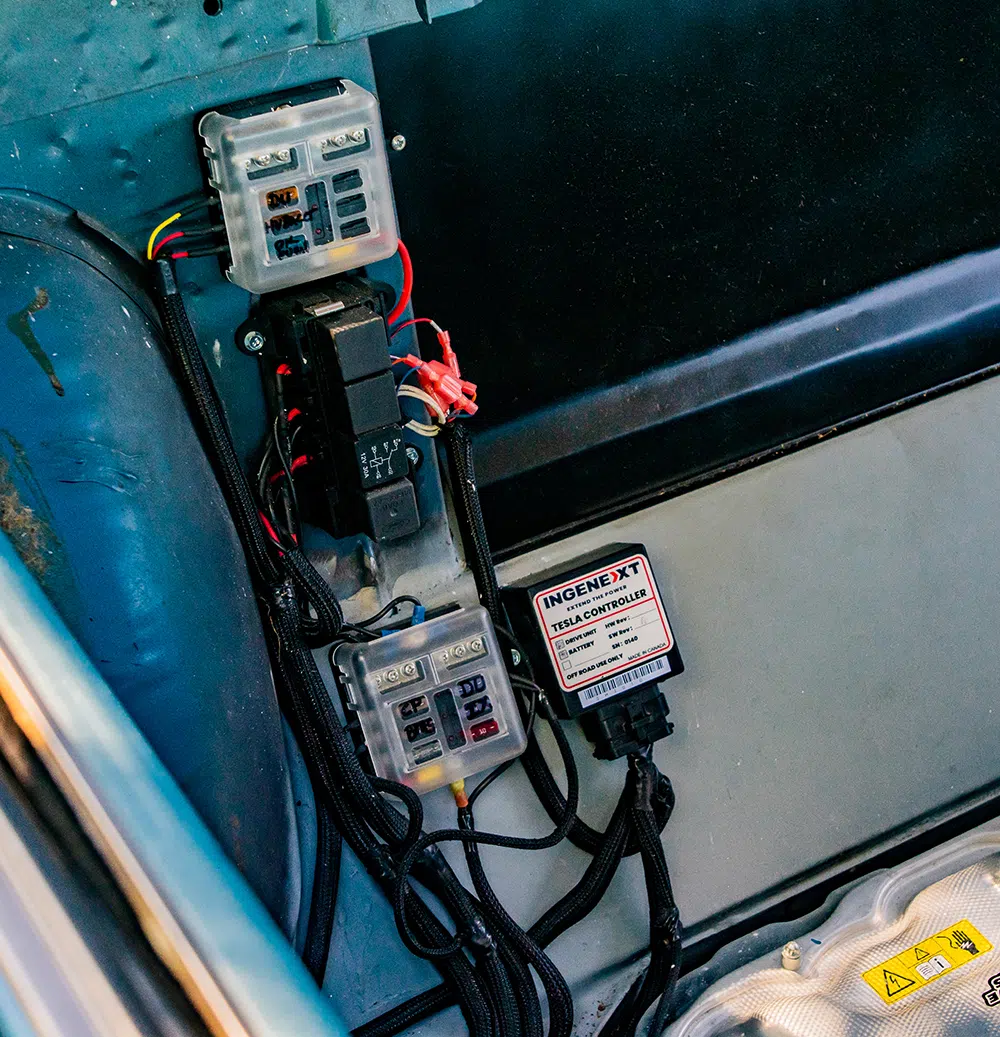 "We are overall very happy with the outcome of this project," Shane says proudly. "We tried to get sponsorships from several companies throughout the build, but we had zero takers. Not wanting to let that stop us from doing what we truly wanted to build, we took whatever discounts we could get on the parts we needed and built the car in-house."
Whatever extras that weren't included into the build thus far will surely be added along the way when time and funding present themselves.
A SURE SHOWSTOPPER
With no sponsorship backing to mention, Conductive Classics still received an invitation to show the Galax-E at SEMA 2022.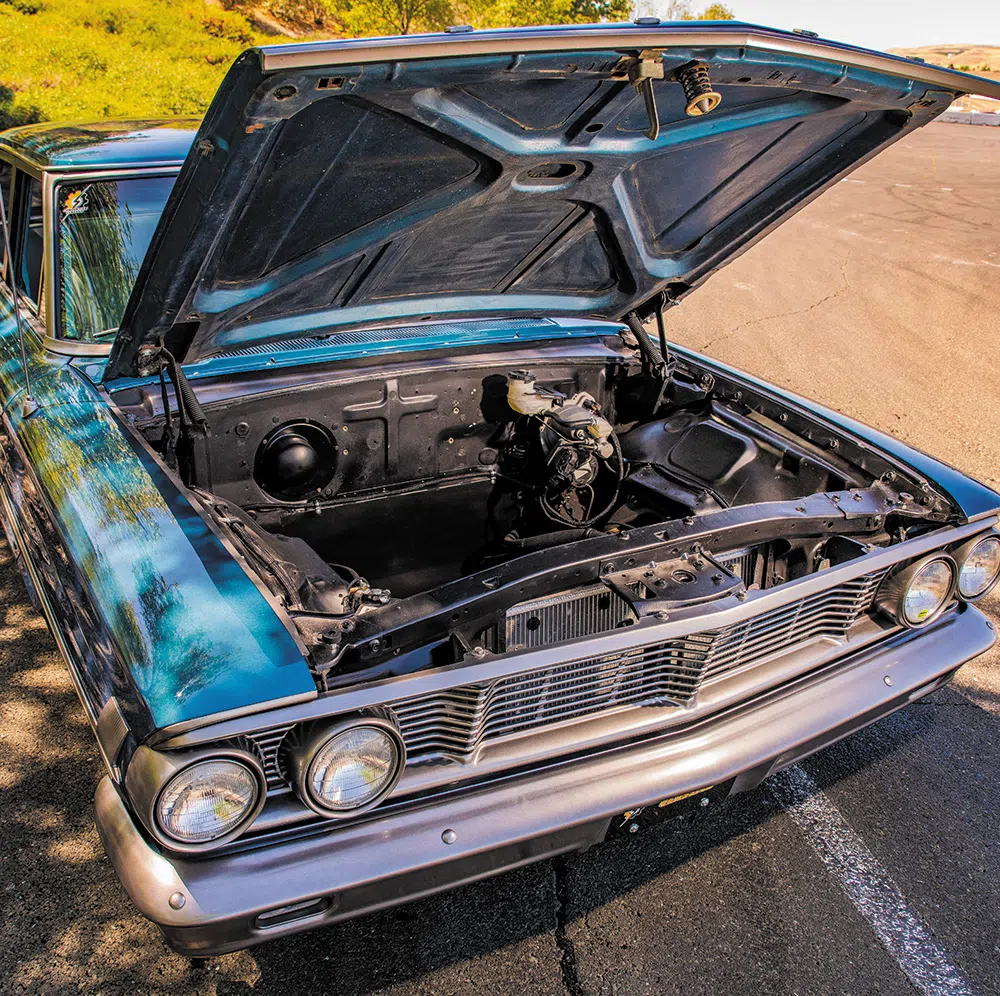 "We'd like to thank the crew at Throttle Works and our Conductive Classics staff for chipping in the time and keeping regular shop operations going on while I spent way too much time focusing on this car," Shane says.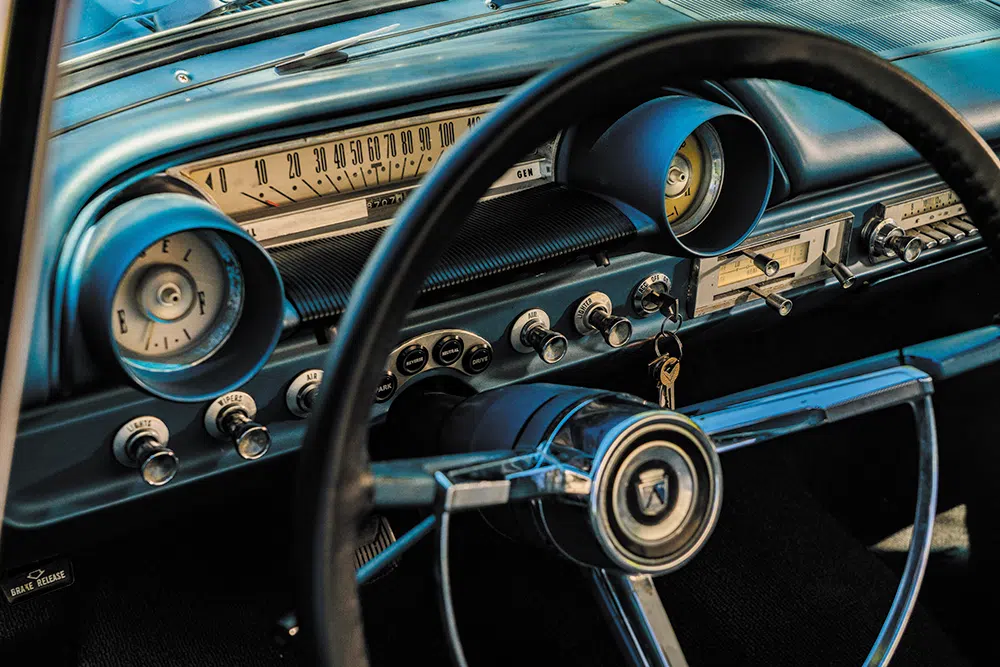 While we are sure that Shane and Mike get bombarded with emails and questions at the many EV-centric events they have shown the car—including Holley's High Voltage show, the Tour De Force road rally, and the State of Charge expo—we just had to get Shane's take on what is likely the most popular inquiry.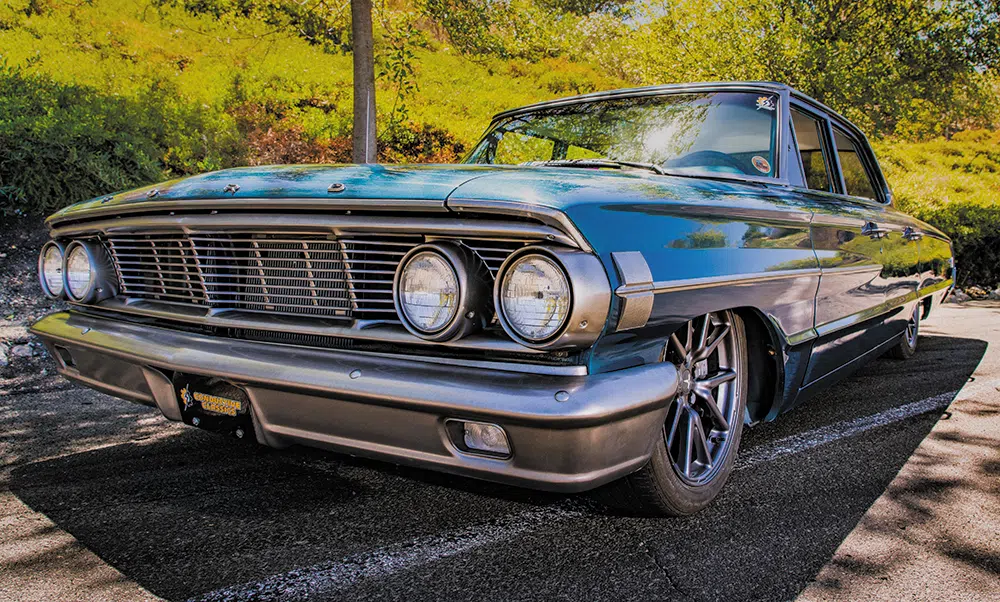 "We do get asked frequently for our advice on how others can go about building an EV conversion of their own, and my answer never changes," he says. "As long as you don't think it's going to be cheap, easy, or quick, then you won't be disappointed along the way. We have been building custom cars through our other company for many years, and EVs were something fresh and new that reignited the passion for us. Of course, there are plenty of haters out there—until they go for a ride with us."
---
SPECS
Owner 
Conductive Classics
Boise, Idaho
1964 Ford Galaxie
MOTOR
Shop: Conductive Classics
2018 Tesla Model 3 motor
75kWh long-range battery pack
350 hp/400 lb-ft torque estimated output
Ingenext control software
Chassis/Suspension 
Shop: Conductive Classics
Custom fabricated chassis
Tesla Model 3 rear subframe
RideTech Shockwaves and air management components
Stock control arms and spindles
Wheels, Tires & Brakes 
Tesla Model 3 wheels and tires
Full Tesla brake conversion w/ custom brackets for front brakes
Body/Paint 
Shop: Next Level Customs
Original 1964 blue paint code
Rear window banner by Signs Etc.
Stock grille
Chrome parts painted to match wheels
Interior 
Original car seat has 28,000 miles on it
Stock gauges
Factory steering wheel a leather wrap