Drift Superstar Proves to Die-Hard Petrol Heads That EVs are the Future
 You know what they say, "Go big or go home." When it comes to electrifying the race scene, Ken Block didn't just settle for going home—he went high-voltage in a one-of-a-kind, jaw-dropping manner! His Hoonitron takes inspiration from the 1987 Audi Sport Quattro S1 Pikes Peak car.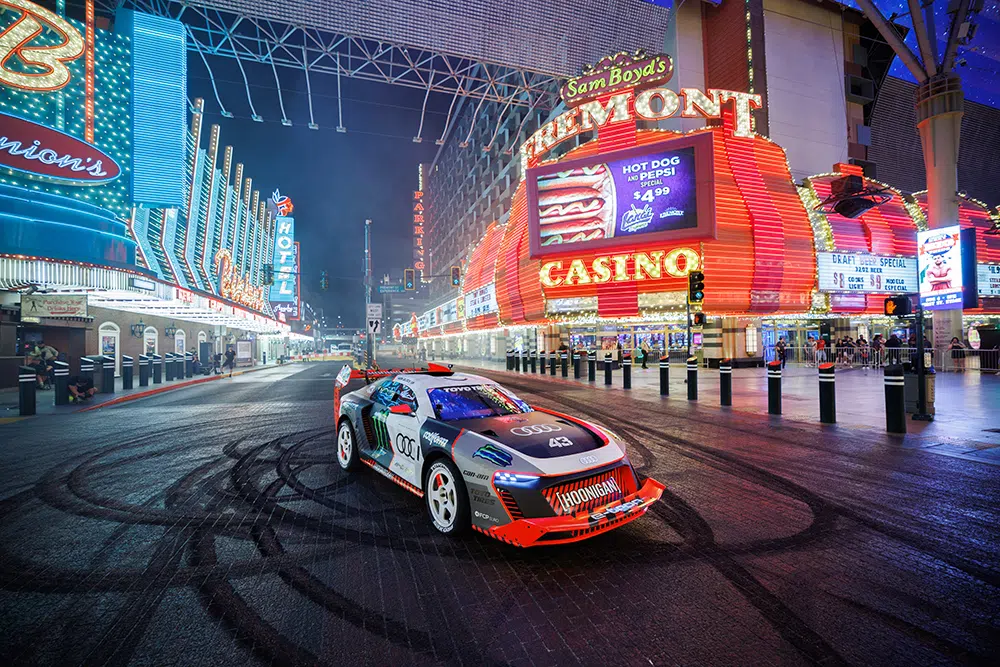 This stunning machine results from a thrilling challenge posed to Audi to build an electric prototype to cater to the specific needs of the legendary driver himself. This project was an excellent opportunity for Audi to showcase the essence of "Vorsprung durch Technik" in an entirely new environment. The S1 Hoonitron boasts an all-carbon-fiber chassis enhanced by massive downforce-generating wings on either side.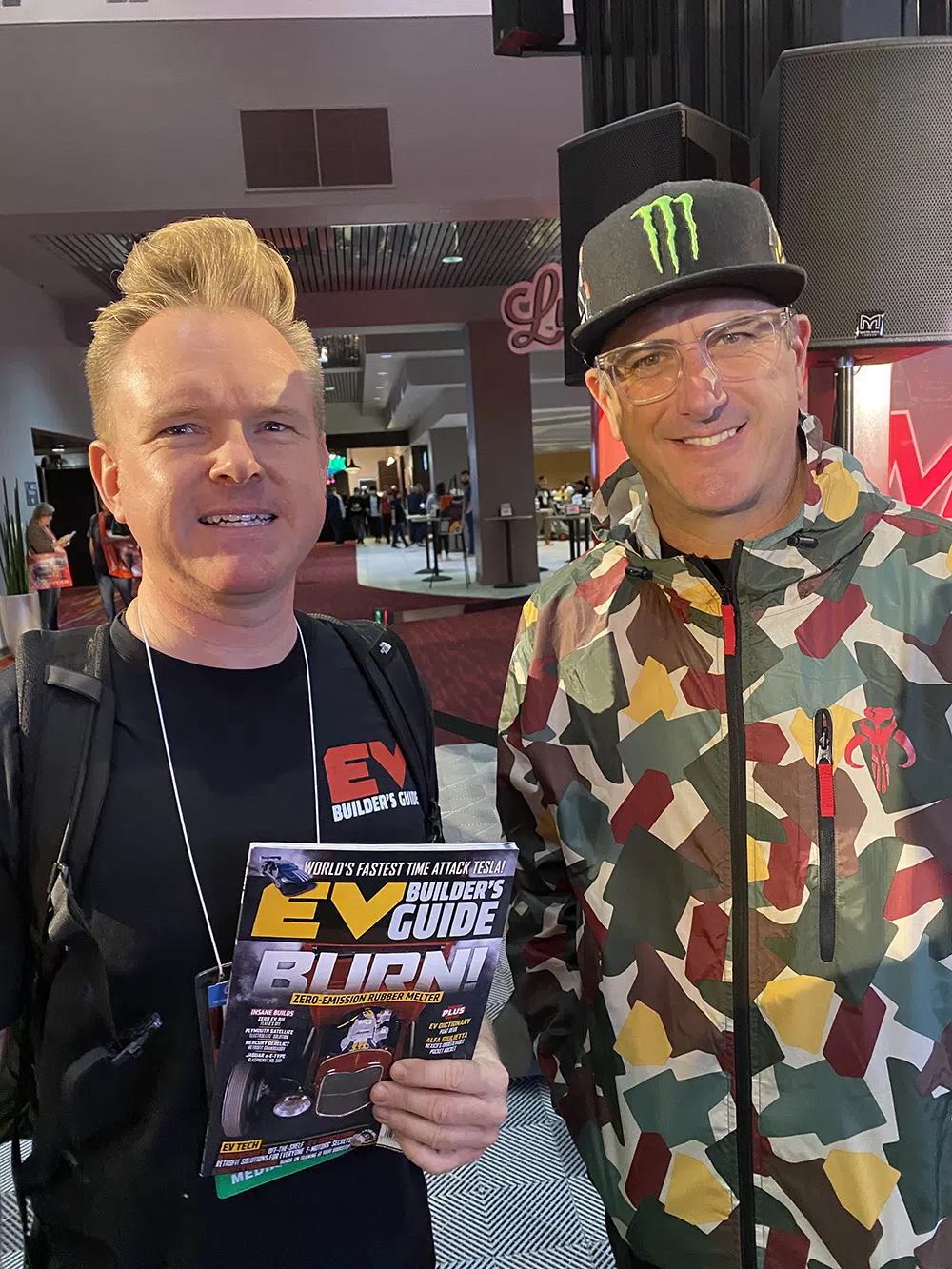 The car is powered by Audi's Formula E motors, similar to the Audi RS Q e-tron, but with a twist! Instead of using the Formula E battery pack, the S1 Hoonitron runs on four 17.3-kWh lithium-ion battery packs initially intended for use in the Audi Q7 e-tron.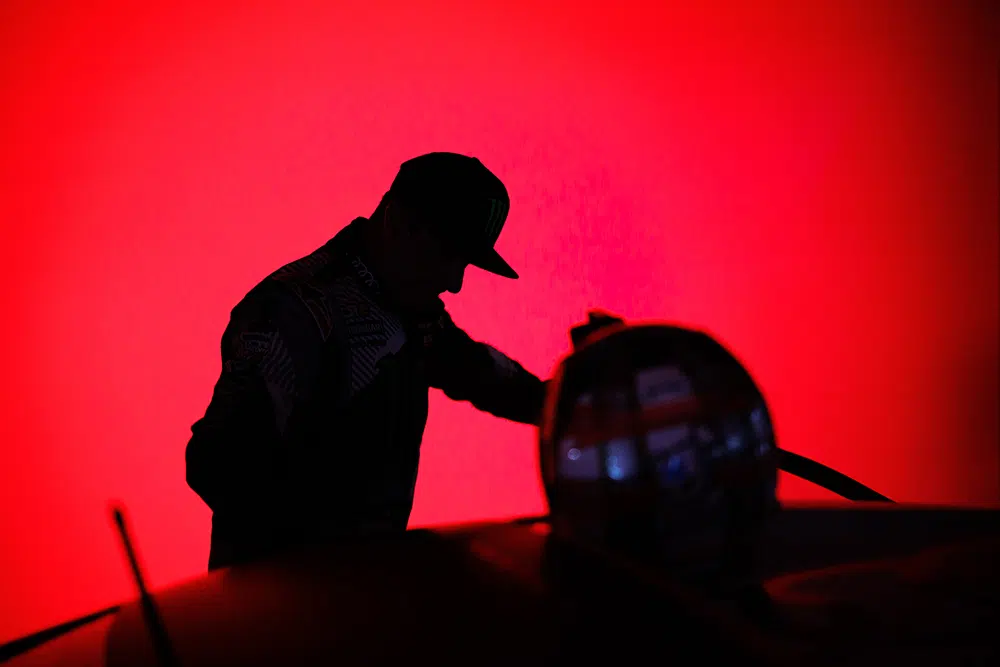 When the motors run at 800 volts, the S1 Hoonitron generates a mind-boggling combined 3,000 Nm/2,212 lb-ft of torque! During the filming of the Electrikhana video in Las Vegas in 2022, the car burned through 100 tires—2.5 times the number of tires that Block typically uses while filming a gymkhana video.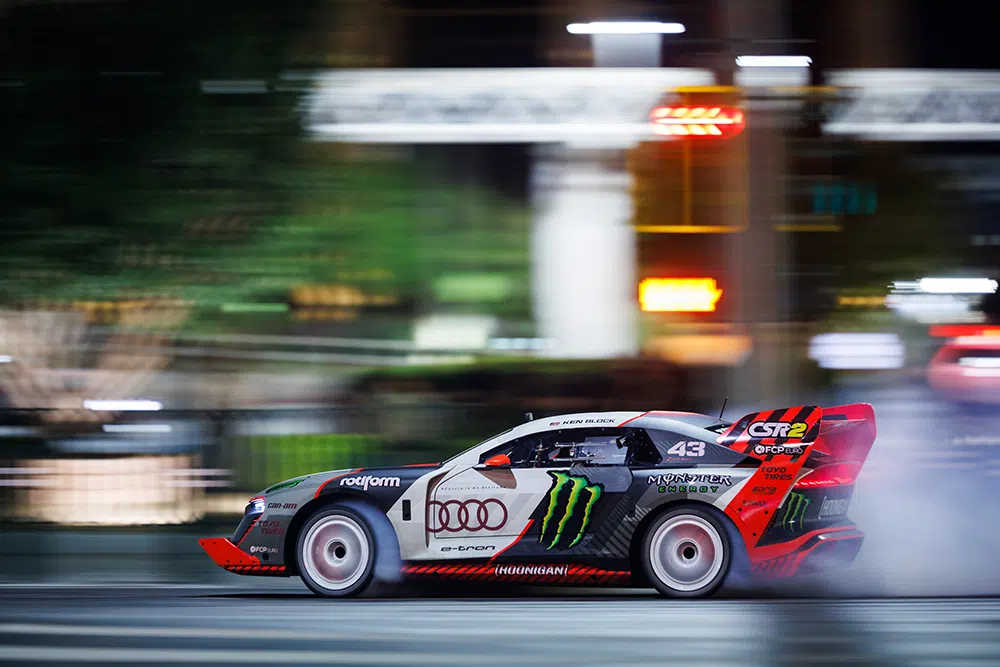 So, what's the most significant difference between the S1 Hoonitron and Block's previous vehicles? "Instant torque," according to the man himself. Unlike traditional race cars that require a process of 4 to 5 seconds to build boost, the S1 Hoonitron provides instant acceleration with just a simple mash of the throttle pedal.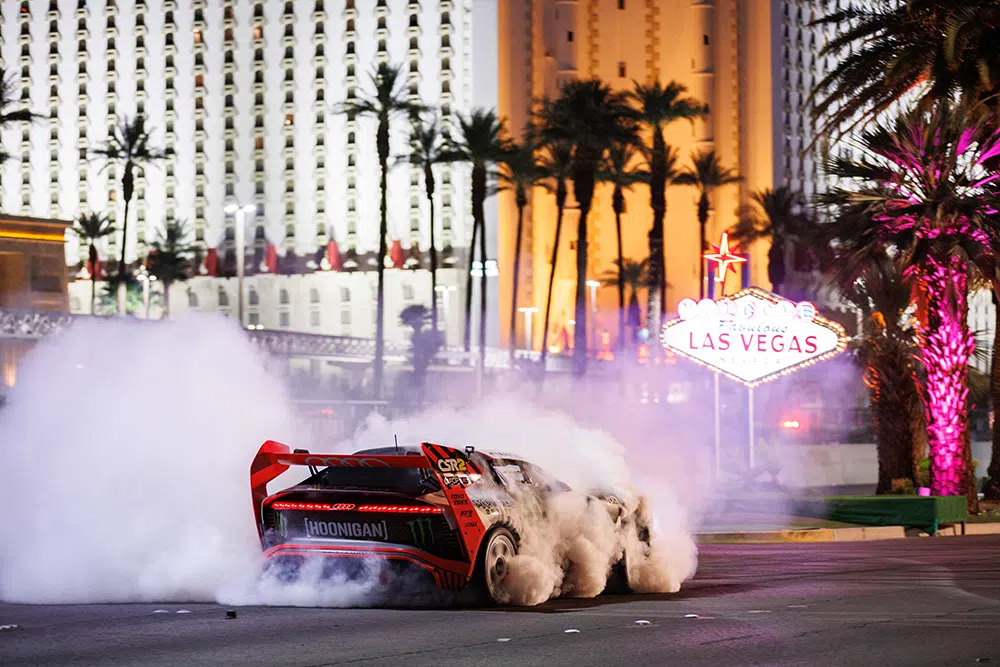 "Progress is my motivation," Block says. "Since last year, I've been part of the Audi team, which is a dream come true. Technologically, this is by far the most advanced drift car I have ever driven. The components in the overall package of the car are beyond my expectations. For me, this is the future, and I look forward to playing a part in creating it."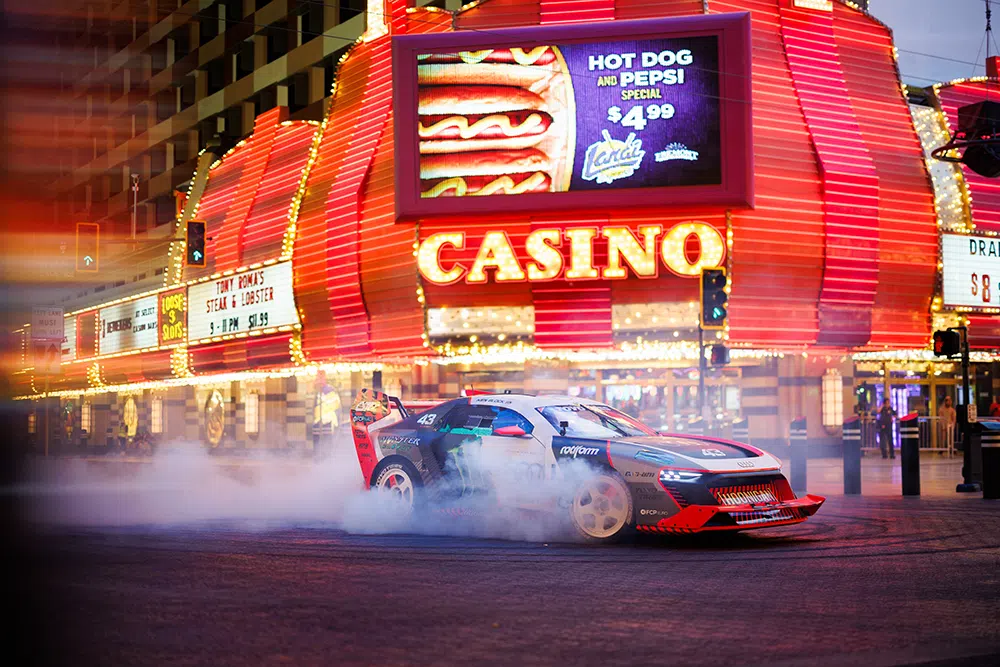 The car features a dual cooling circuit, one for when the car is in motion and the other that connects to a service box that houses the S1 Hoonitron's DC fast charger. As a result, battery life wasn't a concern during filming, and Block and his team believed that they could have made do with just two battery packs instead of four.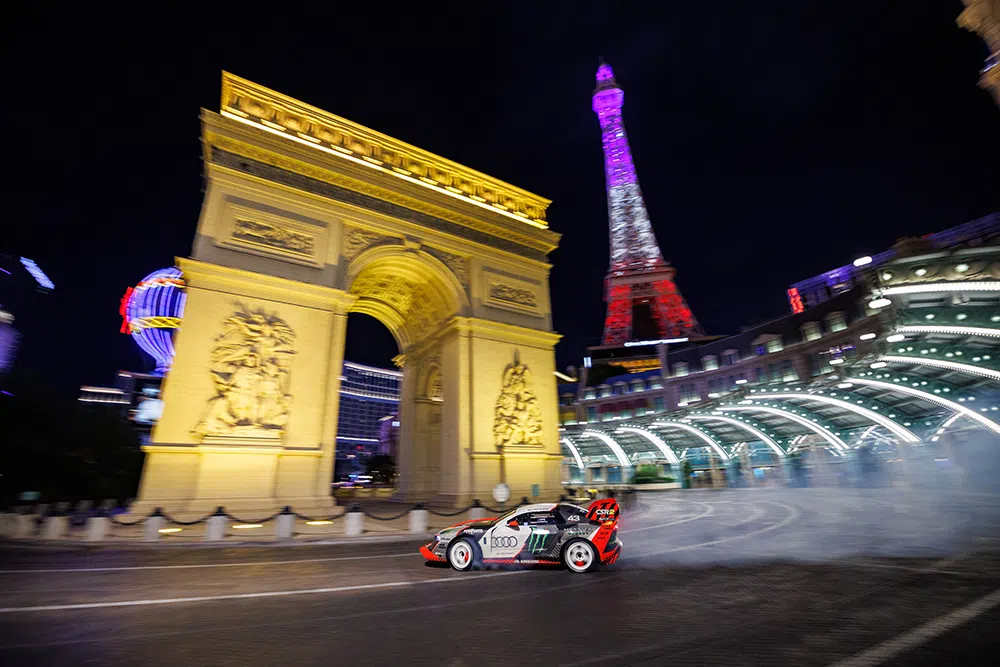 Now, the elephant in the room: the cost of building this electric marvel, you ask? Well, the Hoonigan team we spoke to doesn't know the exact amount spent by Audi, but they estimate the figure to be between $10 to $12 freaking millions!
Now for that price, you get an awesomely cool-looking ride! The livery design of the car is a collaboration between Audi and Hoonigan Racing Division.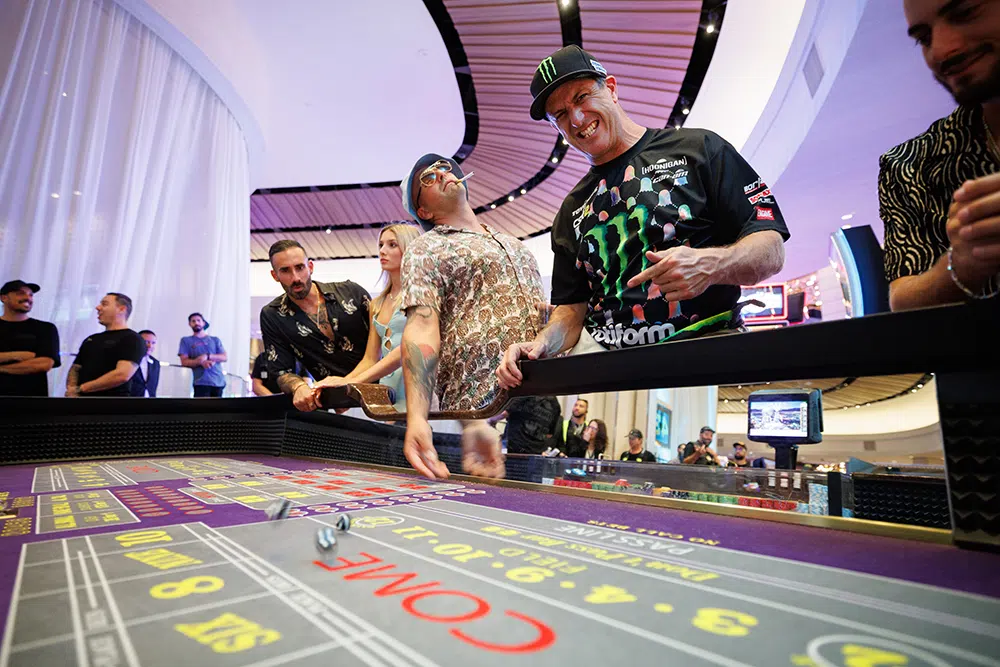 "We picked the key features and characteristics, and we tried to boost their impression with the livery design," Block says. "I see Audi as the geniuses behind the car and us as a racing team, so like any racing team would, we've added our spin on the livery."
Building the Hoonitron
The project was initiated in March 2021 with the challenge of building a fully electric vehicle that could drift and pay homage to the rally legend, all within a matter of months. Leading the project was Stefan Murrweiss, a 50-year-old vehicle developer of Audi Sport series models who had more than 20 years of experience working at Audi. Despite his lack of familiarity with Ken Block and his drifting videos, Murrweiss took on the challenge and assembled a team of experts to build the Hoonitron.
For me, this is the future, and I look forward to playing a part in creating it.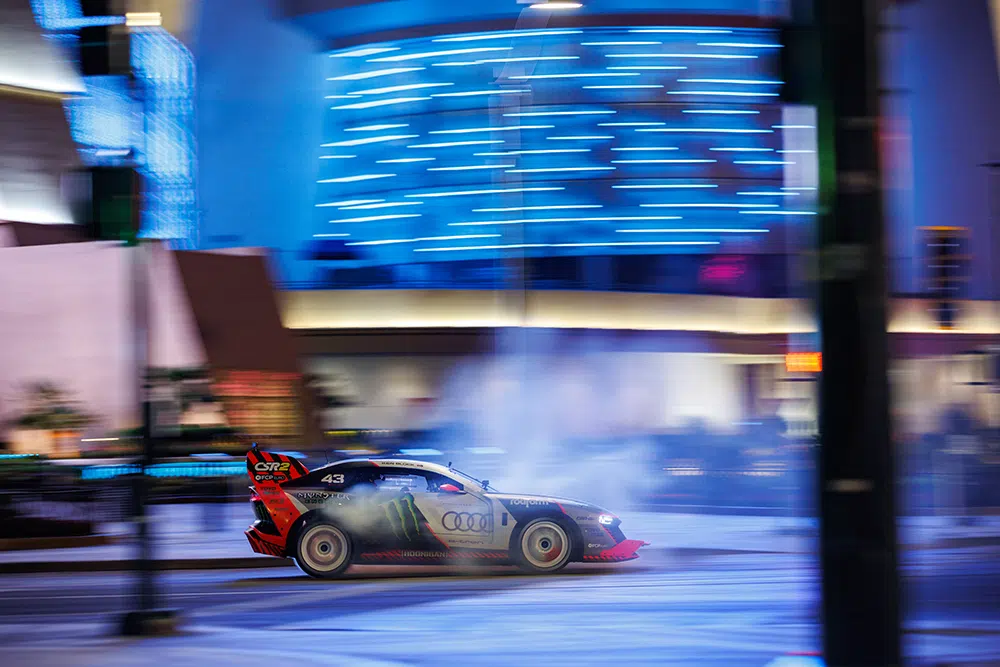 One key team member was Bastian Rosenauer, who played a central role in the creation of the Hoonitron. With over eight years of experience in shell construction for high-performance projects and coordination of prototypes in customer racing, Rosenauer was responsible for the concept development and implementation of the Hoonitron.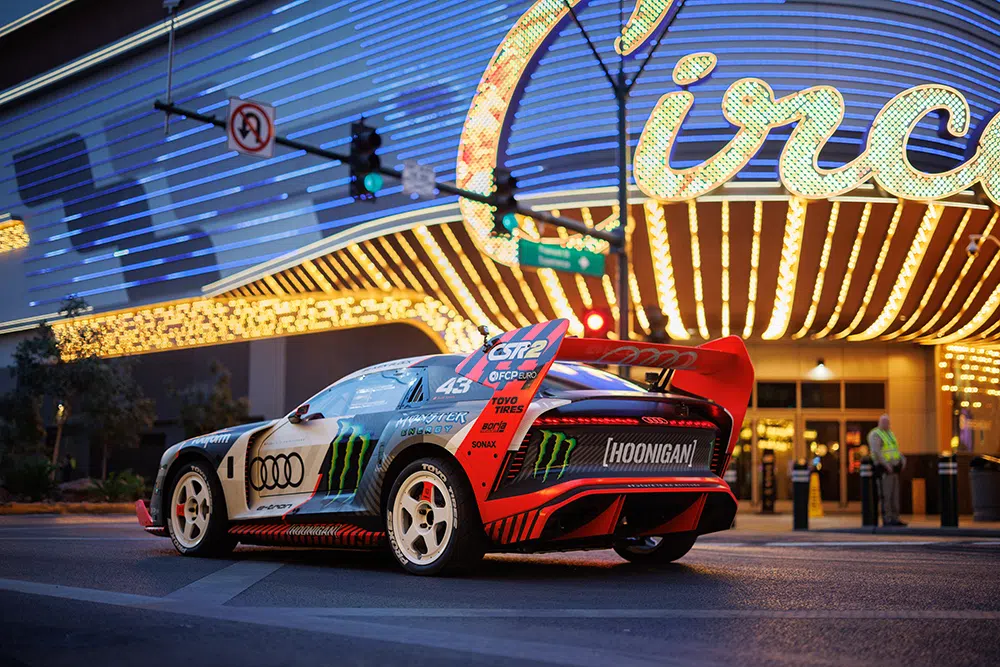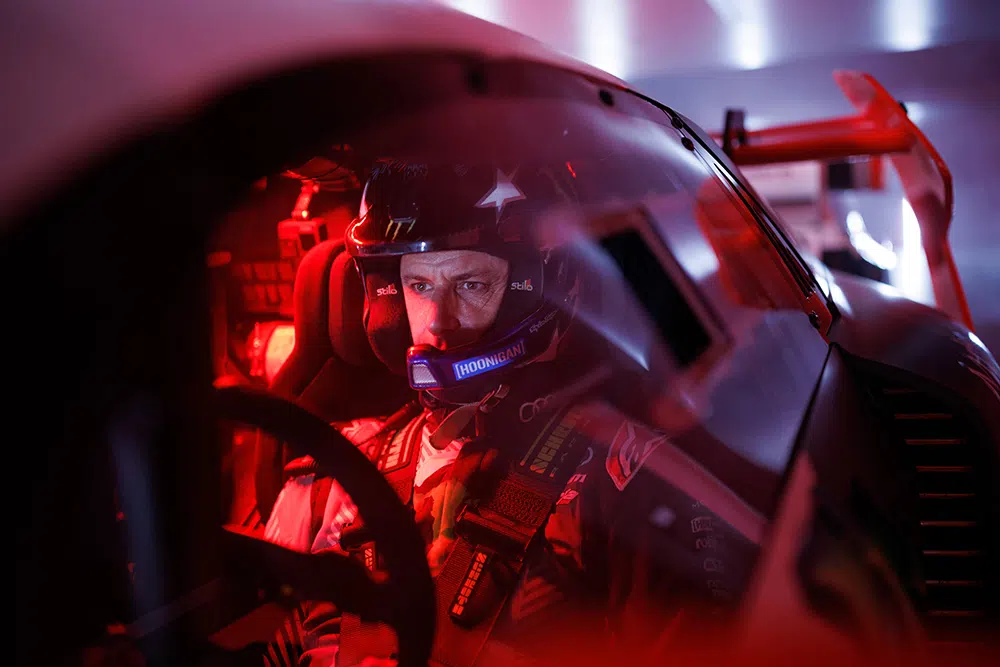 Due to the pandemic, the development and construction of the Hoonitron took place in various living rooms, home offices, and kitchens, with team members participating in weekly video calls to discuss and lay out the project's progress. With just under eight months to complete the project, the team had to be efficient and make the most of their time.
We started from scratch. We had to figure out what would work for me and what I wanted the car to do.

To save time, the team considered using an existing vehicle chassis as a base, but the specifications for the wheelbase and proportions were too demanding. So instead, the team decided to design a new shell that would suit the existing components, including the chassis, battery, and ideas from Ken.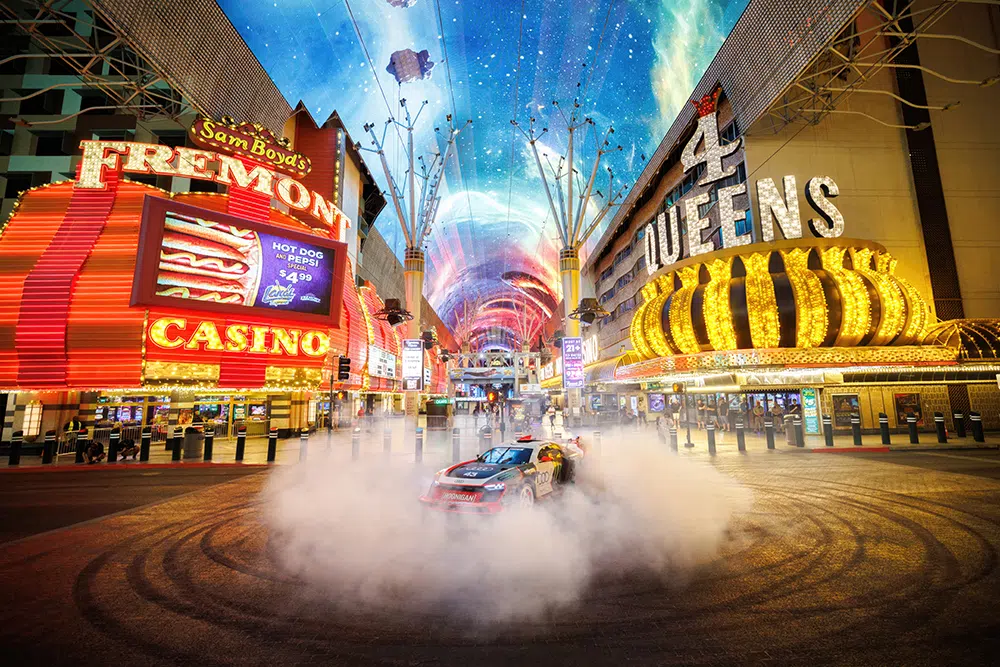 Sascha Heyde, an exterior designer at Audi, was driving the design process forward. Heyde's retro-futuristic design, which Marc Lichte, Audi's chief designer, managed, set the course for the Hoonitron's final look. The car's proportions were similar to those of the Sport Quattro S1, with features like flared wheel arches, Quattro blisters, and front and rear spoilers appearing on the Hoonitron. However, the low vehicle height was a sticking point in the discussions between Murrweiss, Rosenauer, and Heyde, but it ultimately became one of the most futuristic aspects of the car.
The Hoonitron was designed to be a robust, functional vehicle that would showcase the extremes of what e-technology could do.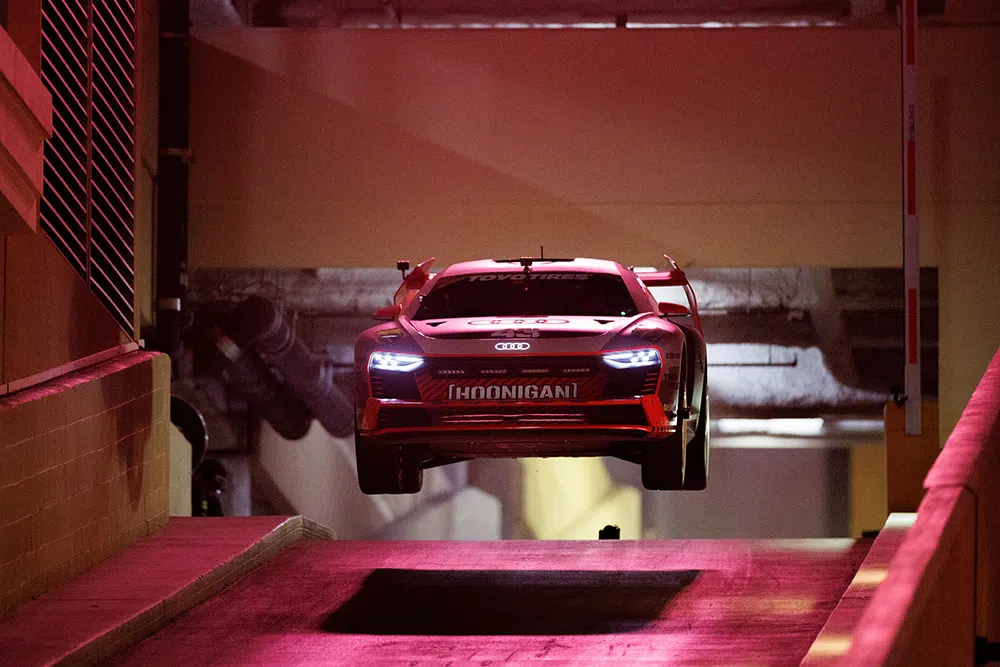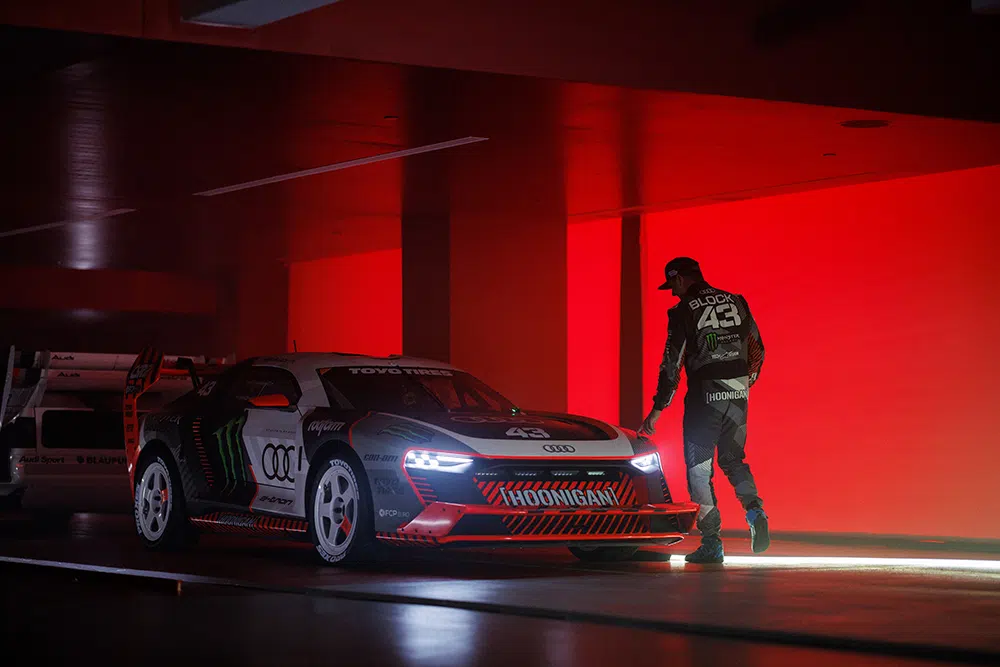 The Hoonitron was designed to be a robust, functional vehicle that would showcase the extremes of what e-technology could do. In just 10 weeks, the design process was complete, and construction was ready, with the remaining time used to procure parts, assemble them, and carry out necessary tests. The result was a tribute to the legendary Sport Quattro S1 that captured its soul while showcasing the possibilities of e-technology.
---
Kenny from the Block
It was on Nov. 11, 2008, when the world was introduced to Ken Block and his awe-inspiring driving skills. Gymkhana Practice hit YouTube, and the video quickly went viral, capturing the attention of millions. Just 1 minute and 22 seconds in, Ken pitched his Subaru sideways at a breathtaking speed, showcasing his driving talent and making a lasting impression on viewers.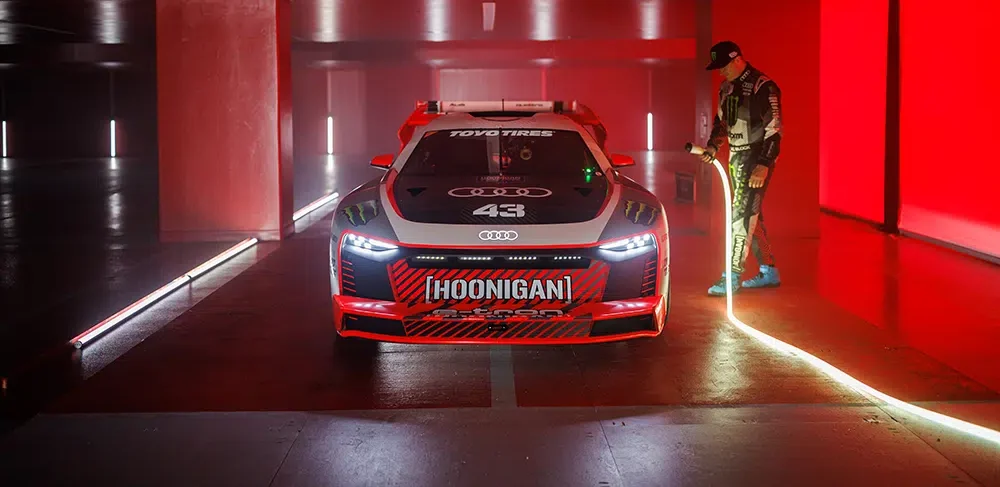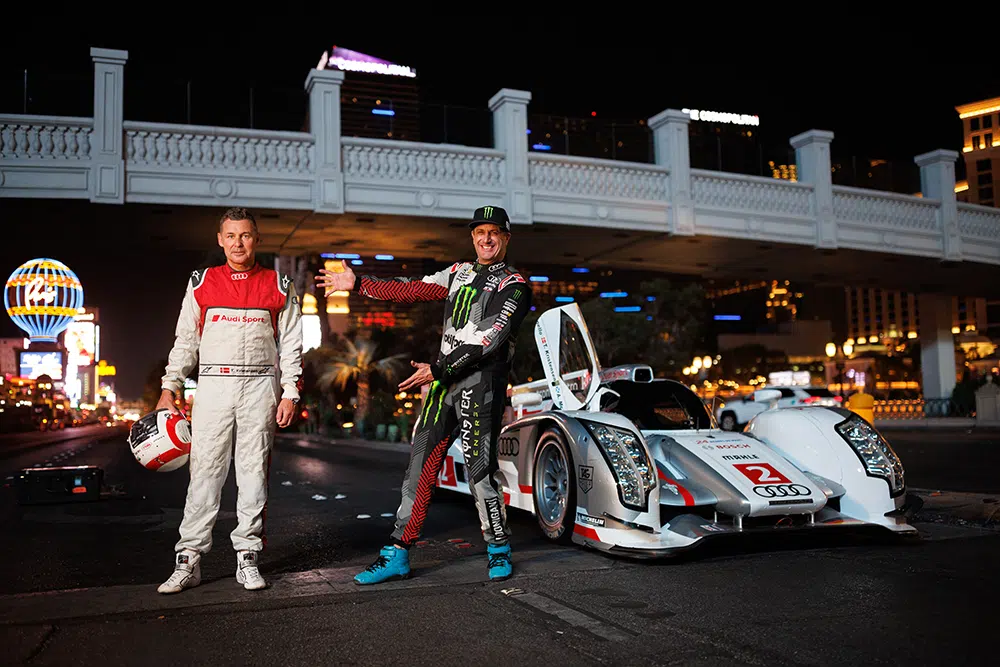 Ken Block was a larger-than-life figure, both in personality and physical stature. In person, he was warm and friendly, exuding confidence without a hint of arrogance. His childhood hero was Colin McRae, and it was his love for rallying that inspired him to pursue his passion after selling his share of DC Shoes in 2005.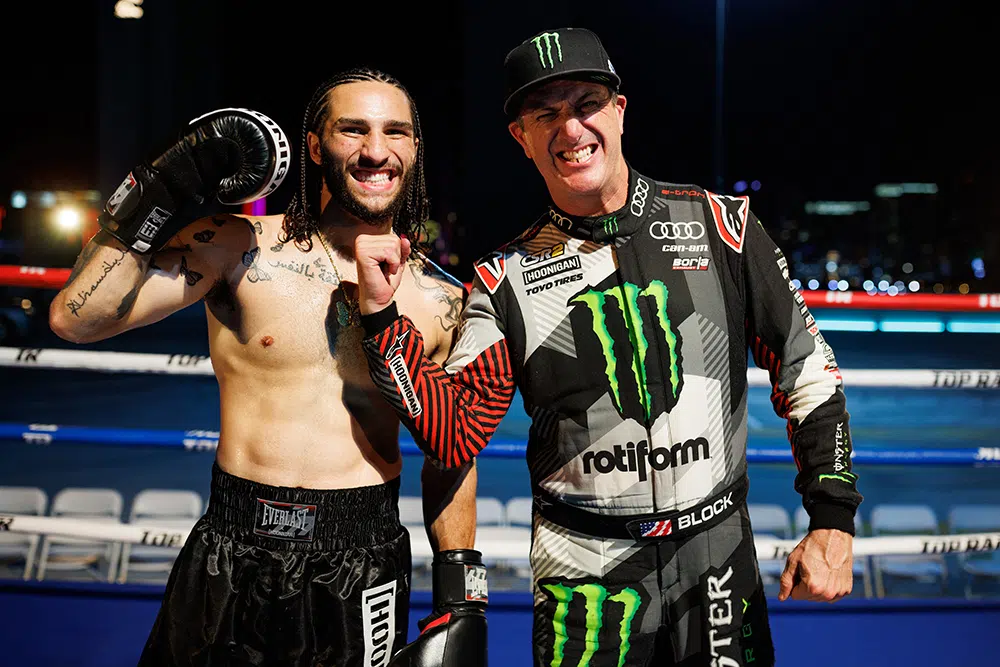 Although performing wild stunts in rally cars was not a new concept, with events like Nitro Circus and X Games already incorporating it, Ken set himself apart with his focus on filming and presenting his skills in a 5-minute video for the internet to enjoy. This marked the birth of the now-iconic gymkhana series.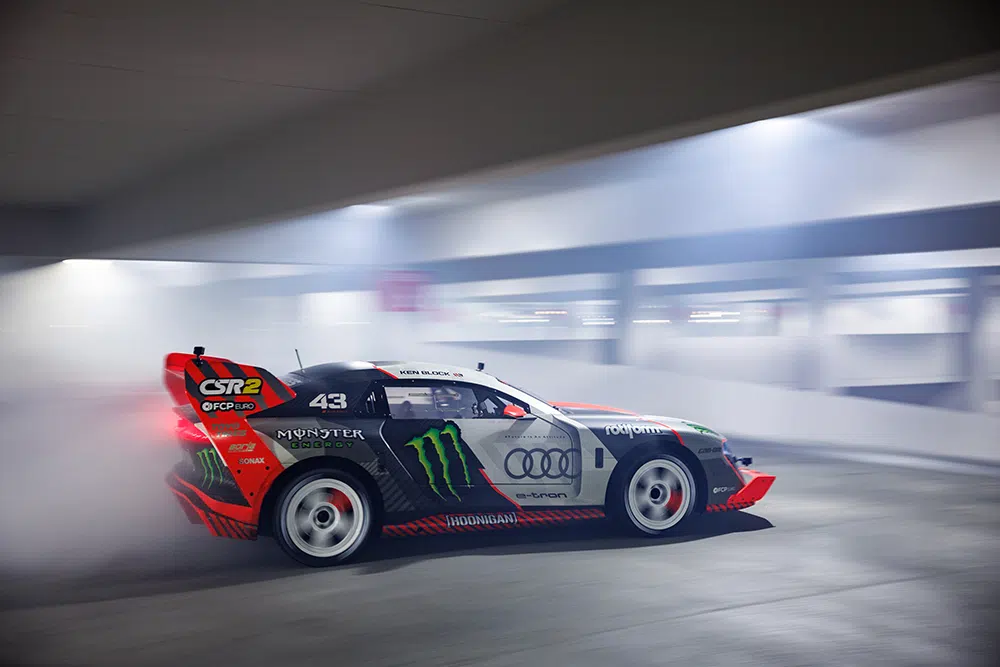 Ken's first major exposure came in 2007, when he demonstrated his driving abilities in a snow park in New Zealand, jumping alongside snowboarders. The incredible footage left audiences in disbelief and marked the beginning of his rise to fame. Despite suffering a fractured vertebra, Ken's determination and passion for rallying continued to inspire and captivate fans worldwide.
---
Ken's Legacy
Only two months after the release of the Electrikhana video, Ken Block passed away from a tragic accident. In addition to his success in action sports (he co-founded sneaker giant DC Shoes), Ken excelled early on in the world of rallying. He began competing in the sport in 2005 and quickly made a name for himself as a skilled and competitive driver.
He competed in multiple rally events around the world, earning numerous podium finishes and even winning several championships. He was a part of the World Rally Championship, and his driving skills were highly respected by his fellow competitors. He was also known for his unique driving style, often described as "aggressive yet controlled."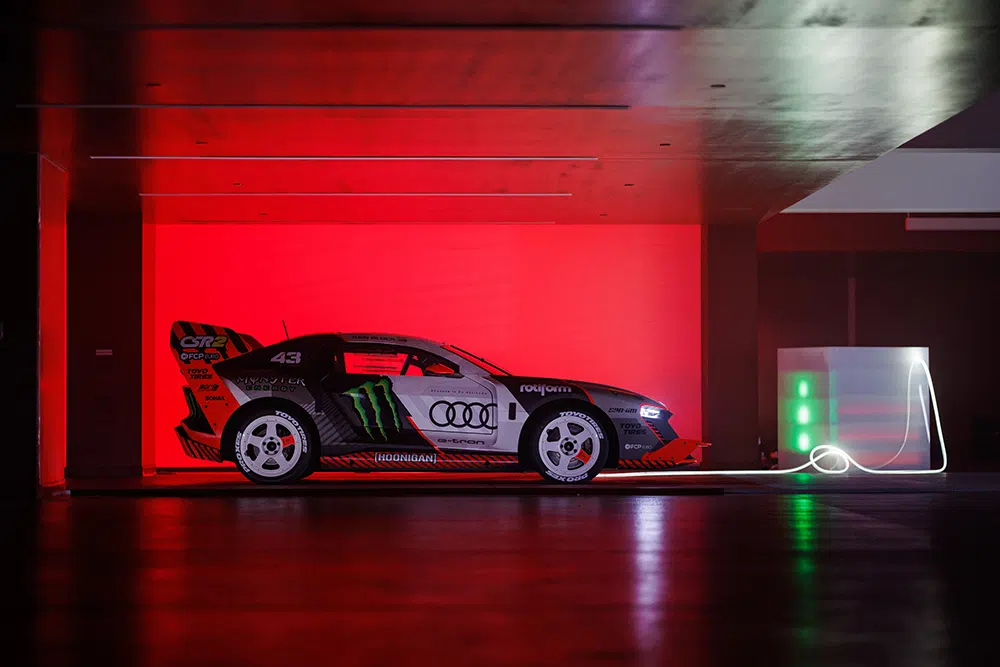 But not just his skills on boards and behind the wheel made Ken a household name. He was also a marketing genius. He founded Hoonigan Industries, a marketing and media company specializing in action sports-inspired automotive content. Under his leadership, the company produced some of the most iconic and viral marketing campaigns of the 21st century. Ken's ability to connect with the audience and create content that resonated with them was unmatched. He was a master at creating viral content that would go on to be shared and viewed by millions worldwide.
Ken was a trailblazer who pushed the boundaries of what was possible, and his legacy will live on through his contributions to the world of action sports and cars in general. He inspired countless fans to pursue their passions and push the boundaries of what is possible.
---
SPECS
Audi S1 Hoonitron
 Vehicle Type: Electric Rally Car
Inspiration: 1987 Audi Sport Quattro S1 Pikes Peak
Chassis: All-carbon-fiber composite monocoque
Downforce-Generating Wings: Enormous, located on either side of the chassis
Powertrain: Formula E motors, one per axle, powered by four 17.3-kWh lithium-ion battery packs
Voltage: 800 V
Power: 1043 kW/1.400 hp
Combined torque: 3,000 Nm/2,212 lb-ft
Tires Used during Filming: 100
Launch Control: None required, instant torque with the throttle pedal
Cooling Circuits: Two, one for running and one for charging through a service box
Battery Life: No issues encountered during filming; potentially could have used two battery packs instead of four
Estimated cost: $10 to $12 million
Note: Not for sale, one-of-a-kind built for legendary driver Ken Block
Thank you: Larry Chen at larrychenphoto.com