Buckle up because the electric vehicle conversion industry has just hit the big leagues and is no longer a 'niche' endeavor. In a groundbreaking turn of events, it has secured the cover story of the prestigious MotorTrend magazine and even landed its very own television show, presented by none other than the superhero himself, Robert Downey Jr.!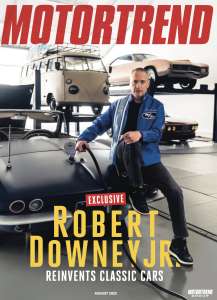 The television show will undoubtedly propel the EV conversion movement into the mainstream consciousness.
Through the power of television, this show will showcase the ingenuity, skill, and dedication of the experts involved in electrifying classic cars, such as (our own superheroes) Rich Benoit & Carl Hewitt from Rich Rebuilds, inspiring viewers to embark on their electrification journeys.
By bridging the gap between the past and the future, the EV conversion industry is spearheading an EV revolution. What once seemed like a niche pursuit has become a powerful force backed by influential figures and captivating media coverage.
We are reimagining the automotive landscape; one converted electric vehicle at a time.