EV Conversion Projects Come to Life with New Platform
 Car enthusiasts can now turn their electric-vehicle-conversion dreams into reality thanks to Fuel2Electric, a one-of-a-kind resource for the EV-conversions community. Launched last August, this platform offers support needed for enthusiasts to bring their conversion projects to life.
The founders of Fuel2Electric, John Wilson along with brothers Arno and Laurent Frugier, are based in Fayetteville, Arkansas. The Frugiers are from Paris, France. Laurent has an IT background working with international power companies. Arno is a professional photographer by trade with an eye for artistic design. John, originally from Texas, is from the van and mobility conversion industry with 40 years of experience in that field.
The trio understands the challenges of EV conversions all too well. They embarked on their own conversion journey and found themselves sending tons of emails to shops and vendors, scouring the internet for information, and ending up with more questions than answers. They realized that the market for EV conversions in the US and Canada could benefit from a platform that brought together vendors, auto shops, and enthusiasts.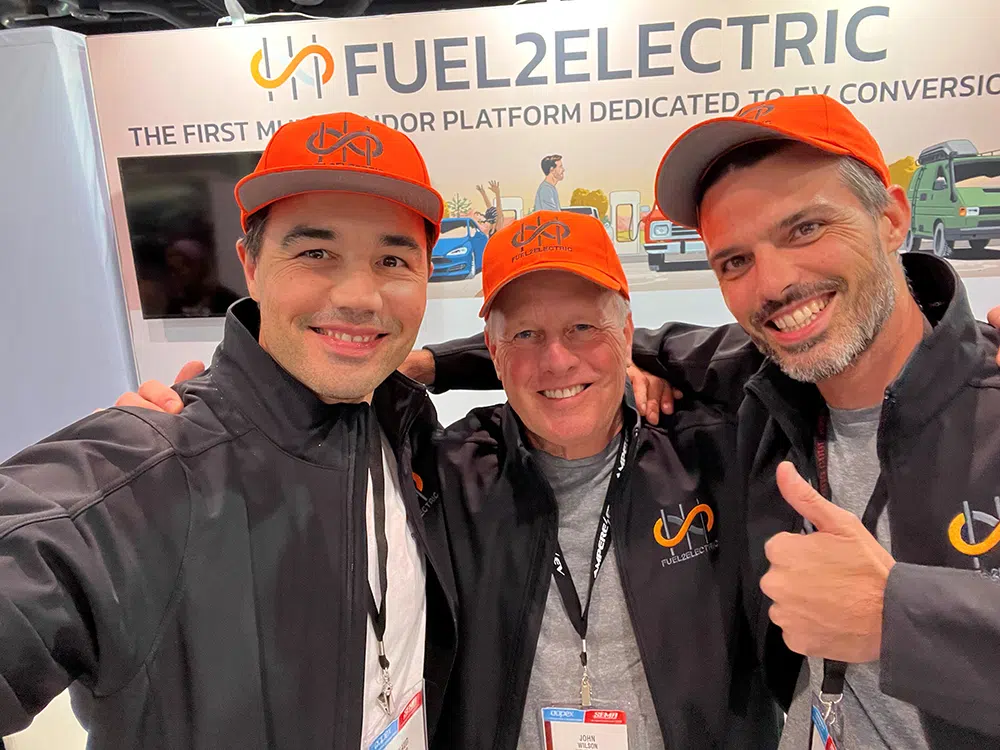 Fuel2Electric is built around three key components. It is a directory of more than 40 different vendors and auto shops that specialize in EV conversions, a marketplace for EV conversion parts, and a list of viable projects up for conversion. This platform is an innovative tool designed to meet the needs and requirements of project owners, including beginners, DIYers, and those wanting premium conversions from the ground up.
Enthusiast-Oriented
For the first time, enthusiasts can submit their EV conversion project online and receive proposals from multiple vendors at once. They can compare proposals and shop for parts and services needed from one website without having to navigate multiple sites.
Vendors and shops, on the other hand, benefit from a new sales channel and a pool of realistic conversion projects to work on. Fuel2Electric is committed to helping both enthusiasts and vendors succeed in their EV conversion journeys.
"We must put in place tools, ideas and solutions enabling enthusiasts to electrify their vehicle, from anywhere with or without technical knowledge, in complete safety and confidence," say co-founders Wilson and the Frugier brothers. "That's why we at Fuel2Electric dedicate our time and talent to growing the community and developing features to facilitate access to EV conversion. By educating and facilitating the connection between project owners and professionals, folks can focus on what they love to do: hitting the road safely."
Fuel2Electric is revolutionizing the EV-conversion market by providing a comprehensive platform for enthusiasts and vendors alike. Whether you're a beginner or an experienced converter, Fuel2Electric has everything you need to bring your conversion project to life.
The EV Conversion Journey with Fuel2Electric
From the initial project planning to the final stages of completion, the platform help making sure you have the resources and options needed to make informed decisions.
Here's how it works:
Go to "My EV Conversion Project." You will then go through 59 questions across seven categories to provide the Fuel2Electric team with the technical, physical, and visual information they need to accurately represent your project to shops and vendors.
They then evaluate the technical feasibility and viability of your project and consider budget considerations. Within 48 hours, they reach out to you with any follow-up questions or suggestions.
Only projects that are deemed realistic are considered for the next steps. Fuel2Electric will draft the project and present it to you for approval, and then post on their platform.
Shops and vendors receive notifications for every new conversion project posted. If they are interested, they can submit a proposal through the platform and interact with you to ensure all requirements are covered and the estimate reflects the scope of the project.
When you are ready, you can select a shop and its proposal on the platform and contract with the converter by making a deposit online.
The Fuel2Electric team will monitor the progress of your project and document it online, creating a catalog of projects that serves as a source of information and inspiration for the Fuel2Electric community. This will also encourage the growth of the EV community and facilitate information exchange.