The Dodge Charger Daytona SRT Concept teases the production of electric muscle car coming in 2024 amid promises it will beat all the performance metrics Dodge has laid down to date.
Sounds Like a Hellcat?
Yes, the Dodge Charger Daytona SRT is powered by batteries and electric motors, but air still swooshes through chambers and pipes for a rumble very similar to the roar of a Hemi Hellcat V-8 in today's Dodge Chargers and Challengers. This sports the industry's first exhaust system for an electric vehicle, producing a similar 126-decibel sound as the one coming from today's Hellcat engine.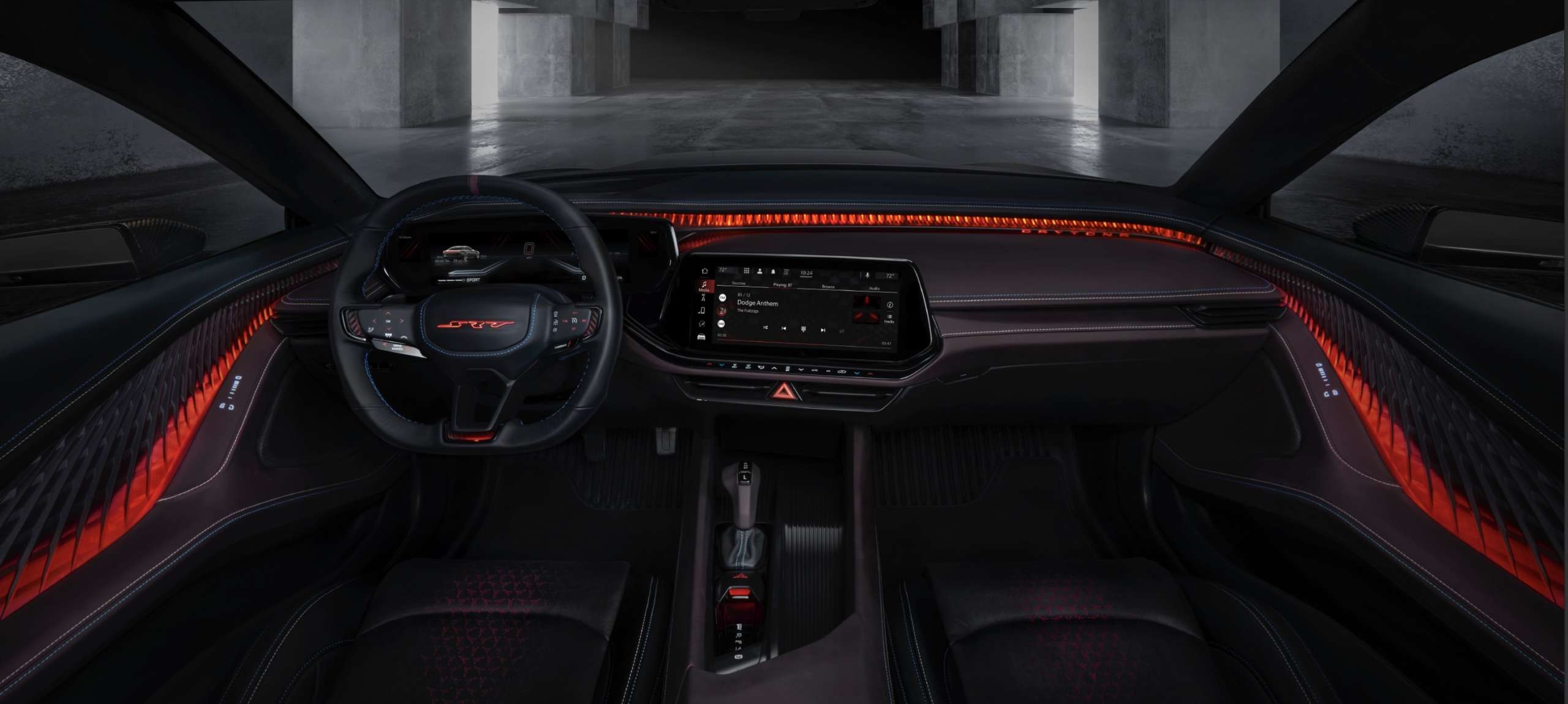 Dodge calls it "Fratzonic Chambered Exhaust." When the Daytona converts electricity to power, air flows through the exhaust system and the sound produced through an amplifier and tuning chamber at the vehicle's rear. You can see and feel the pressure from the exhaust coming out the back!
The Dodge Charger Daytona SRT Concept is designed to impress and appease its loyal customer base, many of whom are fundamentally opposed to EVs and all they stand for.
So, Dodge created an e-muscle car that looks mean and roars as loud as the Hellcats with supercharged Hemi V-8s that it will replace. "We believe we need the sound and experience," says Kuniskis. That is why the car has a multispeed transmission and an exhaust note, so the driver can feel and hear the crack of the exhaust while shifting.
Dodge Charger Coupe
The concept, in Greys of Thunder dark glossy paint, has a clean design right down to the flush door handles and the absence of a rear spoiler. It is muscle without being a caricature, bold yet subtle. Head of Dodge Exterior Design Scott Krugger says his team started by designing a muscle car, not an EV, with a signature face, swept profile, and turbine-style 21-inch wheels.
It is also pure EV without a melted front for aerodynamics. Instead, true to the Daytona name, it has a nose cone, a patented R-Wing that allows air to pass through the front of the hood and enhance downforce while keeping a blunt Dodge profile that all but hides the headlights. There are carbon fibre intakes on both sides of the front and rear fascias for an air curtain to further improve aerodynamics. The front end is patented, as is the sound, which means these are intended for production.
Dodge is not revealing full specs and details yet, but we do know the high-performance SRT trim will be powered by a new 800-volt Banshee propulsion system. Lower trim models will have a 400-volt system. 
The concept has standard all-wheel drive, so we know there are at least two motors, one up front and one in the back. AWD is also key to making the Daytona SRT quicker than the Hellcats that precede it, Dodge executives say. The Daytona Banshee has a multi-speed transmission with electro-mechanical shifting. Dubbed eRupt, the transmission does not deliver more power but allows the driver to feel each shift point, Kuniskis says.
The brand chief won't reveal the number of gears or provide any performance figures yet. What we do know is there will be three power levels available, and customers can go to Direct Connection authorized dealers who will offer six more levels, all covered under factory warranty. All nine power levels were designed in advance, with the hardware in place for additional upgrades at the time of purchase or later.
Dodge promised it would be true to its muscle car roots when it embraced the electric car age, starting in 2024. The Dodge Charger Daytona SRT Concept, which looks production ready and has patents on its key features, appears to keep that promise.
Source: motortrend and Stellantis