reVolt's
high-powered,
A common sentiment is felt among a solid number of electrified classic car and truck builders. They believe, rightfully so, that what they do with these old vehicles is no different than what first-wave hot-rod builders were doing a generation ago. While resources for electric powertrain conversion parts are around, sometimes no better solution exists than diving into a scrap pile at the local junkyard to find the right parts needed for the job. Granted, not everyone out there is looking for electric motors, batteries and the like, but the end goal is still the same.
Allow us to introduce Eddy Borysewicz of reVolt Systems in Oceanside, California. His shop is geared toward creating big electric power, with some projects aimed at setting real land-speed records. reVolt also specializes in vehicles built for tackling real-world tasks, like its all-electric Chevy C-10 pickup, and full show cars like the one we are here to discuss more in-depth today.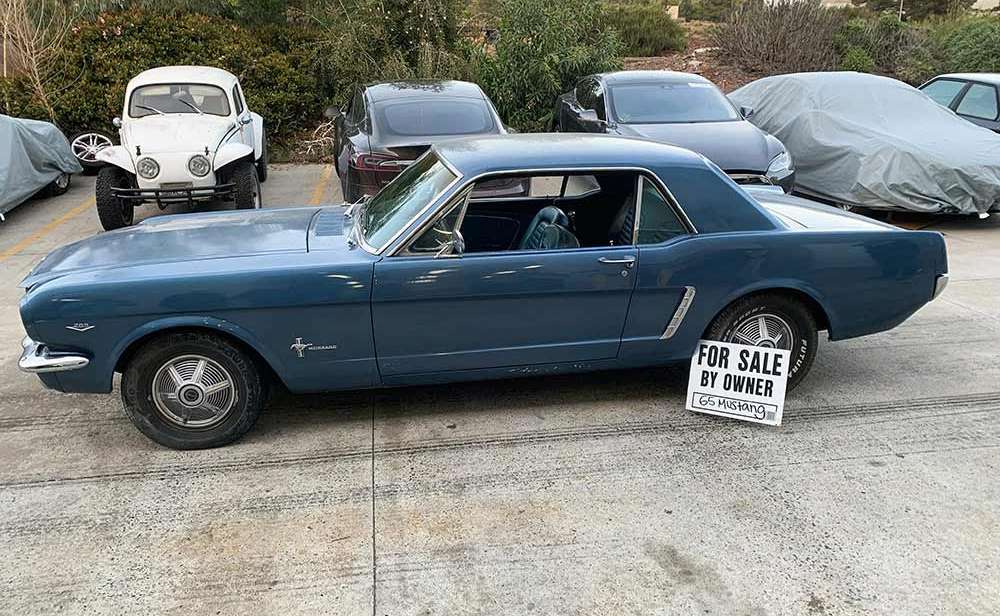 Mint, Yet Gutted Out
Try to think of a more all-American muscle car than a first-gen Ford Mustang. From high school-age dreamers and tinkerers to full-grown gear heads, these cars are the epitome of desirable high-performance street machines. Eddy is a fan of Mustangs and, of course, couldn't help himself when he came across a super clean '65 for sale. To most folks, the car would have been an ideal specimen to add to the stable and enjoy as-is. The paint and interior were both in great shape, and the engine still started and ran good enough to need nothing more than maybe a tune up to keep it humming.
Keep in mind that we generally don't focus our attention on what "most folks" would do with a nearly 60-year-old car. What Eddy had in mind with his recently purchased Mustang was more in line with his love of powerful electric vehicles (a blasphemous way of life in the eyes of some gas-guzzling purists). Yes, the first check on his list was to extract the old internal combustion engine, naturally. His vision, however, had much more substance than simply converting the Mustang to an electric drivetrain. To electrify the car to his standards, the entire car would have to be totally gutted anyway, so he set the bar high for the project and cooked up one hell of a design that could possibly even win over a few fuel fans in the process (possibly).

Modern Foundations
The next original Ford component lined up to get the axe was the entire chassis system. Since Eddy was already in the process of designing a whole new drivetrain with a whole lot of batteries needing to be properly positioned, there was no sense in retrofitting them all to work around the old factory frame. Instead, the suspension job was left to the specialists at Roadster Shop. Their SPEC Series chassis, complete with a rack and pinion front, rear 4-link, 4-wheel double adjustable coilovers, Roadster Shop's own Pro spindles and front sway bar, and many more suspension components were assembled to give the Mustang supreme performance handling and ride quality.
What they are doing with these old vehicles is no different than what first-wave hot-rod builders were doing a generation ago.
To complete the SPEC chassis, Eddy began shopping for a new set of wheels and tires. His search ended on forthcoming 18×8 front and rear 19×12 units from Billet Specialties and Nitto tires to cover them. Since stopping is just as important going with a vehicle with as much power Eddy planned on giving the Mustang, the braking system was next to receive a healthy upgrade. Baer 12-inch 4-piston calipers with regenerative braking will now ensure this pony car will be able to stop on a dime with ease.
Let's go ahead and expand on what would soon go into propelling the '65 Mustang to speeds that would require such braking power. Eddy and crew have developed the reVolt CR-43 crate motor, which is capable of up to 600hp/450kW with 800lb-ft/1085Nm torque at the yoke. That kind of power is nothing to brush off. To make a conversion like this easier for others interested in transforming their classic vehicles to the electric side, the CR-43 has been designed to be compatible with factory LS mounts in the engine bay of an existing car or truck. To make the process even more user friendly, this motor is able to connect to an existing driveshaft to provide instant torque to the rear end of just about any old vehicle. A refurbished Tesla Model S motor, along with reVolt's own coolant fittings, as well as a Torque Trends 1.9:1 reduction box, lay at the very core of reVolt's CR-43, so exhilaration and quick acceleration are baked right in.
Custom Battery Pack
Moving on to the rest of electric drivetrain components, reVolt teamed up with Legacy EV to create prototype batteries for the build, which have been strategically positioned throughout the length of the car for optimum 50/50 weight distribution. Now, this didn't happen as quick and easy as it sounds. A lot of custom metalwork from AVS Fabrication was solely dedicated to cell placement, and when they finally figured that portion of the car, they then dove into much more extensive fab jobs that really have taken the Mustang to another level visually and aesthetically.
Thanks to AVS Fabrication, the car now sports some killer bead-rolled paneling under the hood and trunk lid, as well as throughout the interior—just check out those battery trays. Oh, and we can't NOT mention the one-off wheel tubs, bumpers and that magnificent roll cage AVS also whipped. There's so much metal craftsmanship featured throughout this car, as there are custom touches at every single turn.
"Hot Dog" Touch
While the bulk of the tricky portions of the Mustang is figured out for the most part already, there is still a lot to do. Pete "Hot Dog" Finlan of Hot Dog Kustoms in Temecula, California, is currently finishing up some bodywork before the final paint job can be applied. The finished colors will feature mostly pearl white with some red strips to break up the monotony. The interior is also currently in progress, so make sure to check back for the next installment of the completed version.
A lot of work has been sunk into this particular car, and it definitely deserves all the praise and accolades that are sure to come. If you think you've seen it all, just wait until you've seen the rest of this very special project from reVolt Systems and their ultra talented partners. This Ford is an important build in the EV retrofit world, and Eddy B. and his affiliates aren't done with their dazzling magic just yet. They refer to this Mustang as "Dr. 733" or "The Doc" for short due to the car's original license plate "PHD733," so if you see or hear of a clean-as-hell electric '65 with a prestigious title any time soon, you'll know just what you're looking at.
SPECS
Eddy Borysewicz / reVolt Systems
Oceanside, CA
1965 Ford Mustang Coupe
Engine & Transmission
Shop: reVolt System and AVS Fabrication
2021 reVolt Systems CR-43B crate motor
450kW
600Nm motor shaft/1200Nm at the driveline
Two custom motor mounts with a Turbo 400 rear trans mount
EV-Controls and AEM VCU-with AEM EV display and i-Pad
Custom battery prototypes by reVolt Systems and Legacy EV modules
71kWh battery pack
Chassis/Suspension
Shop: reVolt Systems and AVS Fabrication
Roadster Shop SPEC Series chassis with 4-link with rack and pinion, four-wheel double adjustable coilovers, control arms, spindles and front sway bar
Torque Trends 1.9:1 torque box
Strange Engineering TrueTrac 4.11.1 Ford 9-inch and 35-spline axle
Mark Williams custom carbon fiber 4-inch driveline
Wheels/Brakes
18×8 and 19×12 Billet Specialties wheels
245/40R18 and 345/30R19 Nitto tires
Baer 12-inch 4-piston brakes with regenerative braking
Body/Paint
Paint Shop: Pete 'Hot Dog' Finlan at Hot Dog Kustoms, Temecula, CA
Custom-built wheel tubs, bumpers and one-off diffuser by AVS Fabrication
Custom grille
Carbon hood by Airtech Design
7-inch LED headlights
Custom "LowPro 65" billet aluminum taillights by reVolt Systems
Interior
Custom-painted dash by Hot Dog Kustoms
AEM EV gauge
Sparco steering wheel