Bringing Together the Best of British EV Expertise
 The Classic Mini has been a popular choice for EV conversions around the world due to not only its cult status, but also to its size, making it an ideal city car (and a pocket rocket once you soup it up). In fact, it has become so trendy that Mini (owned by BMW), Mini Sport (the UK's leading Mini specialist), and Fellten (ex-Zero EV, the world's foremost conversion system manufacturer) have collaborated on developing a dedicated bolt-in system.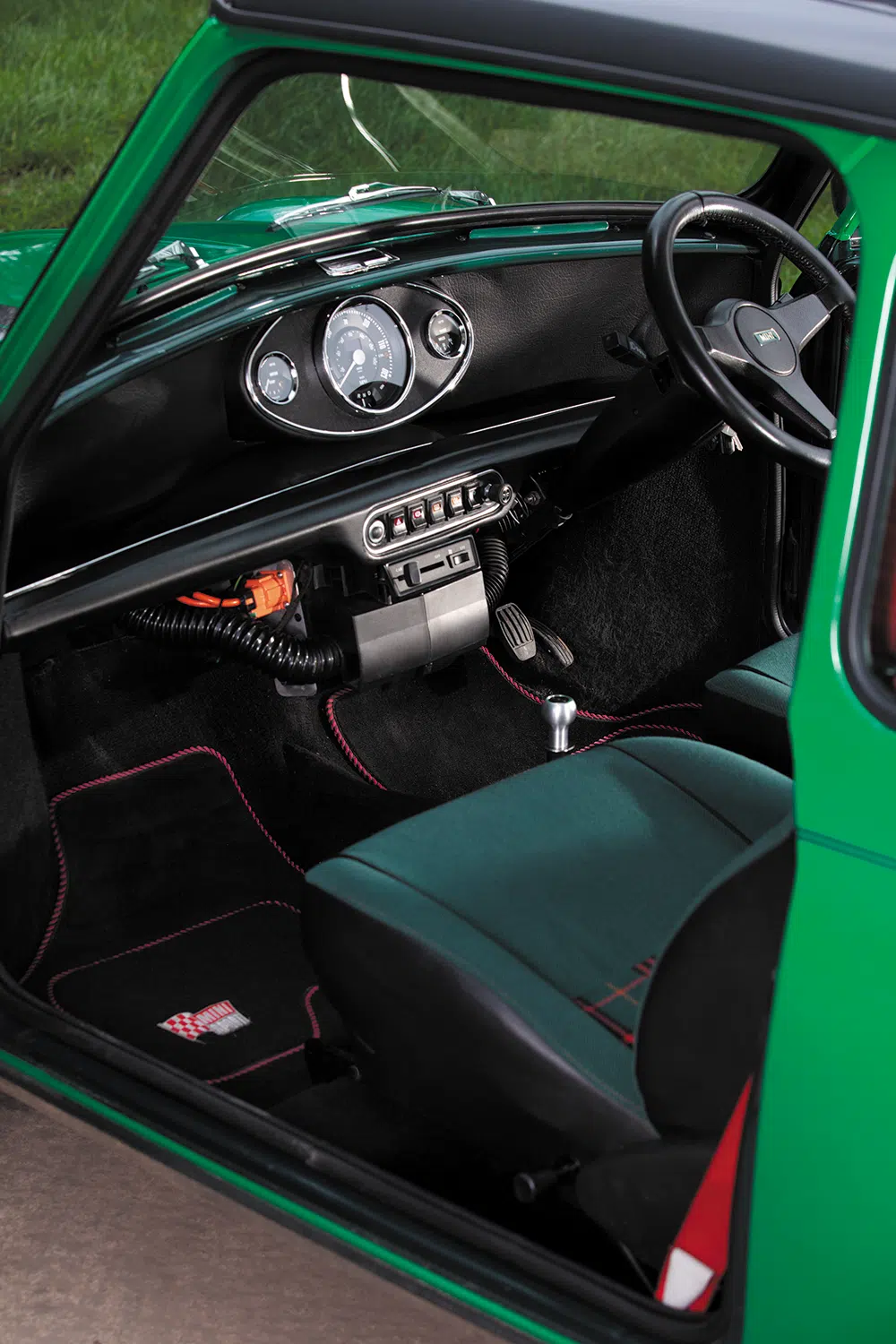 Together they created Recharged Heritage Ltd., which produces two versions of the Mini Recharged: Pure and Sport. Here, we speak with Garry Scott, who oversaw the electric conversion system. He's a proper across-the-Pond Mini guru, having been involved with Minis for 30 years.
Wet Test
Unsurprisingly, the British roads where we are testing the Mini Sport are slightly damp, but the car has no problems putting down the power through its 12-inch wheels and sticky Yokohama tires. Garry is at the wheel first to show me how it's done. Not only does he combine a rare knowledge of Mini's history, restoration, and electric conversion technology, but he also knows how to handle a quick Mini on wet roads!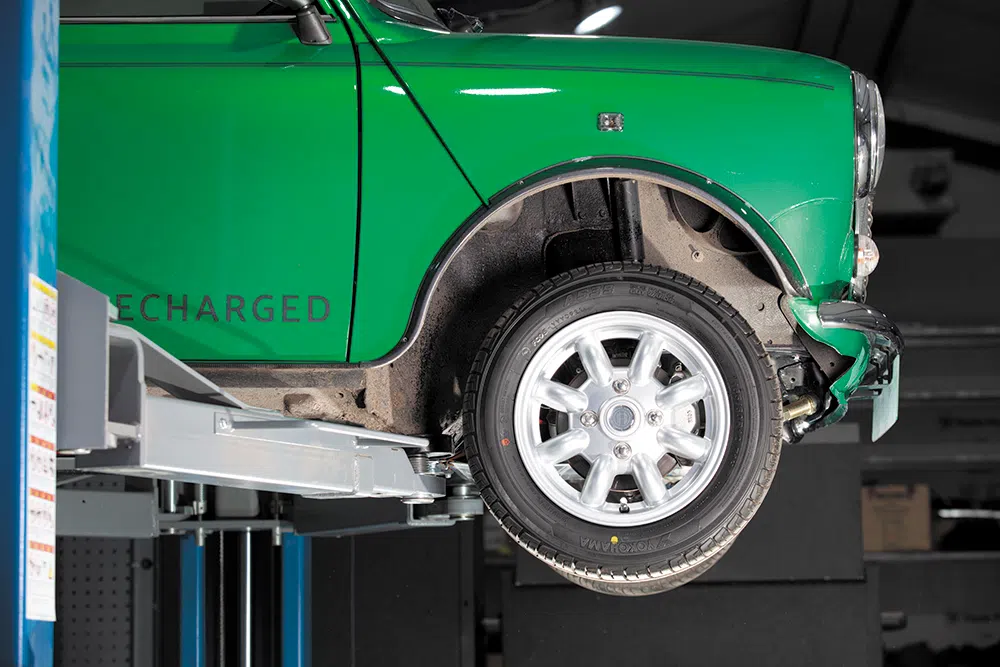 Between full-throttle tight corners, Garry tells me the base package Mini consists of 18 kWh of battery capacity split between two packs under the hood and in the trunk, a charger, a combined inverter, and a motor controller coupled to a 72 kW electric motor. It is purposely limited at 75 hp in Pure-spec models but makes the full power (97 hp) in Sport versions.
The range is just tipping over 100 miles, and both versions accept a 6.6 kWh charge. So, from 0 to 100%, you'd be waiting three hours for a full charge using a 7 kWh home or public charger—not bad at all.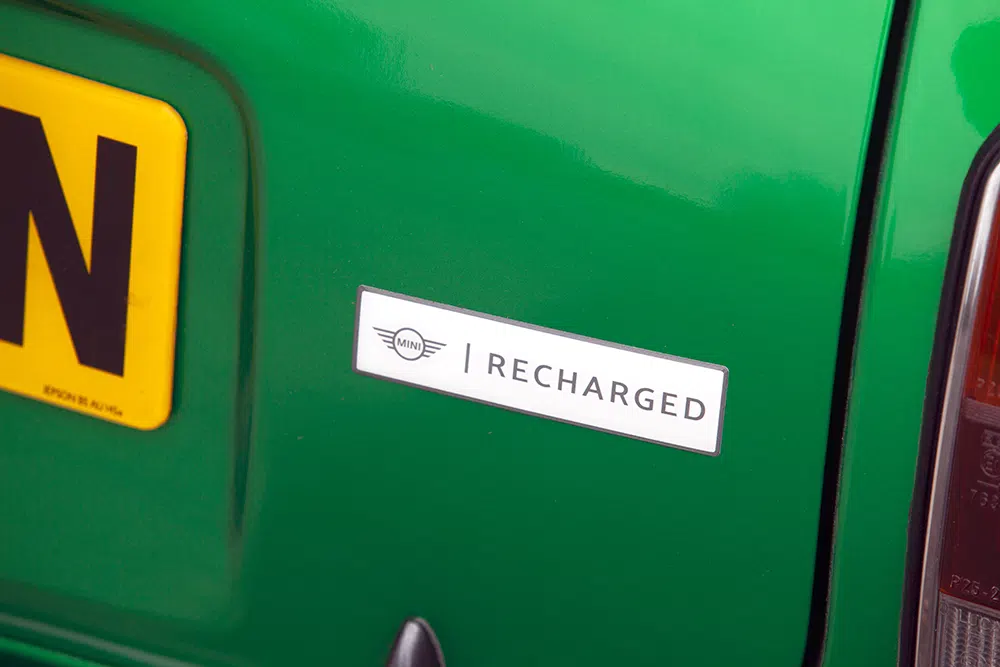 It also has a dedicated single-speed transmission, differentiating it from all conversion solutions retaining a conventional manual gearbox. It's ultimately the better engineering system because it's a great deal more compact. That's important when one of the goals has been to maintain the original Mini's overall weight and weight balance, so inherent in the character of how the little front-wheel drive handles.
In regular Pure spec, the recharged heritage Mini reaches 90 mph (yes, that sounds scary in such a tin box!) and a 0-60 time of 11.5 seconds. Compared to a gas-sipping Mini, the equivalent performance feels absolutely effortless, thanks to the electric motor's instantaneous 130 Nm (96 lb-ft). Luckily, a smart management system prevents wheel spin with this much torque through the narrow tires. That said, when you push it, there is still some fun torque steer!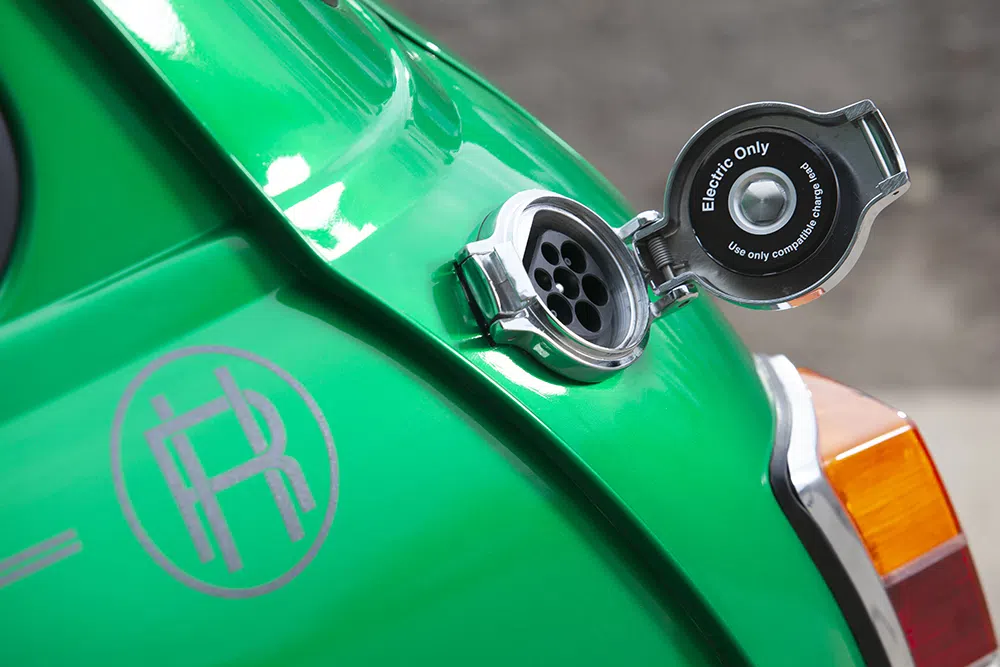 The electron-fed Mini can reach 60 mph in 8.5 seconds, providing a level of acceleration not common in older Minis. The response to pedal input is fast and progressive, making you feel in control of the British pocket rocket.
Regeneration is similar to conventional engine braking and effectively blended with friction brakes. The Mini Recharged is refined at high speeds, and the motor is significantly less noisy than a gas Mini. The gear whine was left in as a nod to the original but can be reduced with soundproofing, should you wish. Having a normal conversation at 60 mph is a unique experience in a Mini.
Different Drive Train, Same Feeling
In true Mini fashion, the car's chassis still steals the show with barely noticeable body roll as the Mini grips in corners like a go-kart. Of course, it still has Mini's mischievous side, as evidenced by a four-wheel slide around a damp turn and the infamous "rubber donut" springs will still make you bounce along bumpy roads—but Mini enthusiasts wouldn't have it any other way.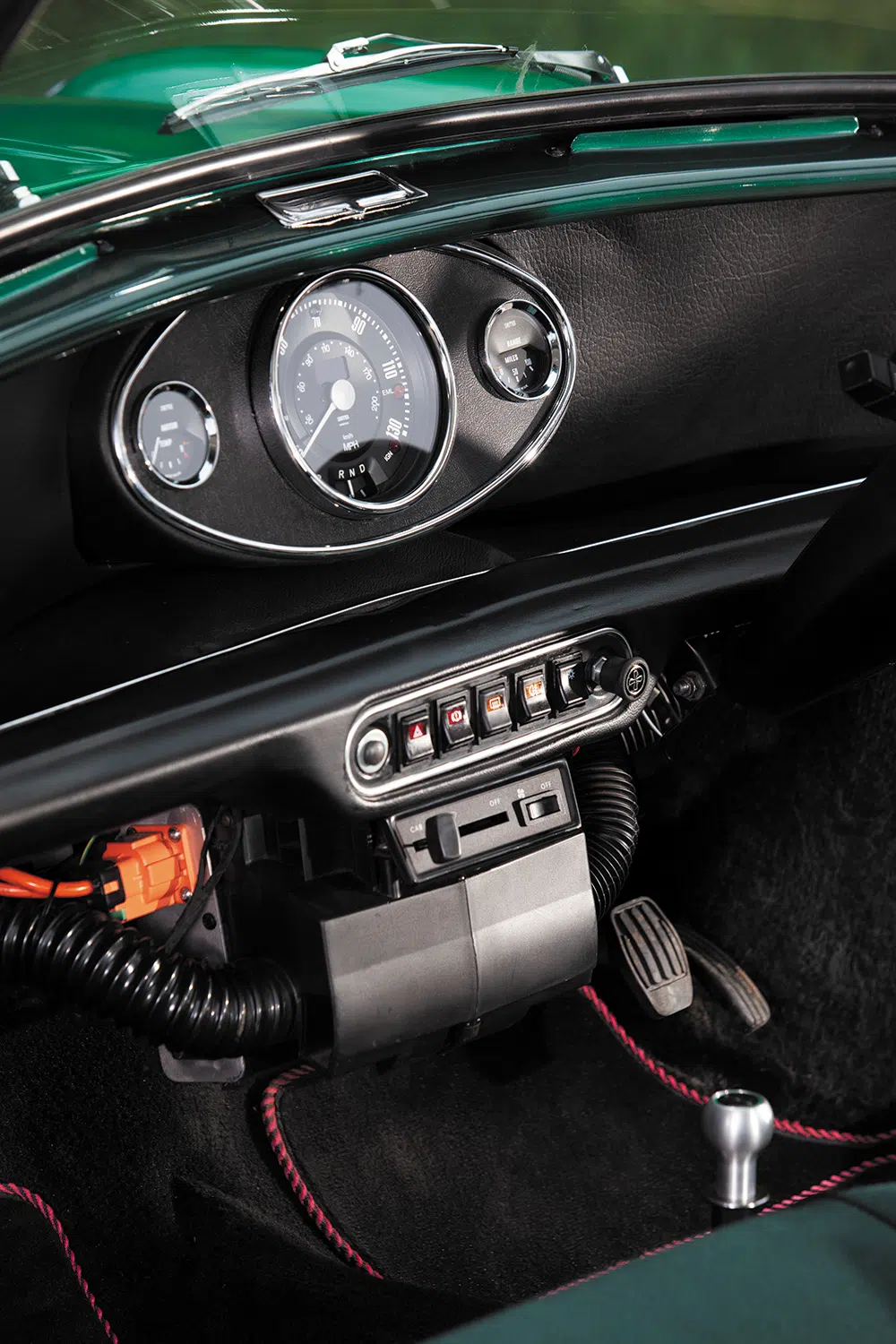 What's uncommon if you're familiar with Minis is the lack of shudders and rattles, which shows the level of care that Recharged Heritage puts into their work.
Packed Batteries
According to Garry, the easiest part of the build was scanning the bare shell and components to create the 3D space for designing. However, they encountered several challenges, including the packaging constraints of the Mini's modest engine bay to fit the battery box and ensuring that no modifications were made to the vehicle to stay within the regulation's requirements. Garry and the Fellten team solved these challenges using engineering principles and CAD to design and create development parts. Still, they found that there were no shortcuts in building an EV conversion system that is unobtrusive and designed to OE-level specifications.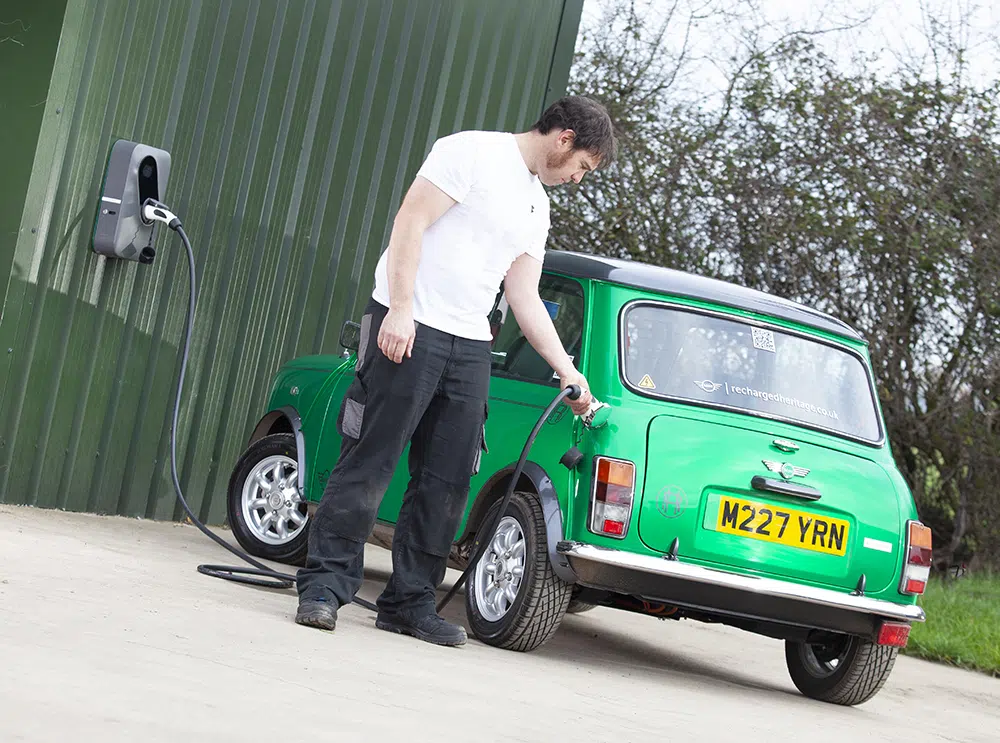 They did a fantastic job in the end, as packing the batteries and the motors haven't impacted the Mini's practicality. In the trunk, the battery lives in the spare wheelwell and comes up to the same height as the original boot board, while the charger takes up less space in the inner wing than the old fuel tank while neatly retaining the filler cap as the charging port.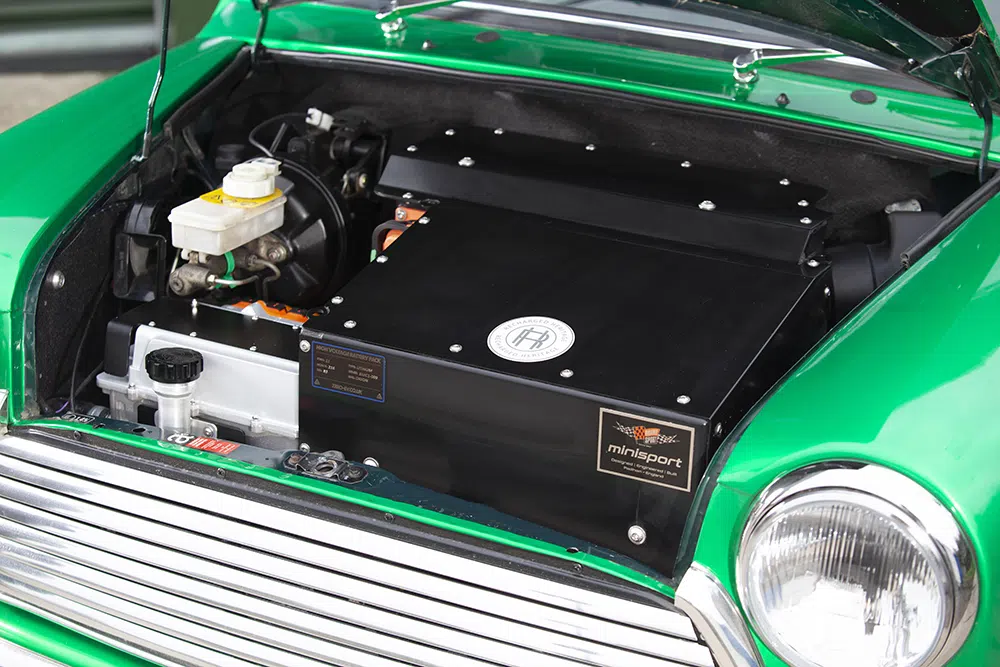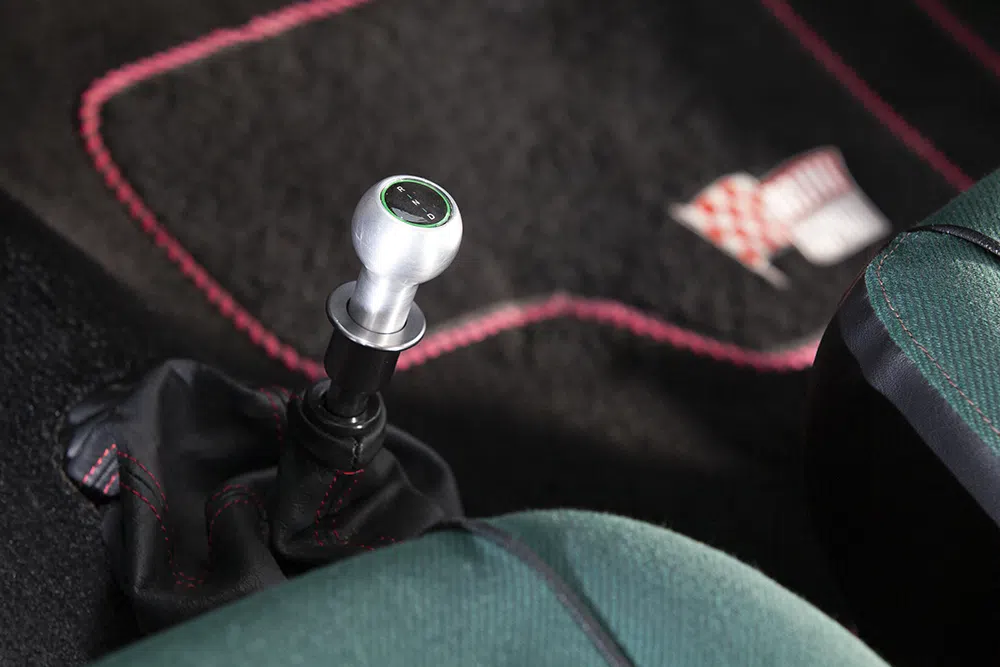 The subframes are new from the original supplier, BMH, because this is the only way to ensure everything is aligned for the new drivetrain and as a foundation for getting the Mini to drive straight. More notably, there are no modifications to the body—not even any new drilled holes. That's good for purists of originality, of course, but more importantly, it means there's nothing you couldn't return to standard here.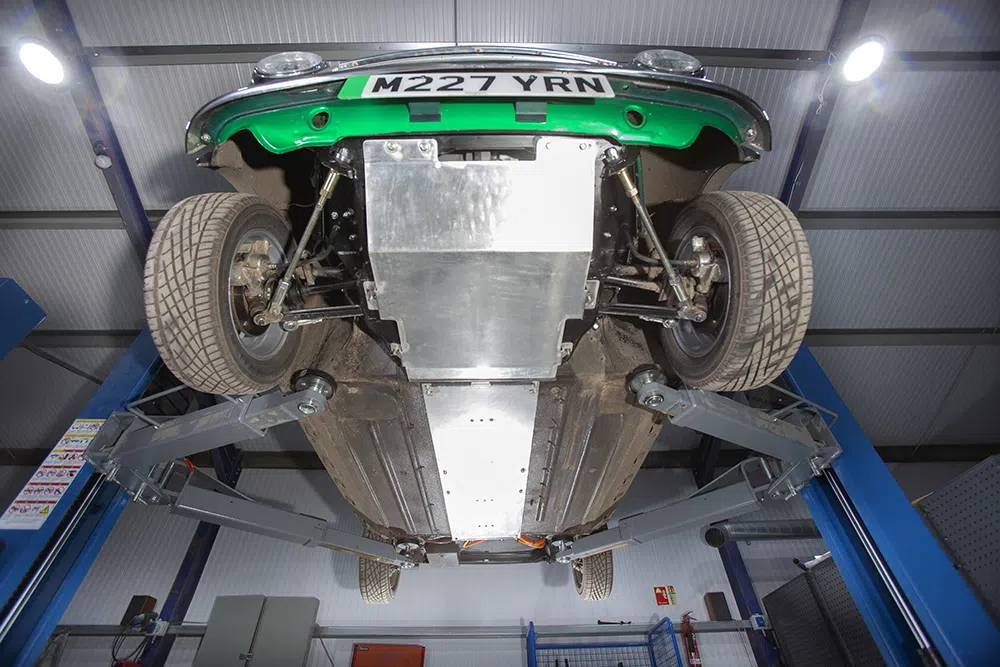 There are still many doubters when it comes to electric conversions of classic cars, and they have valid reasons to be skeptical. The cost is still high now, and for some, the experience of driving an older vehicle involves interacting with an engine and gearbox, including fixing them from time to time, on the side of the road, under the rain, on a dark Sunday night… (Have you been there too?)
Inside Job
Consistent, reliable, and comfortable performance is one of the many advantages of this converted Mini. Another is the fact that you'll never have to worry about oil leaks again. And even if you don't live in an urban area, usability should still be a consideration. The possibility of combustion-powered cars being banned from cities altogether seems closer every day. But, regardless of personal preferences and the economy, the Mini Recharged is still a blast to drive. And having an officially sanctioned, well-engineered, and warrantied conversion of this iconic classic only adds to the Mini's appeal.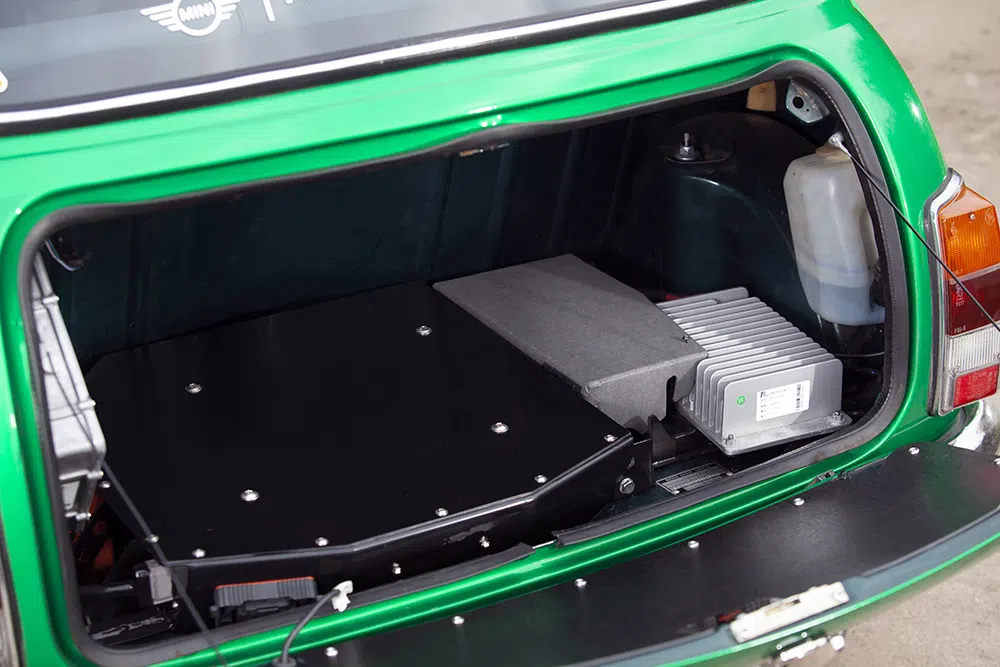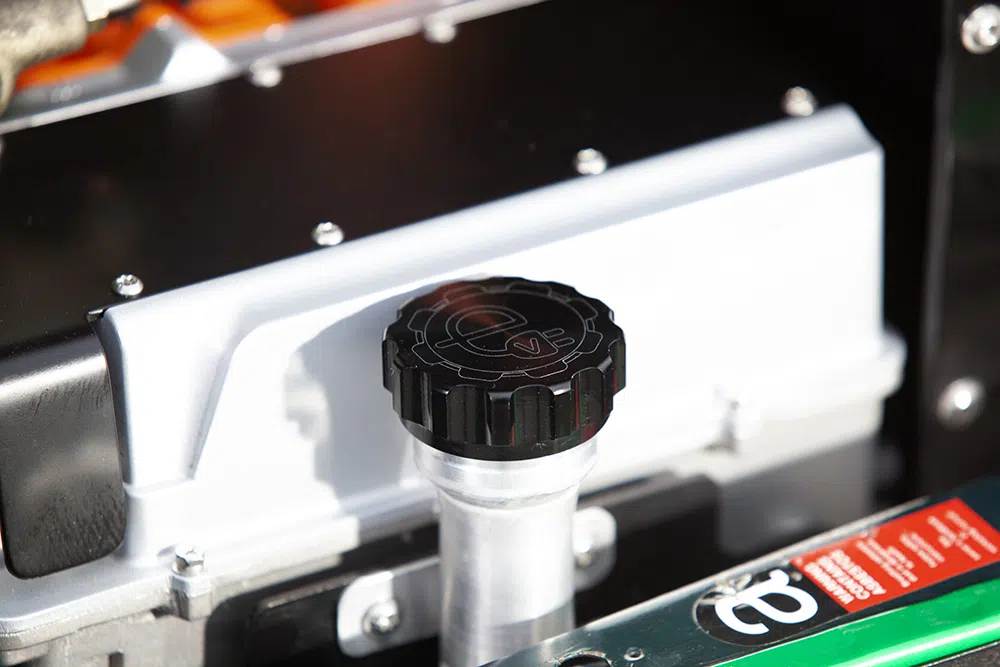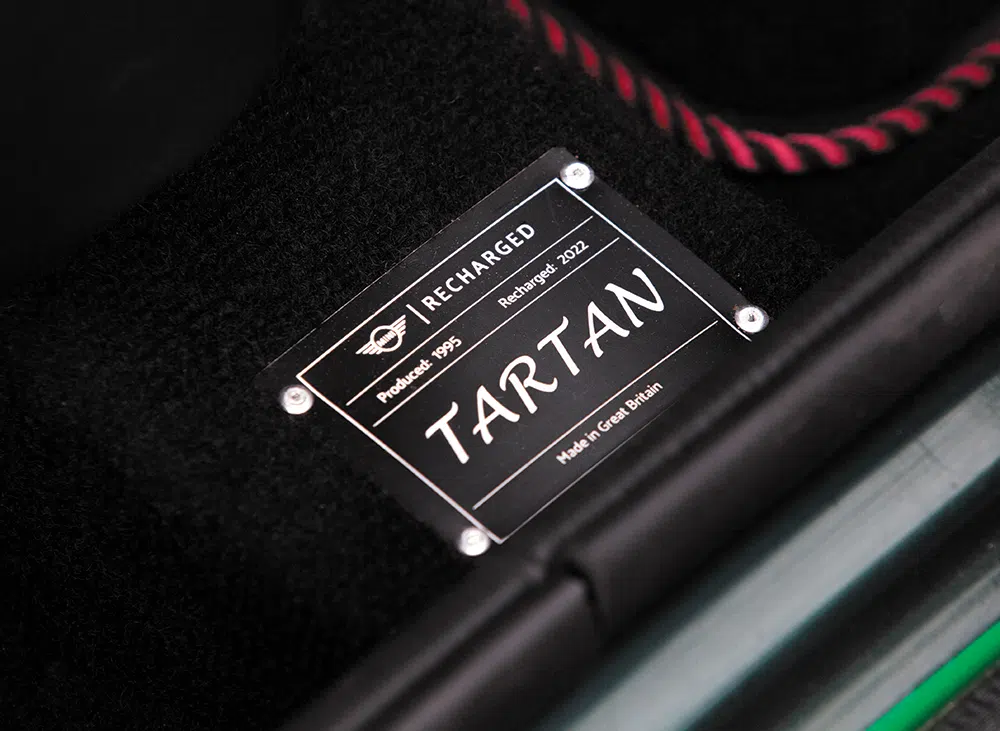 The conversion is fitted all in-house by Mini Sport in Burnley, in the UK. Recharged Heritage-converted Minis will only be sold as complete Minis in the US (conversion systems will be available in specific markets).
Consistent, reliable, and comfortable performance is one of the many advantages of this converted Mini. Another is the fact that you'll never have to worry about oil leaks again.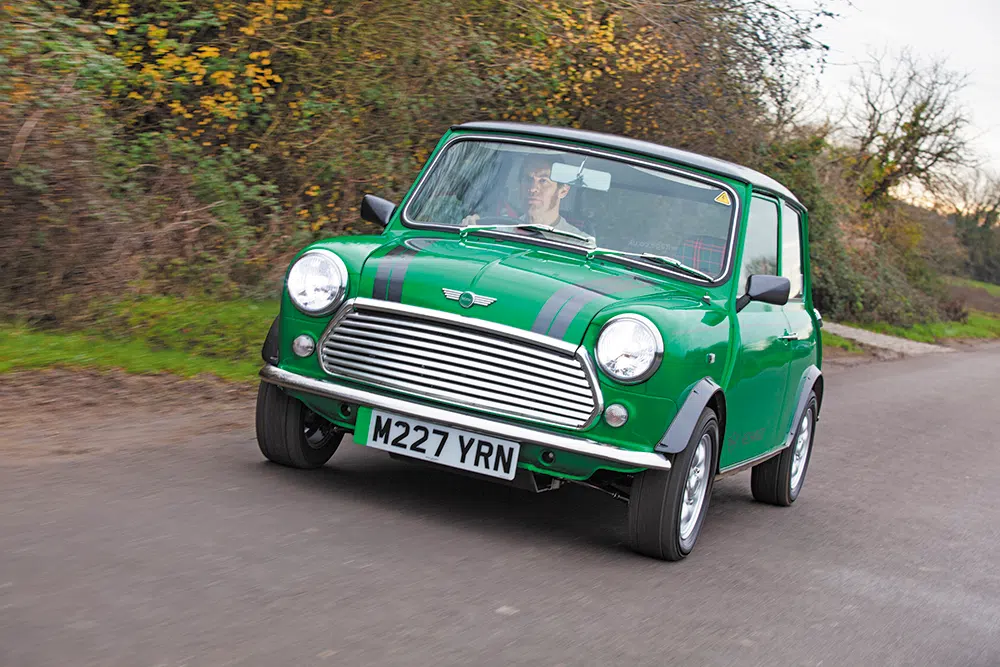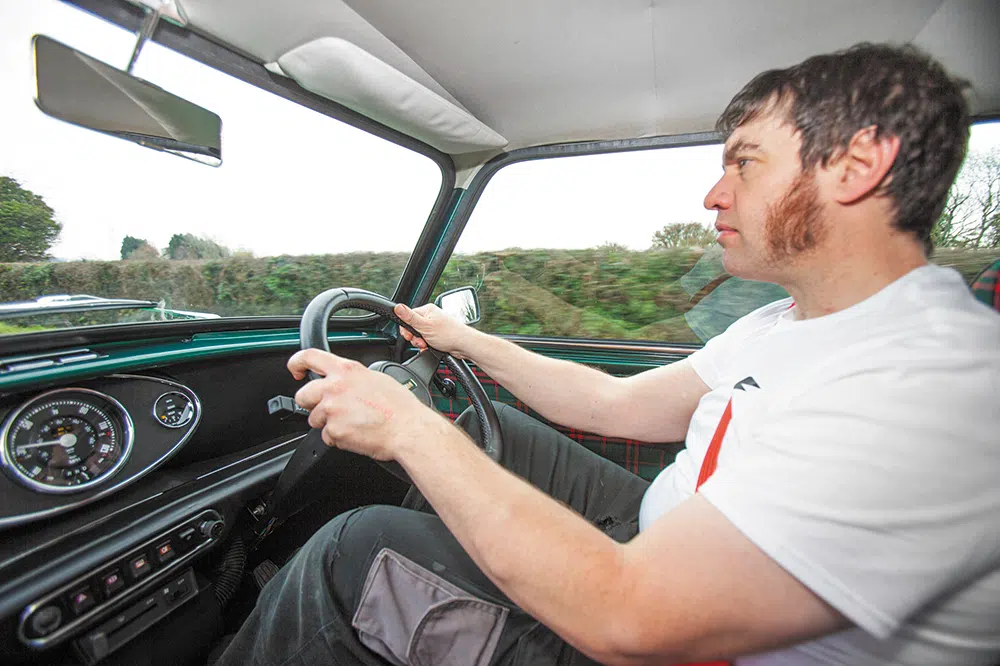 The company recently announced a starting price of $75,000 for the full package, or $52,500 if you send them your Mini. These complete builds ensure every car is built to a certain quality level at Mini Sport in Burnley, and they come with a one-year warranty. However, should you be tempted, you'd better place your order very soon as the 50 allocations for this year are closing at an impressive rate.
---
SPECS
Motor & Drivetrain 
Motor Swap Performed by Fellten
Motor Drive Unit: Zonic 70
Power: 56 Kw, city mode; 72 Kw, Sports mode
Torque: 100 Nm (74 lb-ft), city mode; 130 Nm, Sports mode
Voltage: 400 v
Max RPM: 14,000
Motor & Transmission Mounts: Standard mount location on the subframe, using bespoke mounts with Powerflex bushes
Control System and Software: AEM VCU 200
0 to 60 time: 11.5 seconds, city; 8.5 seconds, Sport
Battery System & Charger
Pack Design: In-house designed and manufactured Fellten system with internal Orion BMS
Battery Capacity:
18 kWh
Battery Locations: Front battery pack 11.25 Kwh in the engine compartment and 6.75 Kwh battery pack in the trunk
City Range: 103 miles WLTP
Regen Type: Single-mode regenerative braking system
Charger: 6.6 kW Elcon charger
Charger Location: Mounted in the trunk adjacent to the rear battery in the original fuel tank location
Chassis & Suspension 
Installation Shop: Recharged Heritage
Chassis: Unmodified chassis with no extra holes drilled, no welding
Lowering Kit: Mini Sport Hi-Los
Rear Suspension Setup: Standard rubber "donut springs" and trumpets suspension
Control Arms: Standard upper and lower suspension arms
Shocks: KYB Gas-A-Just shocks
Wheels, Tires & Brakes 
Wheels: 4.5×12-inch Rover Cooper alloy rims
Tires: Yokohama A539 165/60R12
Front Brakes: Standard 8.4-inch discs with AP calipers and EBC Greenstuff pads
Rear Brakes: Standard rear drums, with standard brake shoes
Driveshafts: Standard specification driveshafts with adaptor for gearbox inner CVs, sports upgrade to equal length driveshafts
Body/Paint 
Paint Shop: Minisport UK
Wheelwells: Standard Rover Mini arches
Bumpers: Rover stainless steel bumpers, front and rear
Headlights: H4 halogen headlights
Glass: Standard Rover with a green tint
Rubber Moldings: Rover standard fitment
Interior 
Install Shop: Mini Sport UK
Seats: Rover Mini Tartan edition
Gauges: Caerbont Automotive Instruments gauge set, all CAN controlled, bespoke, and exclusive to Recharged Heritage, encompassing range gauge, motor temp gauge, and large speedometer with DNR identification; Mileometer and trip readout with trip reset
HVAC System: PTC heater element fitted to replace water heated matrix in original heater unit; single speed with three heating settings
Info 
---
The Basics
Owner:
Recharged Heritage Ltd
Location:
Padiham, UK
Model:
1995 Rover Mini Tartan (JDM)
Vehicle Name:
Tartan
Overall Weight:
1,435 pounds
Time to Build:
Four weeks
Cost to Build:
$52,000