The Rise of One More Wire
Mark Scalpone and his Vintage Iron and Restoration team have done it again! With a passion for vintage cars and years of experience in the industry, Vintage Iron has become a household name in the classic car repair and restoration scene in Scottsdale, Arizona. And now, with their latest project, One More Wire, they're setting the bar even higher.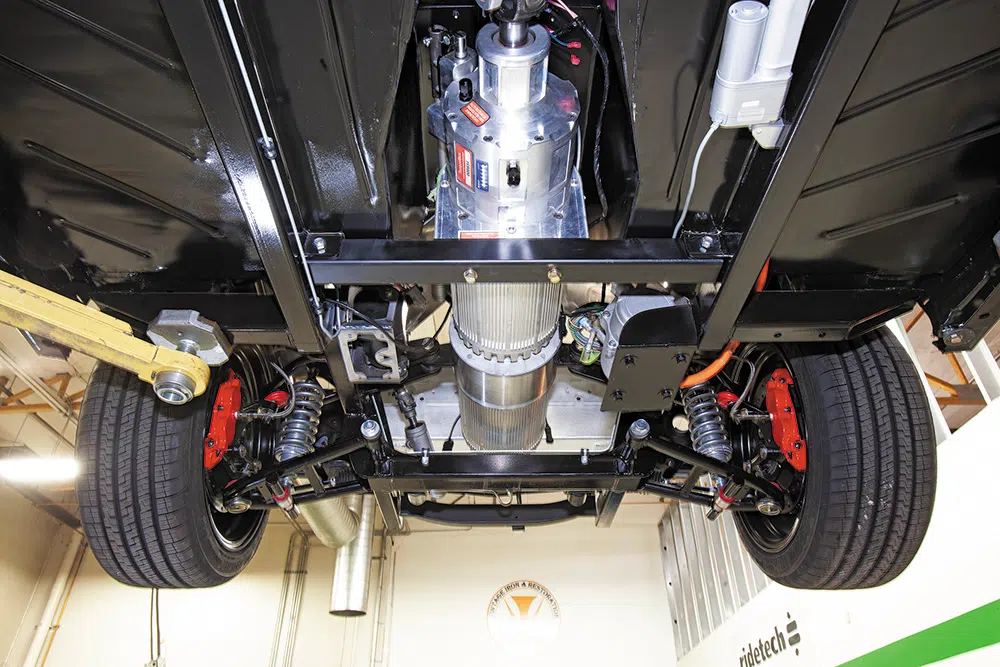 One More Wire is a fully electric 1972 Chevrolet El Camino built from the ground up. The team at Vintage Iron recruited Logan Necochea, one of their builders, to team up with Mark on this ambitious build. And what a project it is! From acquiring the training and equipment they needed to custom building the chassis, this build is a true test of their skills.
Classic Builders
Mark, a classic car enthusiast with a wealth of knowledge and a passion for vintage vehicles, founded Vintage Iron and Restoration in 2004. The initial goal was to repair classic cars, with a focus on American-made vehicles manufactured before 1978. However, the business quickly gained popularity, and soon, Mark and his team realized they needed more space to keep up with the growing demand for their services.
With a desire to continue growing and exploring new opportunities, Mark built a team of skilled and visionary individuals to venture into the custom car-building arena.
After moving to a larger facility, Mark and his team continued to provide top-quality classic car repairs. They soon established themselves as the go-to shop for vintage vehicle enthusiasts in Scottsdale, Arizona. In 2013, Mark again expanded his operations by moving to an even larger facility, allowing his crew to take on complete restoration projects. The team started with restoring early Mustang and Camaro models and found success in the restoration field.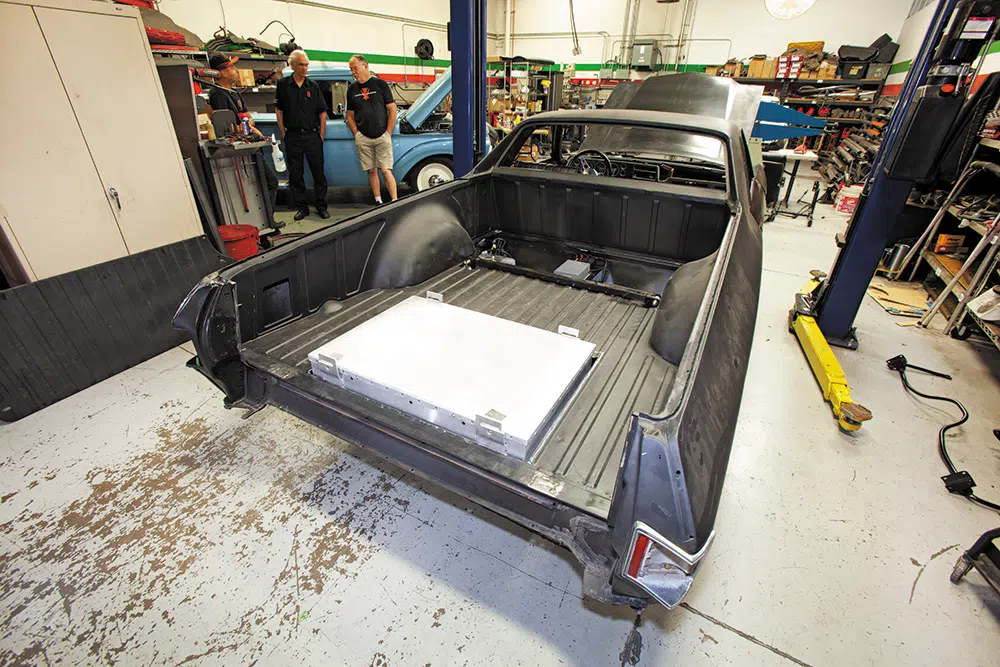 With a desire to continue growing and exploring new opportunities, Mark built a team of skilled and visionary individuals to venture into the custom car-building arena. In 2017, Vintage Iron took on a custom-build project that would solidify its reputation as a full-service custom vehicle shop. The project was a 1979 Ford Bronco designed to have the classic look of an early Bronco but with a modern twist, attracting attention and gaining recognition for the team's innovative approach to custom car building.
The Vintage Iron and Restoration team had a grand plan to merge a sleek 2019 Ford F-250 King Ranch with an old-school early Bronco shell. And lo and behold, they succeeded in creating a classic car with a twist! It had the whole interior of a King Ranch, a modern drivetrain, and a custom-made F-250 front grille and headlights.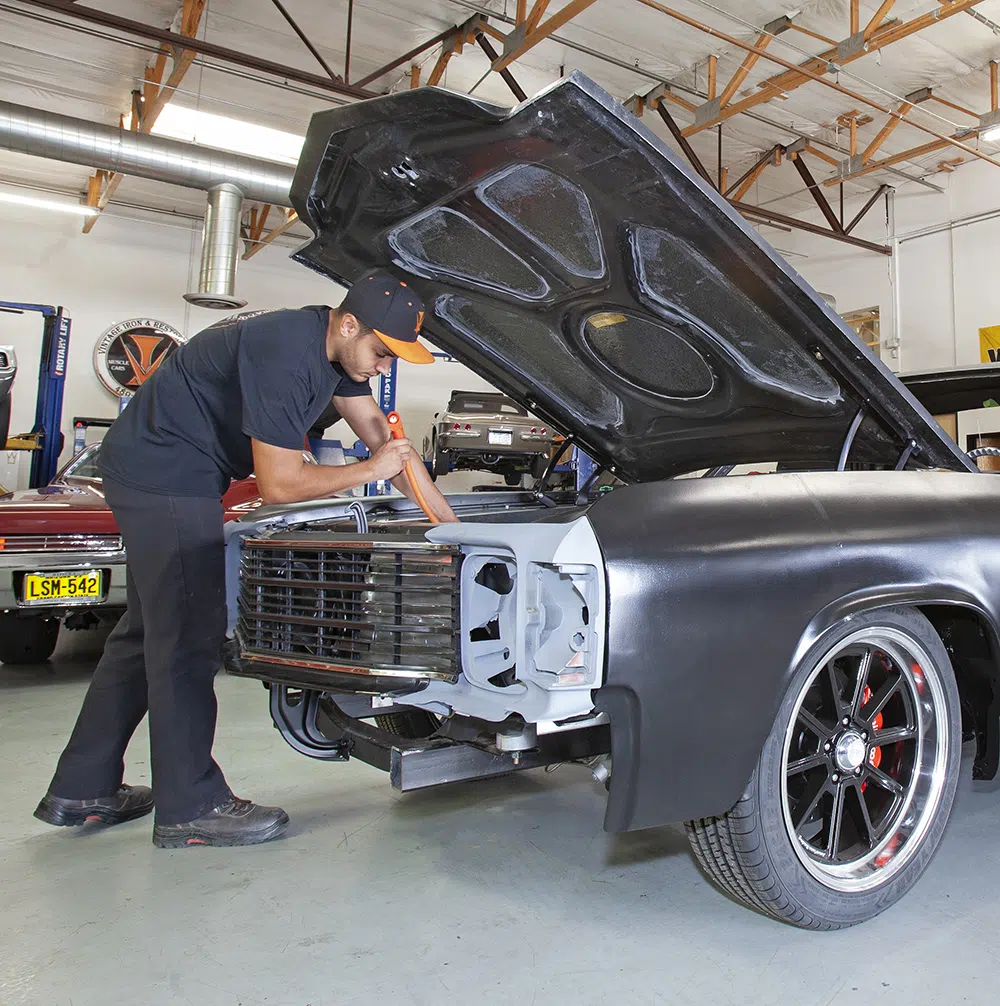 Having made their mark in the custom car-building world, the team at Vintage Iron wanted to take on a new challenge and push the boundaries of their expertise. In 2020, Mark, the mastermind behind the company, came up with the idea of building an electrifying vintage car. Despite receiving mixed reactions from the people he approached, Mark was determined and pushed forward. His persistence paid off when one of his customers donated a 1972 El Camino for the project in 2021.
Loose Wire
And so, Project One More Wire was born, and Mark roped in Logan for this exciting venture. They sought out the support of the team at Legacy EV, who equipped them with everything they needed, from training to equipment, to complete the electric vehicle part of the build. Today, the El Camino is a moving masterpiece, with its paint and bodywork still underway. We cannot wait to show it to you once it is completed and take it for a spin.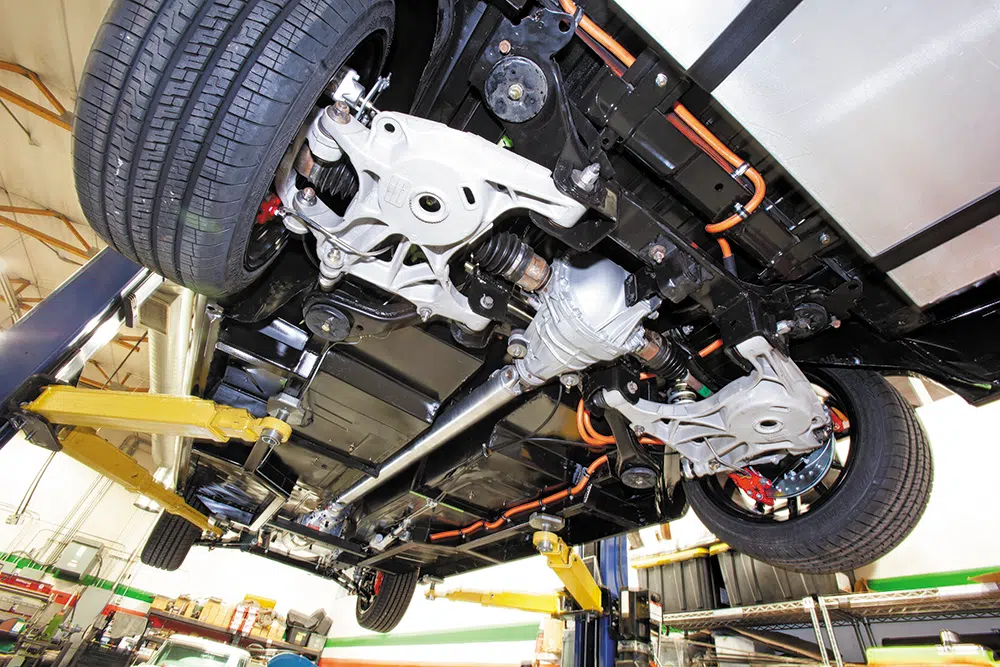 The Electric Camino sports two NetGain Hyper9 motors working in tandem, so it packs a powerful punch, delivering 186 kW and a massive 880 Nm. And thanks to the custom motor and transmission mounts, as well as the Thunderstruck Motors control system and software, every burst of power is precisely controlled and smoothly delivered—unless you're up for a rubber-melting burnout competition—then it's full throttle, and the Camino annihilates a set of Goodyear Eagle 225/45R18 in seconds.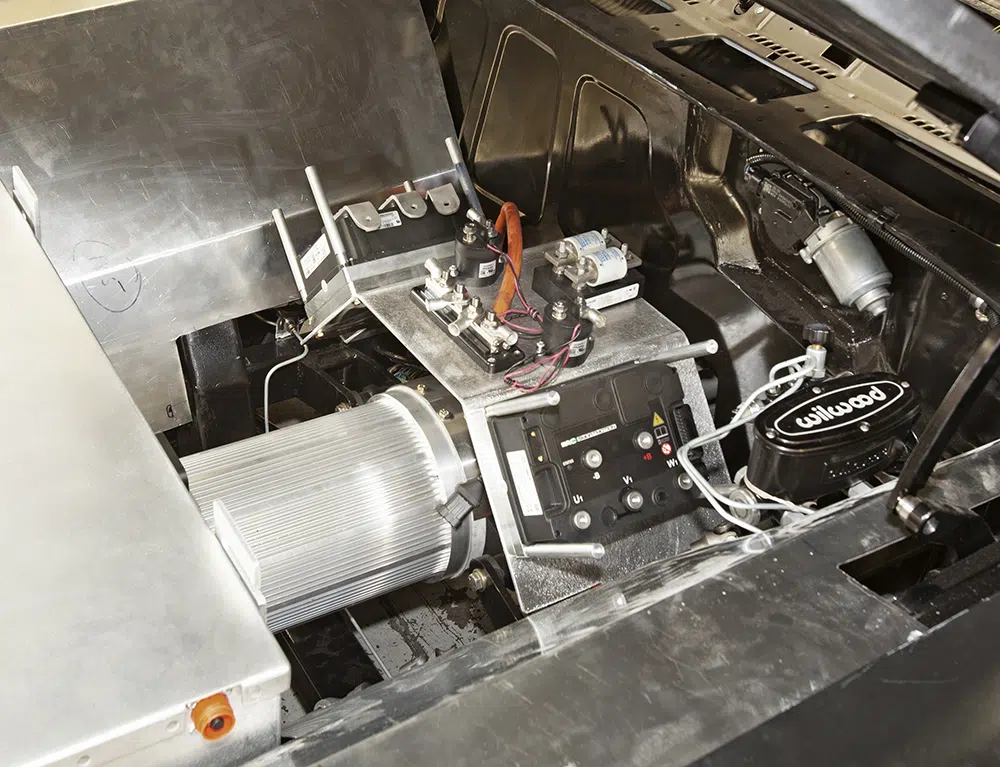 But what good is all that power if you can't keep the juice flowing? That's where this car's modular battery pack, made up of prismatic cells custom-configured by Vintage Iron, comes in. With a whopping 66.6 kWh of capacity and dual onboard chargers, you'll never be left stranded. And with the plug conveniently located in the factory fuel fill location, recharging is a breeze, even if CCS is not yet on the menu.
The custom chassis and 1992 Ford Thunderbird independent suspension provide a smooth, stable ride, while the lowered design and coilover setup give it that classic, sporty look. American Racing wheels and good ol' Eagle tires add a touch of style, while Wilwood brakes ensure you can stop on a dime. And with a custom-made aluminum driveshaft, this ride is built to last.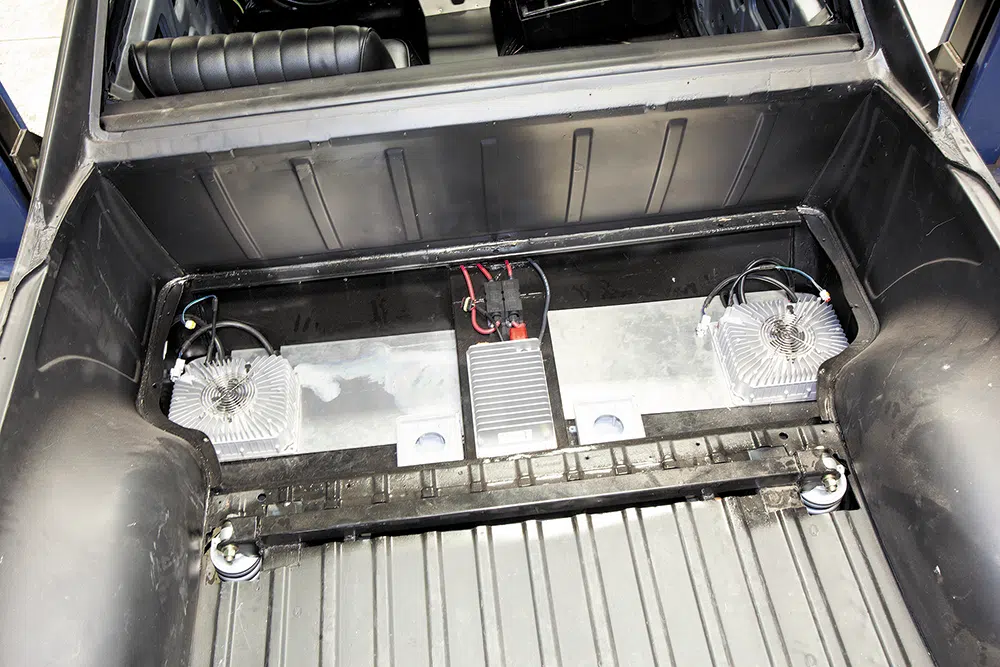 But it's not just about what's under the hood. The interior is also brought in the 21st century. A custom-built HVAC system and a stylish Budnick steering wheel join the reupholstered seats and Dakota Digital gauges.
So why settle for a boring, run-of-the-mill ride when you can have a true work of art? With its classic style, modern tech, and incredible power, this electric car is sure to turn heads and put a smile on your face.
Unfinished, Yet Already a Star
The Electric Camino debuted at the November 2022 Goodguys event in Scottsdale, impressing everyone with its futuristic features. The wiring part of the build was a breeze, all thanks to Logan's expertise in EV conversions. However, routing the high voltage in a visually appealing manner proved to be quite a challenge, but the team found a solution by routing it through the frame rails.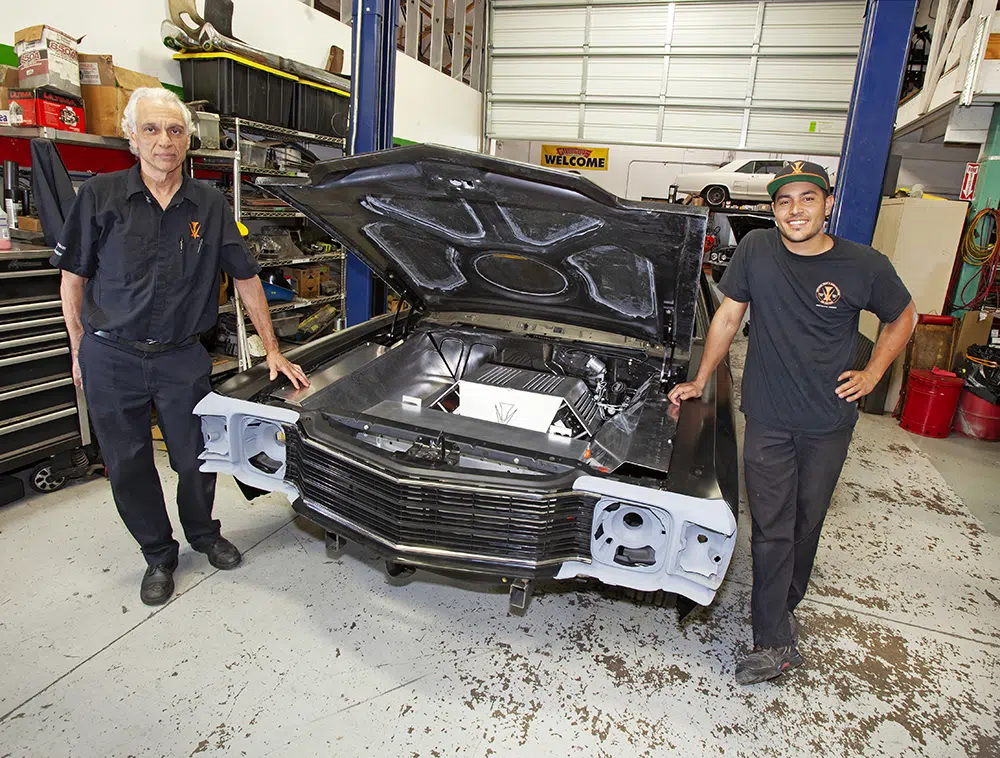 If you're looking to build an electrifying vintage car, remember this wise advice from the Vintage Iron team: Plan, plan, and plan as far ahead as you can think. And once the build is complete, sit back, relax, and enjoy the ride!
SPECS
Owner: Vintage iron Motor and Drivetrain 
Motor Swap Performed By: Vintage Iron and Restoration
Motor Drive: Two NetGain Hyper9 motors in tandem
Power: 186 kW
Torque in Newton Meters: 880 Nm
Voltage: 128 V
Max RPM: 9,000
Peak Current: 750 amps per inverter
Max Continuous Current: 375 amps per inverter
Motor/Transmission Mounts: Custom by Vintage Iron
Control System and Software: Thunderstruck Motors
Battery System and Charger
Pack Design: Modular, designed in house
Cell Type: Prismatic
Module Manufacturer and Configuration: Custom setup by Vintage Iron
Battery Capacity: 66.6 kWh
Battery Locations: 1/3 of capacity in the engine bay, 2/3 in fuel tank location
Highway Range: TBD
City Range: TBD
Regen Type: Hydraulically activated kinetic
Charger Location: Dual onboard chargers, plug located in the factory fuel fill location
Chassis/Suspension 
Installation Shop: Vintage Iron and Restoration
Chassis: Custom built at Vintage Iron
Lift/Lowering Kit: Lowered by the custom chassis design
Rear Suspension Setup: 1992 Ford Thunderbird independent suspension
Control Arms: Helix Ford Mustang II
Spindles: Helix
Springs: Coilover setup
Shocks: Aldan American
Wheels, Tires, and Brakes 
Front Wheels: American Racing, 18×8-inch 4.5BS AR605 Torq Thrust
Front Tires: Goodyear Eagle 225/45R18
Rear Wheels: American Racing, 18×8-inch 4.5BS AR605 Torq Thrust
Rear Tires: Goodyear Eagle 225/45R18
Front Brakes: Wilwood 6 pistons
Rear Brakes: Wilwood 4 pistons
Gears/Ratio: 3.0 8:1
Driveshaft(s): Custom made in aluminum
Interior 
Install Shop: Vintage Iron and Restoration
Seats: Stock
Gauges: Dakota Digital
Steering Wheel: Budnick wheels
HVAC System: Custom built
Sponsors and Special Thanks: