From Nursing Books to Garage Tools: A Mechanic's Triumph in No-Nonsense Retrofit
During my time at The Vault, a classic car dealership situated in Jackson, Mississippi, I embarked on my journey with a 1969 Subaru 360. This peculiar car stands out among the array of rare and expensive classics and exotics that graced the shop. As I juggled being a full-time nursing student, my boss, JD Pass, accommodated my schedule, allowing me to work around classes and clinical commitments. This unique flexibility enabled me to nurture my passion for classic cars and mechanics while pursuing my education.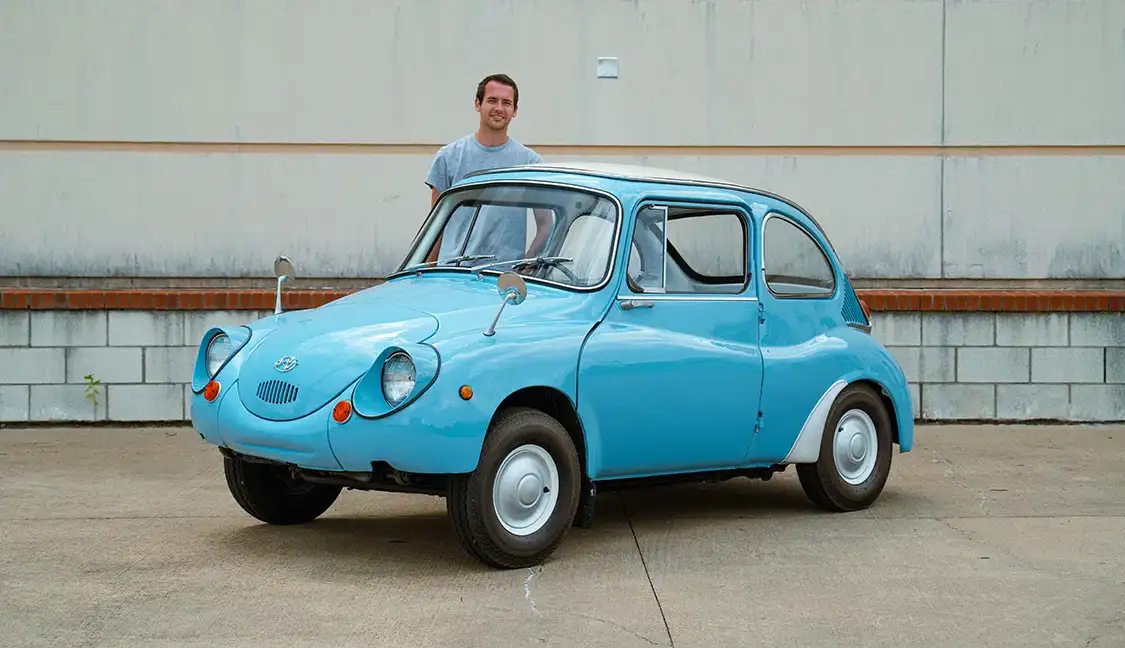 My association with The Vault extended throughout my time in nursing school and continues sporadically to this day, with occasional visits to lend a hand in the shop. Amidst a treasure trove of automotive wonders, the little 1969 Subaru 360 caught my attention. It arrived at the shop with a dormant engine and ineffective brakes. This modest and unassuming car would soon become one of my favorites.
Upon completing nursing school and finding myself with disposable income, an opportunity presented itself on the Facebook Marketplace—a project car, a 1969 Subaru 360, in need of revival. After parting with $1,200 and undertaking a four-hour road trip, the little car became part of my life. At the outset, my intention was to restore the original motor or locate a suitable replacement engine. Yet, the scarcity of hard-to-find components for the original powertrain led me down a different path.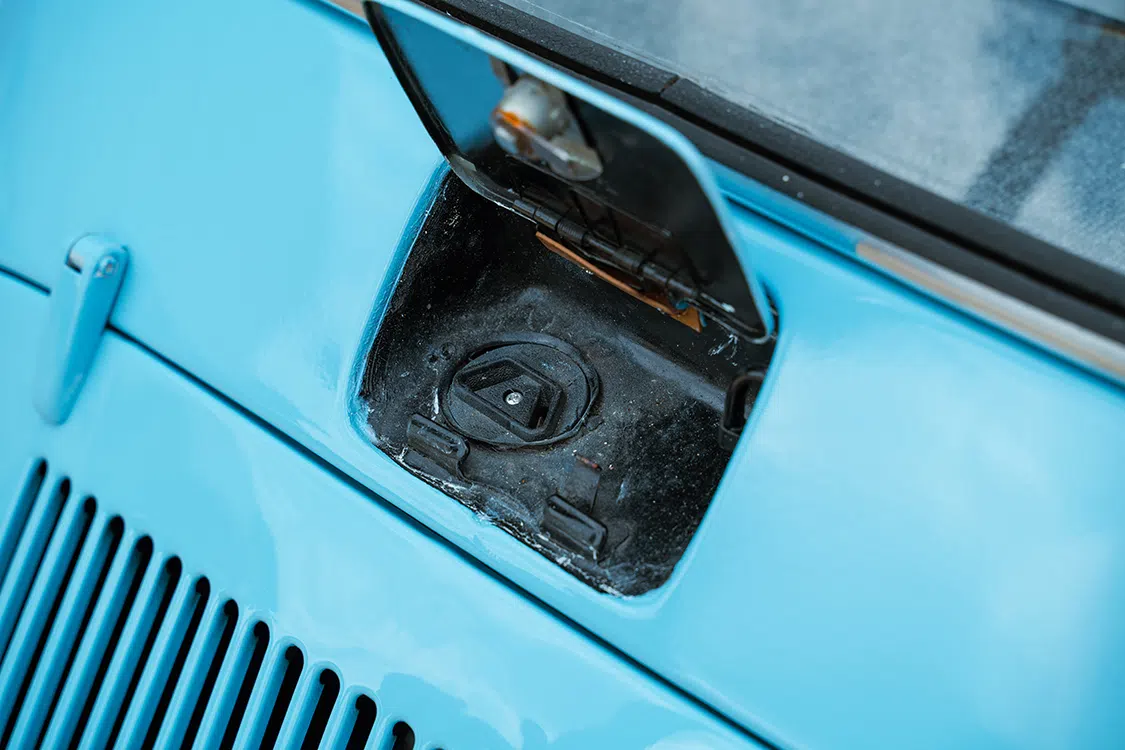 In my Uncle Earl's workshop, which housed dormant Taylor Dunn and EZGO vehicles, my quest for an alternative solution began. These neglected electric vehicles became my experimental ground. A journey of trial and error ensued, eventually giving rise to what I now refer to as the Electric 360.
The original Subaru 360 engine presented a plethora of issues—missing parts, bent rods, and a piston with a hole, among others. Salvaging the crankshaft bearings and removing the piston rods marked the starting point. The electric motor took the place of the cylinders, connected by a chain to the crankshaft. The motor mounting plate, sourced from the Taylor Dunn, was meticulously aligned with the Subaru block. Custom-made sprockets from Motion Industries in Jackson, Mississippi, upheld a 1:1 ratio between the motor and the crankshaft. A specially crafted bracket supported the electric motor's weight, occupying the space previously reserved for the cylinders. Retaining the rest of the Subaru drivetrain maintained the car's original essence.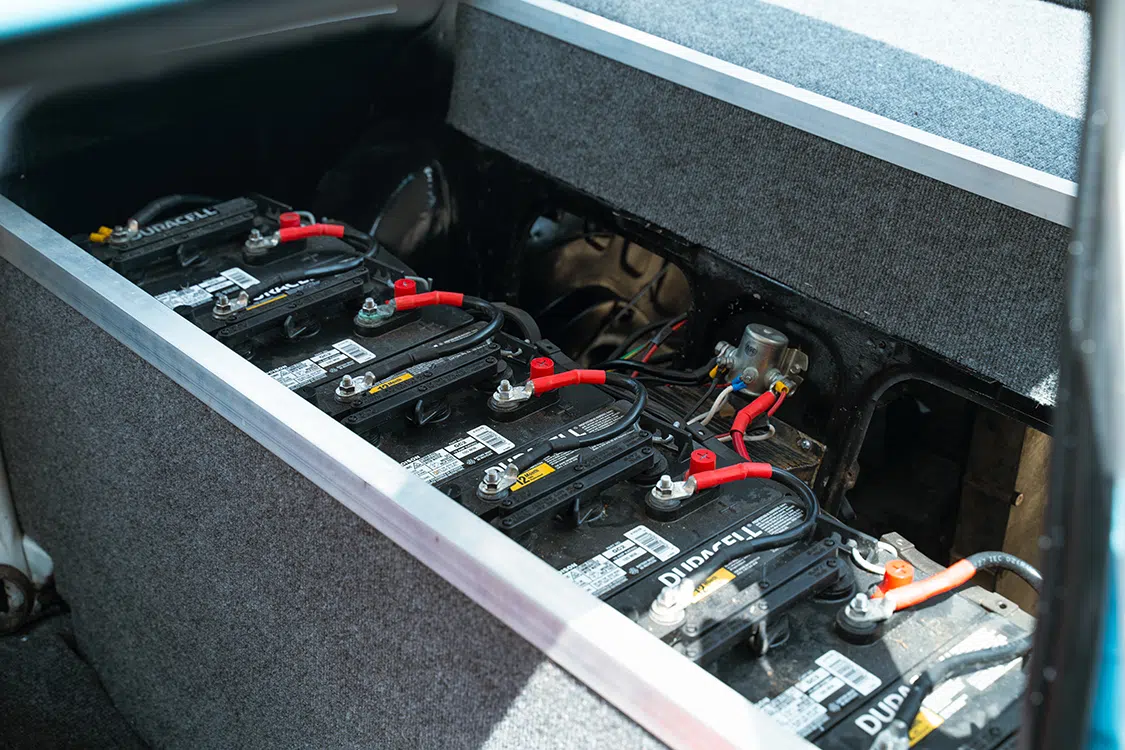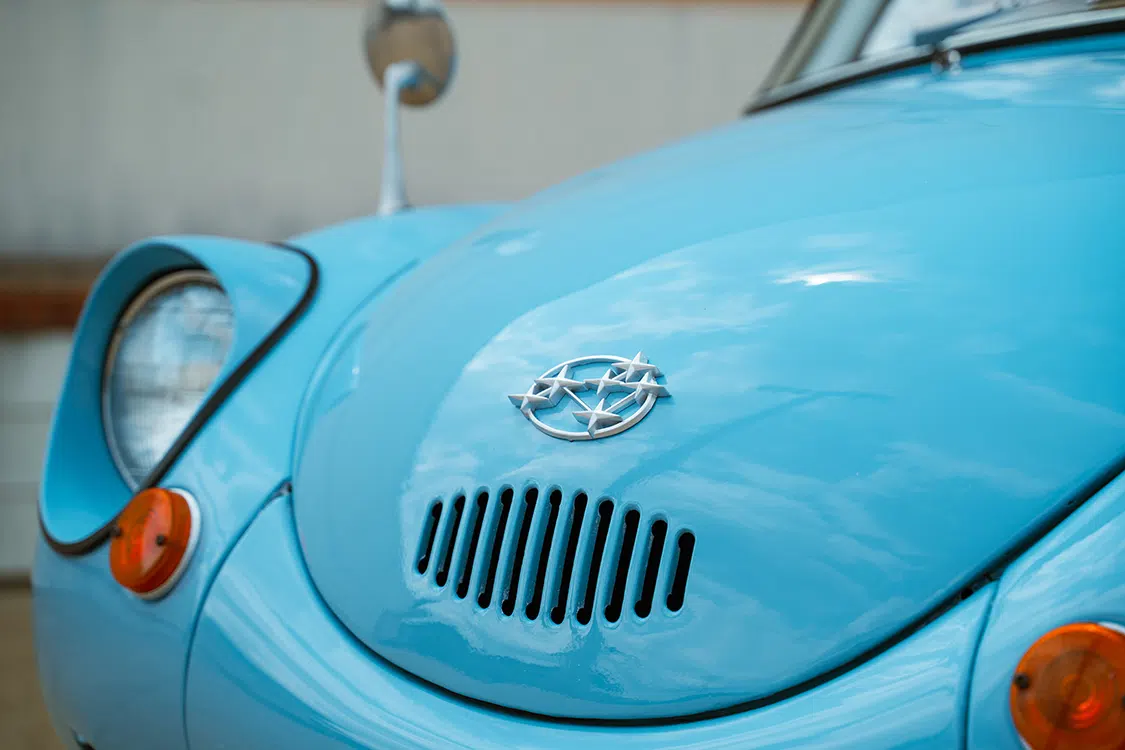 My foray into electrical engineering was aided by rewiring the entire vehicle harness, a task facilitated by my father's background as an electrical engineer. A 36V to 12V converter powered a fuse block that controlled the lights, signals, and wipers. With the back seat removed, I constructed a frame to house the batteries and essential controls, expertly upholstering a box to conceal them. Sheetmetal repairs and extensive bodywork occupied three years, culminating in a satisfying paintjob. Reassembly proved more straightforward, and the transformed car emerged in all its glory.
Through constant research during the build, I identified potential upgrades for future street legality. While this venture was undoubtedly marked by trial and error, it has shown me the remarkable potential of electric conversions.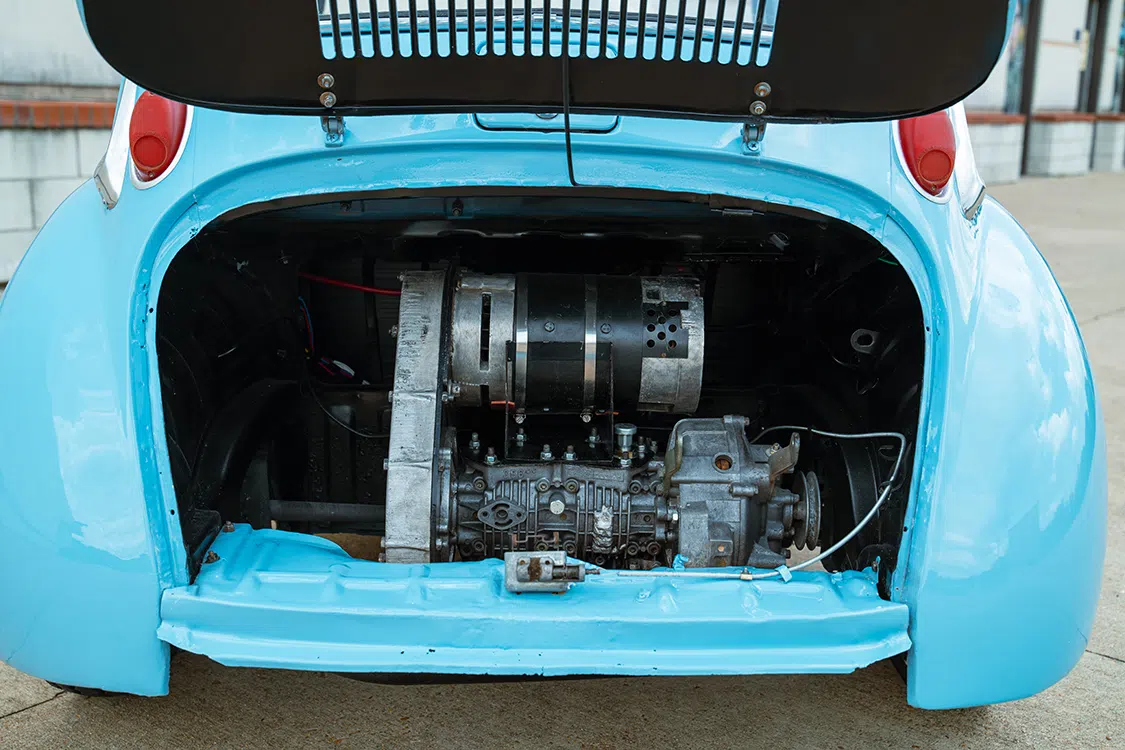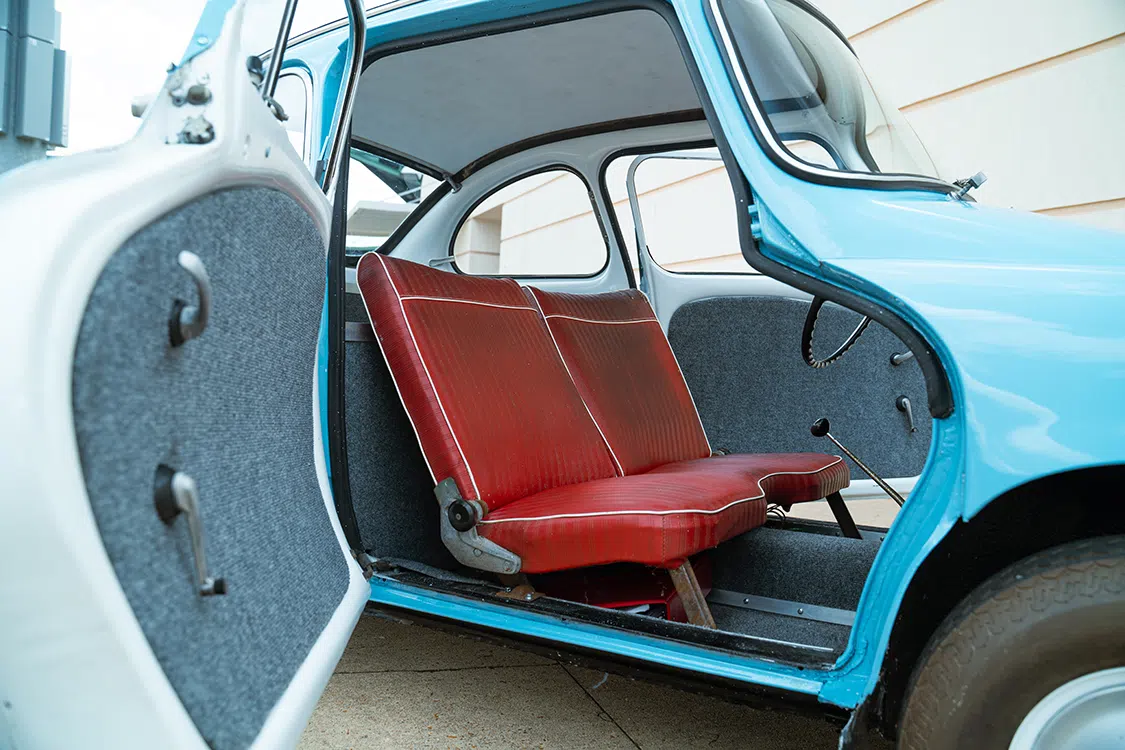 Over the past three years, the car has been showcased as a "work in progress" at numerous local car exhibitions, including the Southlife Car Show in Pearl, Mississippi. The vehicle has garnered a local following due to its unconventional charm and evolving transformation. This weekend, the car will make its debut as a completed project at the same show where it initially captured public attention.
Notably, the car's presence extended to television, featuring on "Stacy David's Gearz." This platform spotlighted the car's gradual evolution, an inspiration for others to embark on their garage-based projects. My Subaru 360's potential to encourage others to pursue their automotive dreams is a rewarding outcome.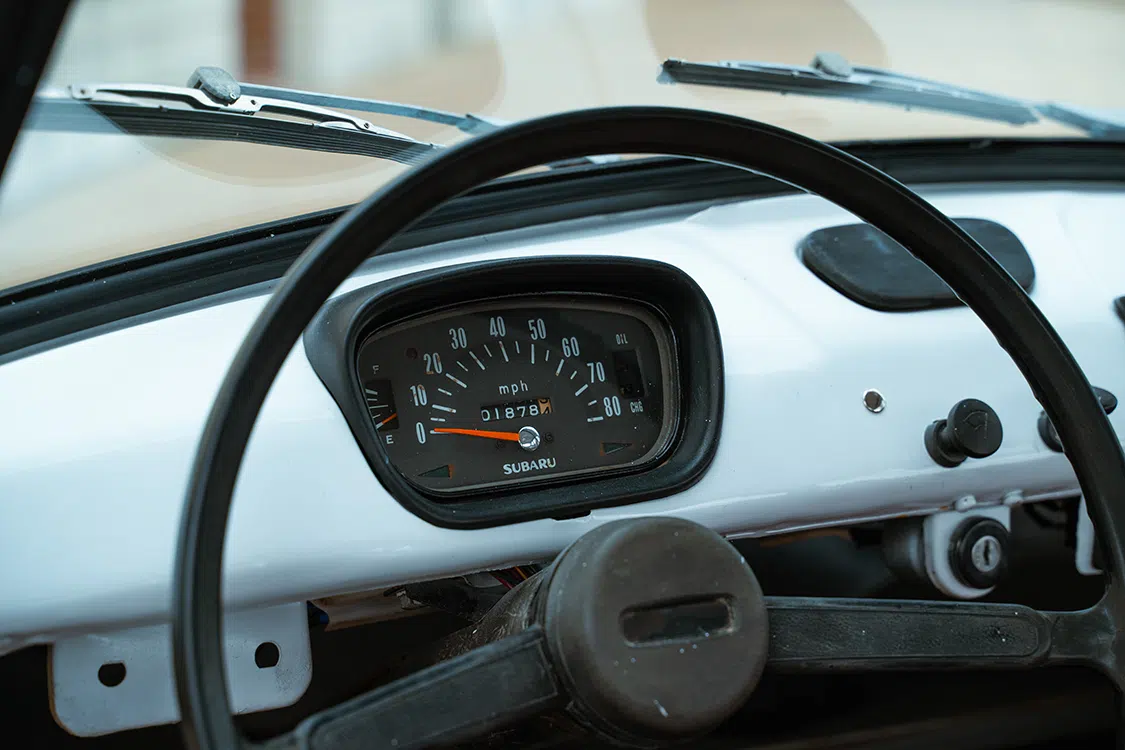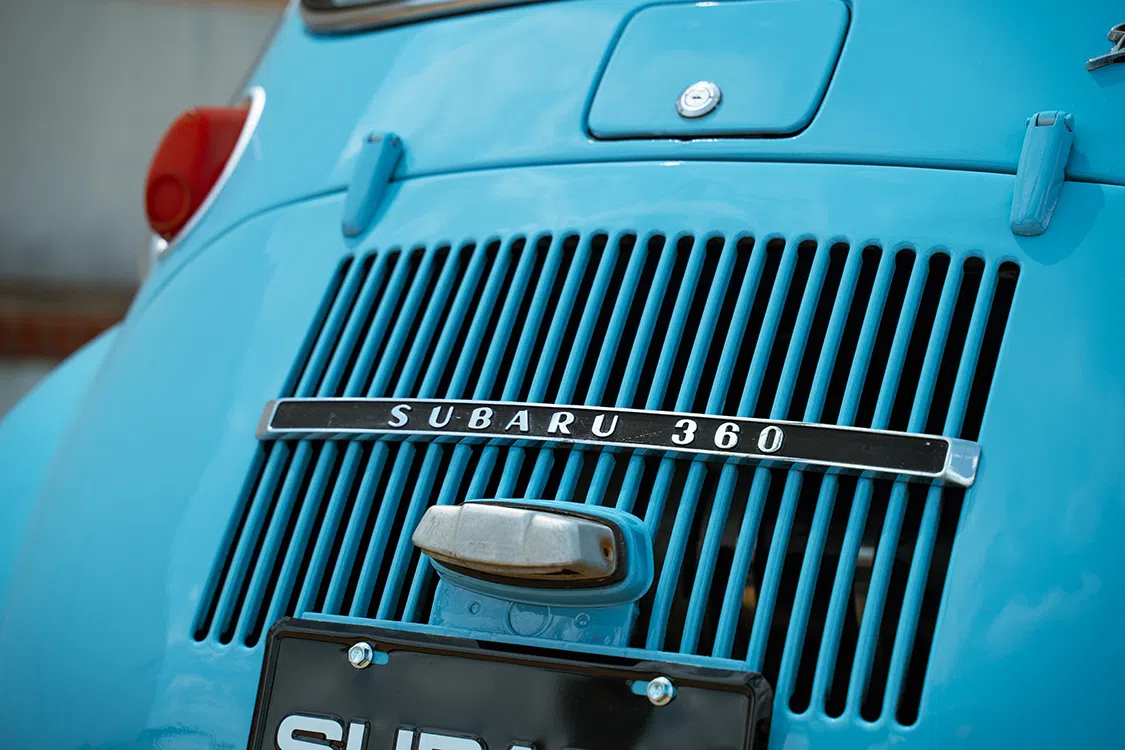 Reflecting on the build process, wiring emerged as the simplest task. Drawing from my familiarity with electrical systems and old cars, I managed the 36V motor circuit akin to a golf cart setup and the 12V circuit for lighting and wipers. Electrical complexities were mitigated by my upbringing and experience, streamlining this aspect of the conversion.
Although time was a formidable adversary, the journey was sustained by support from fellow Subaru 360 owners and invaluable assistance from my dad, Uncle Earl, and Dan Dearman.
While the present build might rely on outdated technology, the potential for modernization looms large. Visualizing the car with modern batteries, motors, and controls ignites excitement for a future upgrade. However, budget constraints temporarily temper such aspirations. The gradual evolution of EV technology will hopefully pave the way for more accessible upgrades, enabling projects like mine to reach new heights.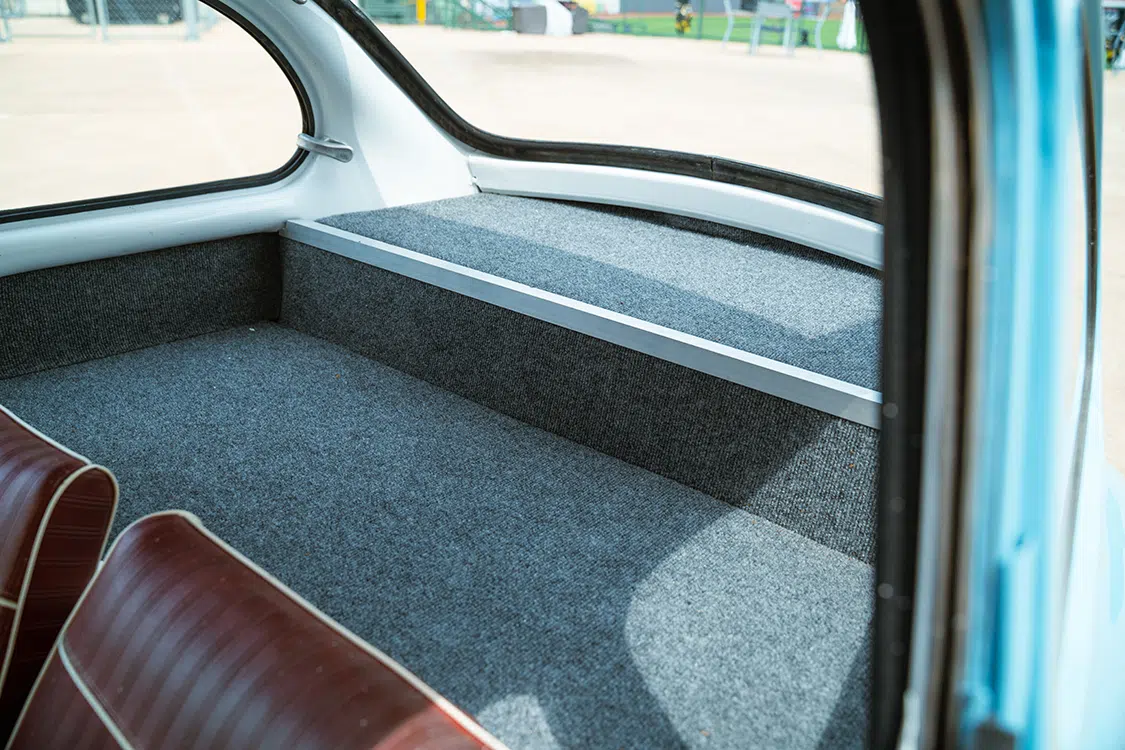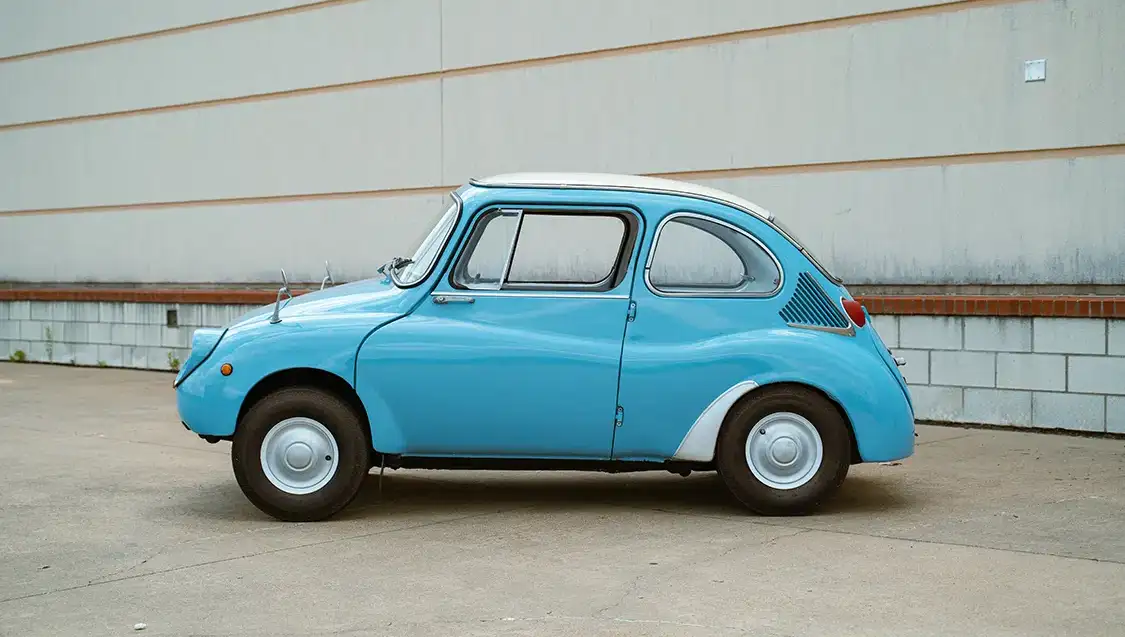 A fervent advocate of home-based innovation, I encourage others to embark on their own creative journeys. Whether transforming a dilapidated go-kart, rusted car, or forgotten dirt bike, the magic lies in making disparate elements harmonize. Drawing from personal experiences and the philosophy of building championed by figures like Stacy David, I champion the idea that the pursuit of a project need not be constrained by its shine or cost. Witnessing individuals derive pride from their creations, irrespective of their scale, is immensely rewarding.
Perseverance and embracing trial and error form the cornerstone of successful projects. Venturing beyond factory specifications demands a blend of courage and patience. The "Keep It Simple Stupid" approach guided my project, promoting a focus on fundamental simplicity. With each step taken, knowledge expands, and capabilities grow. Initiating with manageable undertakings paves the way for improvements and innovations over time.
SPECS
Richard Rieger II
Location: Brandon, MS
Year, Make, Model: 1969 Subaru 360
Amount of Time to Build: Three years
Cost to Build: $3,000 (car, battery, parts, and paint)
Occupation: Registered Nurse
Motor & Drivetrain
Motor Swap Performed By: Richard Rieger II
Motor Drive Unit Year, Make, Model: GE 5BC49JB305 from a Taylor Dunn B248 Utility Truck
Power: 10 hp
Voltage: 36V DC
Max RPM: 2,800
Max Continuous Power: 275 amps
Motor/Transmission Mounts: Factory
Control System and Software: Curtis 1204-009 from EZGO golf cart
0 to 60 time: Depends on how steep the hill is … downhill, that is (max speed on flat ground is only about 30 mph)
Vehicle Weight: 1,800 pounds
Battery System & Charger
Pack Design: Six 6V Duracell GC2
Cell Type: Flooded deep cycle
Module Manufacturer and Configuration: EZGO golf cart with Curtis 275 amp controller
Battery Capacity (in kilowatt-hour): 215AH
Battery Locations: Behind front seat
City Range: 25-30 miles
Charger kW Charge Rate: 18-amp charger
Charger Location: Charge port where gas tank fill used to be; external charger
DC Fast Charging: 18-amp charger
Chassis/Suspension
Installation Shop: Richard Rieger II at home
Chassis: Factory unibody car
Rear Suspension Setup: Factory independent torsion bar suspension
Control Arms: Factory
Spindles: Factory
Springs: Factory
Shocks: Factory
Track Bar: Factory
Wheels, Tires & Brakes
Wheel: Factory split rims and hubcaps
Tires: 5.00-10 Deestone
Front Brakes: Factory drum, but completely rebuilt; shoes were relined, new seals, new hoses (actually GM disc brake hoses from JEGS), and I made new hard lines throughout the entire car
Rear Brakes: Same as above
Gears/Ratio: Factory 4-speed transmission
Axles: Factory
Body/Paint
Paint Shop: Richard Rieger II in garage
Color: Fiat Azzurro Cappellini
Wheelwells: Factory
Body Mods: Factory … with a lot of rust repair done with scrap sheetmetal from a '57 Chevy
Headlights: Factory, 7 inches
Taillights: Factory 1157
Glass: New windshield from a Subaru 360 enthusiast, Billy Paul, who made a limited supply run; windshields are not reproduced by any company and any 360 owner knows the windshield is the hardest part to find on these cars
Rubber Moldings: Factory, except aftermarket windshield gasket supplied by another Subaru 360 enthusiast, Anthony Cano
Interior
Install Shop: Richard Rieger II in garage
Seats: Factory, hopefully soon to be reupholstered
Gauges: Factory, except a 36V battery gauge was added under the dash from Amazon
Steering wheel: Factory
Special Thanks
Richard Rieger, Earl Scallorn, Dan Dearman, Roddy Merritt, Zack Munger, Sylvia Rieger, David Rieger, Frances Rieger, Jackie Scallorn, Cody Russell