EV builders and enthusiasts gathered in Colorado on August 12 for the State of Charge '22, an educational conference for performance EV conversions.
A wealth of hard-earned EV knowledge was on display as nine EV builders spoke about their projects and the insight they learned during the conversion process. The retrofits they discussed ranged from mild to wild. They included fantastic rigs, such as a '72 Plymouth Satellite equipped with a Tesla LDU Sport built by Kevin Erickson, a '96 Toyota Land Cruiser powered by a Nissan Leaf powertrain built by EVSwap, and an '80 Subaru Brat sporting a Hyper 9 built by Flash Drive Motors.
Terry Breheny, founder of Ohm on the Range, hosted the event after realizing how valuable it would be to gather experienced EV builders in one place to share their practical knowledge.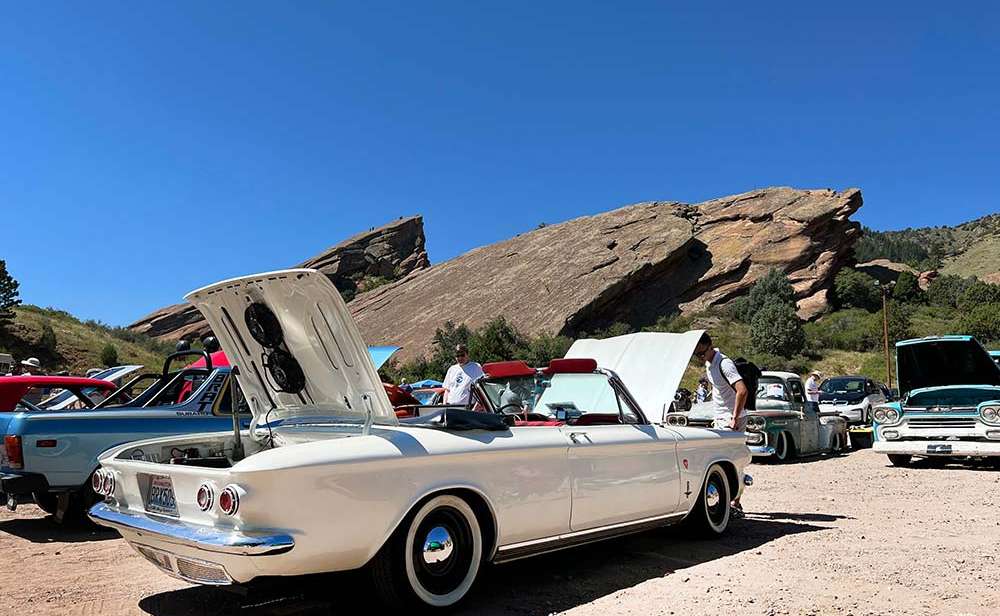 "I'm excited to see people talking to each other and sharing," Terry says. "To see these different builders and individuals giving advice and tips to each other, taking pictures of each other's builds, that was the idea—to have this shared community."
Other speakers, such as Stormy and Gregory Courter, owners of Wrenchology, and Mavrick Knoles, co-founder of Legacy EV, spoke about bigger-picture items such as how to prepare your business for the EV transition and how to navigate EV kit selection.
On Saturday, the builders and local EV enthusiasts from all over the US gathered at Red Rock Amphitheater to show off their builds for La Vida Volta, a public EV exhibition fair. Plenty of OEM EVs were also present, including Ford F-100 Lightnings, Rivian R1Ts, Polestar 2s, and of course, multiple Teslas.
"Now we are seeing clearly what is possible, things that once seemed impossible," says Stormy Courter of Wrenchology, who came to show his fantastic '62 Chevy "Electrovair." "We are now pushing those boundaries even farther, so I'm excited to see the growth of (this event) next year."
On Sunday, networking time allowed us to see firsthand the converted classic EVs on display, take photos, and question the builders during the catered lunch break and afternoon happy hour. The day concluded with an informative "Ask the Experts" Q&A session, whereby all conference speakers were brought together for audience queries.
Casey Loter of Salt Lake City was the lucky winner of the CD-7LG Carbon Digital dash display, donated by AEM-EV. The Golden Wrench, i.e., the Promoter's Pick for Best of Show, was awarded to Kevin Erickson for his '73 "Electrollite" by Terry Breheny of Ohm On The Range. Finally, the longest-distance-driven-in-a-converted-EV award went to Mick Longley from Durango, Colorado, who came at the wheel of his Nissan Leaf-swapped '71 Volkswagen hatchback 729 miles (roundtrip).
Seeing builders taking pictures of each other's cars, that was the idea; to create this new community. 
Terry, show organizer, concluded the weekend by stating that based on the overwhelmingly positive feedback from both days, the event will return next year with even more activities and vehicles. Watch this space for the 2023 dates, or
check SOC23.com.
Testimonials
"This was an amazing event I hope continues to grow. I came away both educated and energized (pun intended) to complete my current build."
—Steve N. / North Carolina
"It was amazing to connect with so many people in this community of ours. It inspired me and also gave me tons of new ideas." —Roy Y. / New York
"A real eye-opener on the future of the creation of conversion and service businesses for this industry." —Karl N. / New Mexico
"State of Charge expanded my thoughts on the angles folks take on EV conversions. The 'Behind the Build' segments were truly inspiring and will help me on my next conversions." —Mick L. / Colorado
"The Behind the Build sessions were extremely informative, shining a light on problems or issues others had with their conversions but also the best practices and how to stay safe. Looking forward to attending SoC23!" —Jimmy U. / Colorado
"I'm glad I came. This was a super cool event." —Jimmy Underhill of EVSwap.