Allen Lee's
1988 Toyota
Following a head gasket fail on my 4Runner's 22RE 4-cylinder engine, in August of 2019, I decided that the only way to drive it more was if I were to convert this into an EV; it was barely giving me 15 mpg on gas.
Fourteen months later, I had built my electrified 4Runner, ready to hit the roads and trails once it passed California's EV conversion certification. This was the perfect pandemic project: I worked for Amazon then, and I would have been traveling a lot for work otherwise. Everything was performed at home, using lots of CAD—and by CAD I mean Cardboard-Aided Design!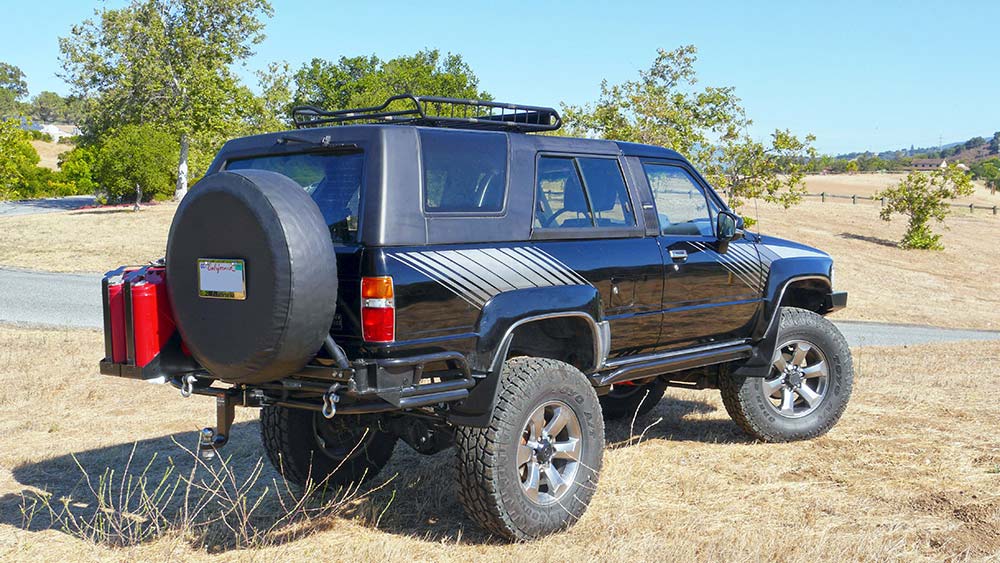 The Details
I opted for a Hyper9 HV 144V dual shaft motor (120hp, 173 ft-lb/220 Nm) since it is up to 95% efficient and provides more horsepower and more torque than the original engine (116hp, 140 ft-lb/190 Nm). The dual-shaft also drives the original air-conditioning compressor using a 22R harmonic balancer and modified factory idler.
I used lots of  CAD—and I mean Cardboard Aided Design!
The radiator has been gutted. It holds two smaller ones. One cools the inverter; the other is a spare for a future battery cooling system if required. A Flex-a-Lite cooling fan is mounted behind them for cooling the A/C condenser and EV batteries. The original coolant reservoir tank has been modified to supply recirculated red coolant to flow between a Toyota Prius inverter pump, 30 Row AN10 cooler, and the inverter chill plate.
A 2005 Toyota MR2 Spyder electric power-steering pump is used to drive the factory power-steering gearbox. Unfortunately, Toyota does not make a vacuum pump for power brakes, so a vacuum pump from a 2015 Chevy Spark is connected to the vacuum booster.
The dual 3kW chargers (TSM2500) are mounted on the factory engine skid plate. The 50A 12V DC-DC converter is located in the upper right of the engine compartment. Both the BMS and J1772 charge controllers are located under the dash.
Future Upgrades
I will eventually replace the four Chevy Bolt battery modules either with new replacement Bolt batteries (for an 8% increase in range) or other higher capacity batteries. The previous gas tank location is available for addition batteries and range if required.
Fun fact: When I plug in at public chargers, most folks think that I am "ICEing," taking up an EV charging stall so no one can charge their EV. It did look out of place when I was charging it at Amazon, too. Another fun fact: Prior to converting my 4Runner, my daily driver was a 2006 Chevy HHR because it got double the gas mileage. The HHR has since been sold, and my daily vehicle is the 4Runner. Since I bought the 4Runner in December 2016, I have put more electric miles on it than gas.
To sum it all up, this has been a relatively challenging but highly rewarding experience. If you are contemplating a conversion, I'd say go for it! No need to wait for your gas engine to go bang!
Allen's Top 5 Tips:
Try to reuse as many of the original drivetrain brackets and parts as possible. I reused the motor mounts and brackets, the radiator, A/C idle pulley, and the charcoal canister bracket (it now holds the motor inverter).
An engine hoist is not only useful to remove the engine and install the electric motor, but it is also ideal to test fit and install the heavy batteries.
In advance, purchase assorted sets of rubber grommets, connectors, screws, heat shrinks, waterproof cable glands, and the like. You never know how many you will need. This saves time and money.
Keep things simple. For example, I am using the Toyota MR2 electric power-steering pump. The factory setup controlled the power-steering pump based on the vehicle speed. I could have done the same, but it was much simpler to use a switch. I only turn it on when parking or in parking lots.
Get the original vehicle wiring diagram as you will have to interface to many of those circuits.