One Man's Quest to Build the Ultimate Tesla—Before Tesla!
When Tesla CEO Elon Musk unveiled the Cybertruck in 2019, it was initially received with mixed reactions. Some loved its angular, cyberpunk design, while others thought it was ugly and impractical. But one person was immediately inspired: David Andreyev, a Tesla fan and DIY enthusiast based in Sacramento, California.
Before his current project, David gained recognition online for his ingenuity in building a Cybertruck-inspired vehicle based on a highly modified Toyota Prius. With that venture wrapped up, David's focus transitioned to this incredible CyberRoadster build that takes center stage on his YouTube Channel, Cyber Hooligan.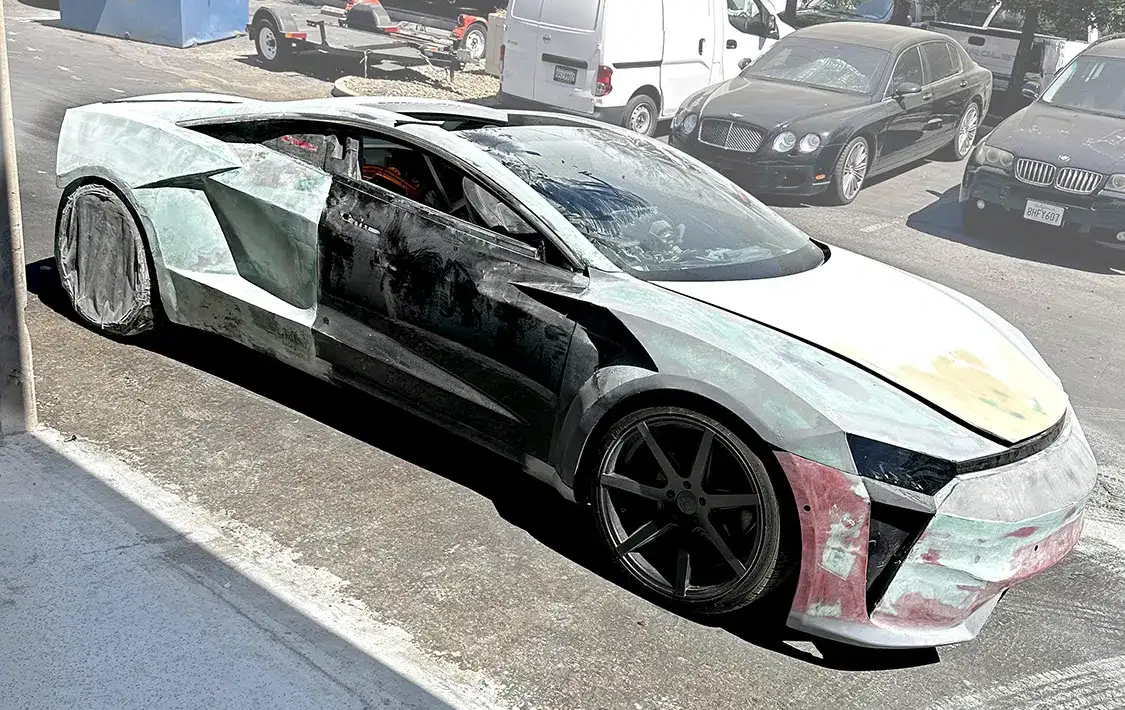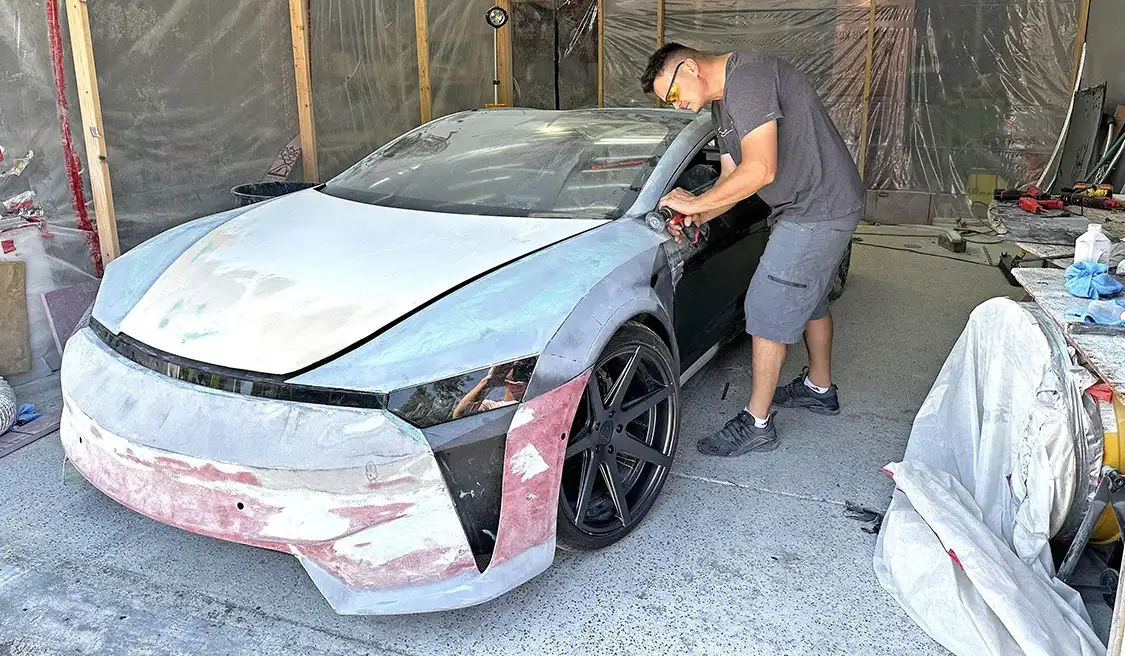 David started by buying a crashed-damaged Tesla Model 3 Performance. He immediately began the car's repair and transformation on his driveway—which ultimately did not please his neighbors, who encouraged him relocate to a dedicated shop—but most of the grinding, cutting, and fixing the donor Model 3 Performance was done at home.
The next step was to strip the Model 3 down to its bare bones. Then, David started welding the new body panels, which he made himself from raw sheetmetal and rods. He also had to modify the suspension and interior to accommodate the Cybertruck-inspired unique design.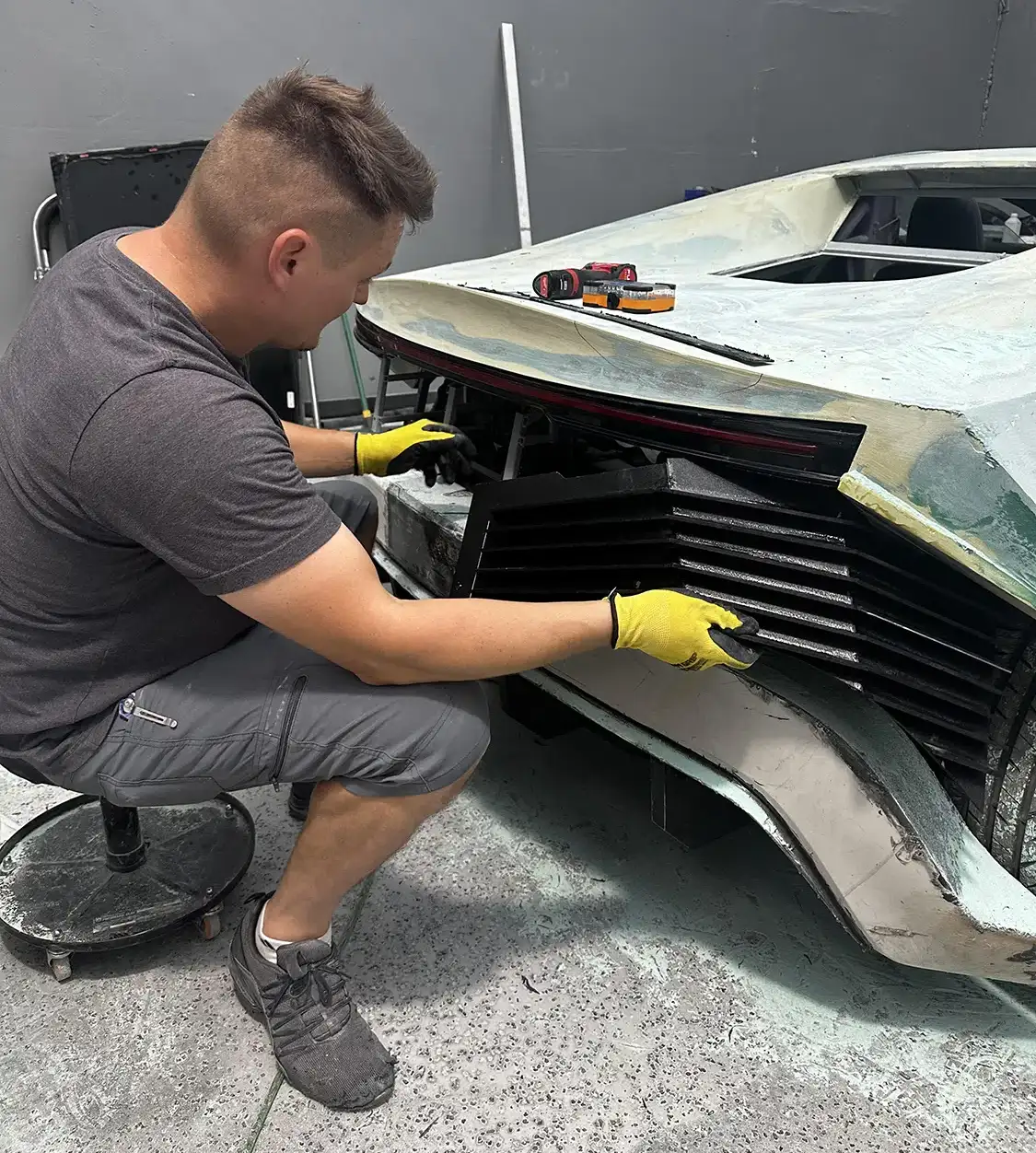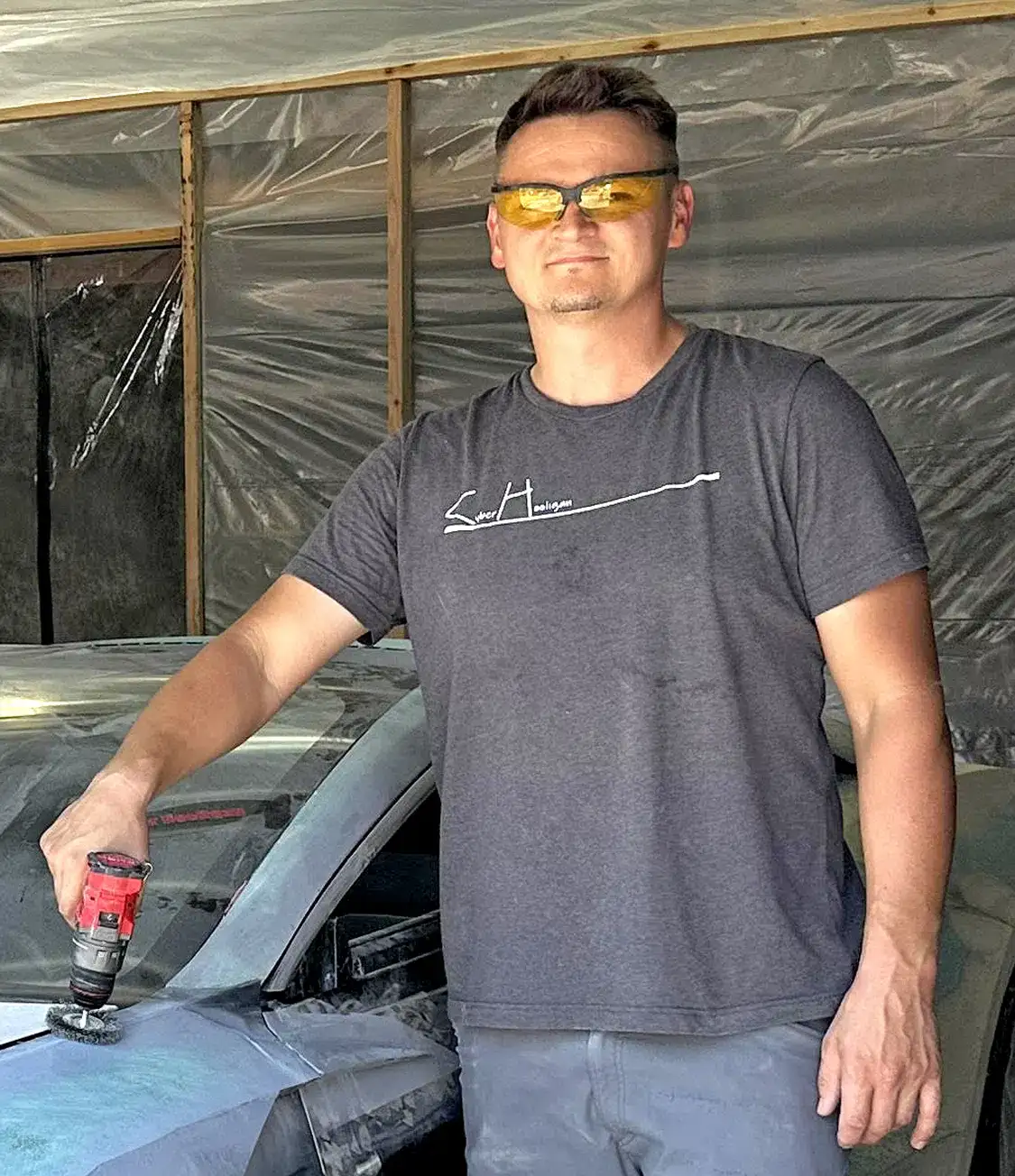 Insane Amount of Work
Building David's CyberRoadster was not without its challenges. The car required immensely more work than anticipated to meet the Cyber Hooligan's expectations and vision, and it can be difficult to materialize one's ideal design, especially when working with metal. But David was not deterred.
You can do it! It just takes a lot of hard work and determination.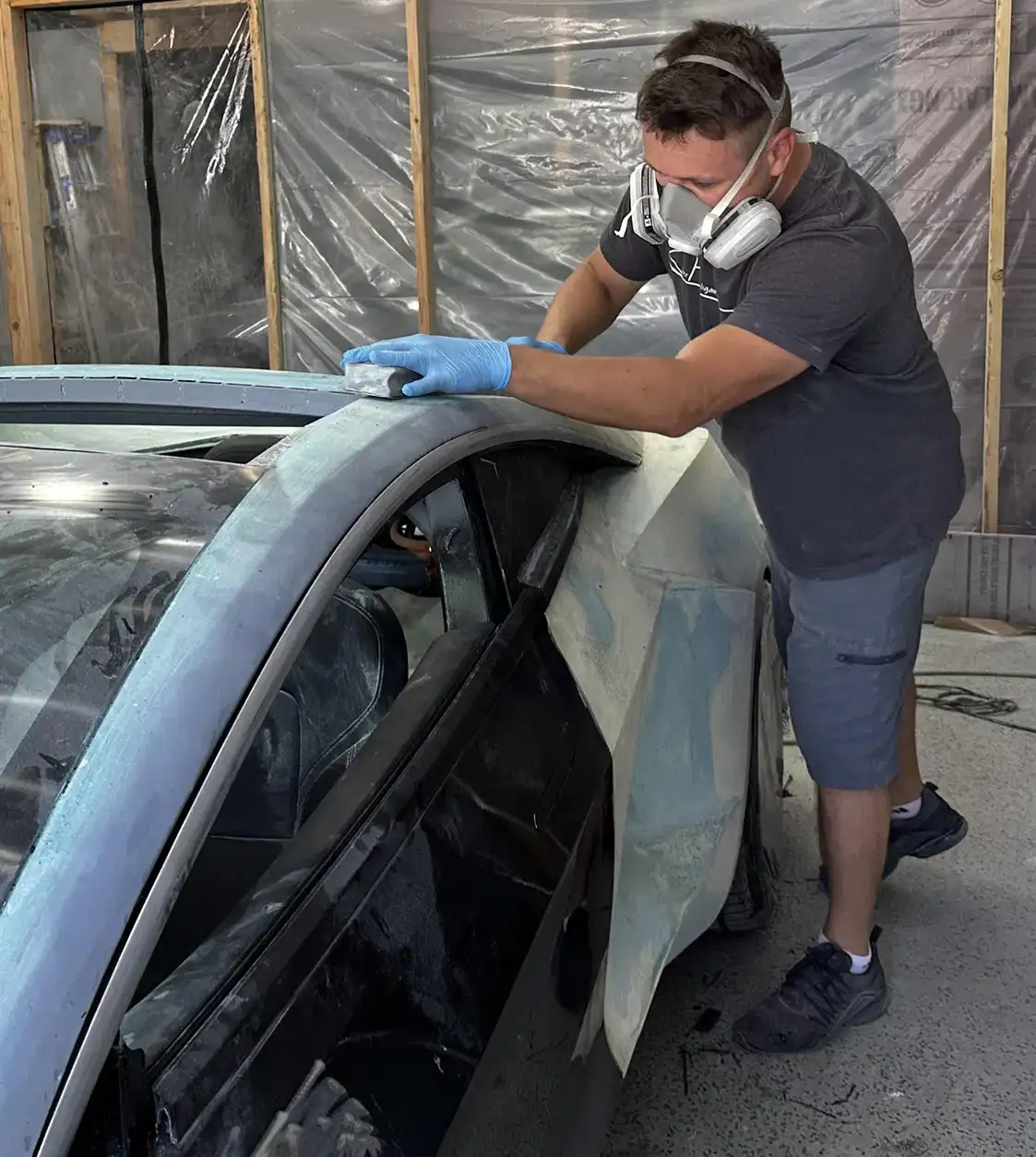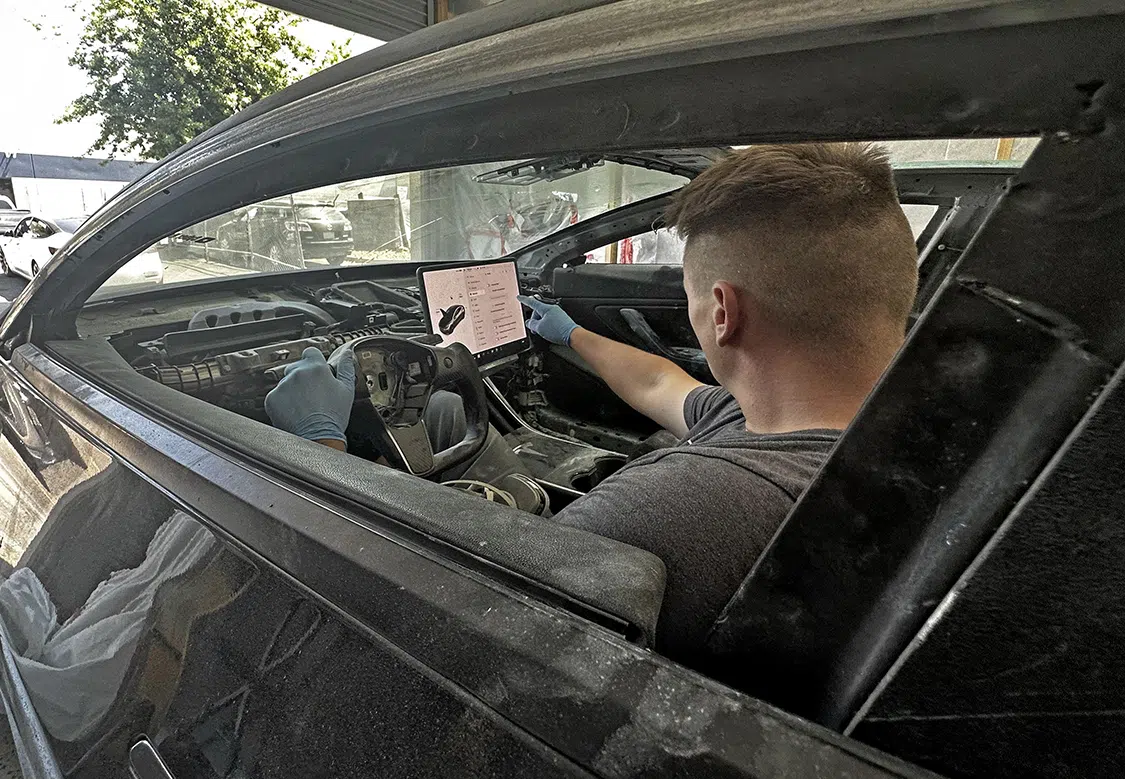 After fixing the suspension of the damaged car and cutting the structural skeleton of the Model 3, David started building panels from scratch (only the hood is repurposed, albeit modified, and the doors are be kept). He used sheets of steel and metal rod to artfully craft his unique creation—or should we say creations: He had to build several rear quarters before he was happy with the overall style. He recently settled on a hypercar/Corvette meets Cybertruck design with a hit of Lamborghini Lanzador EV Concept. Note that the Italian EV was presented well after David has designed his Roadster, yet they share similar traits in the rear.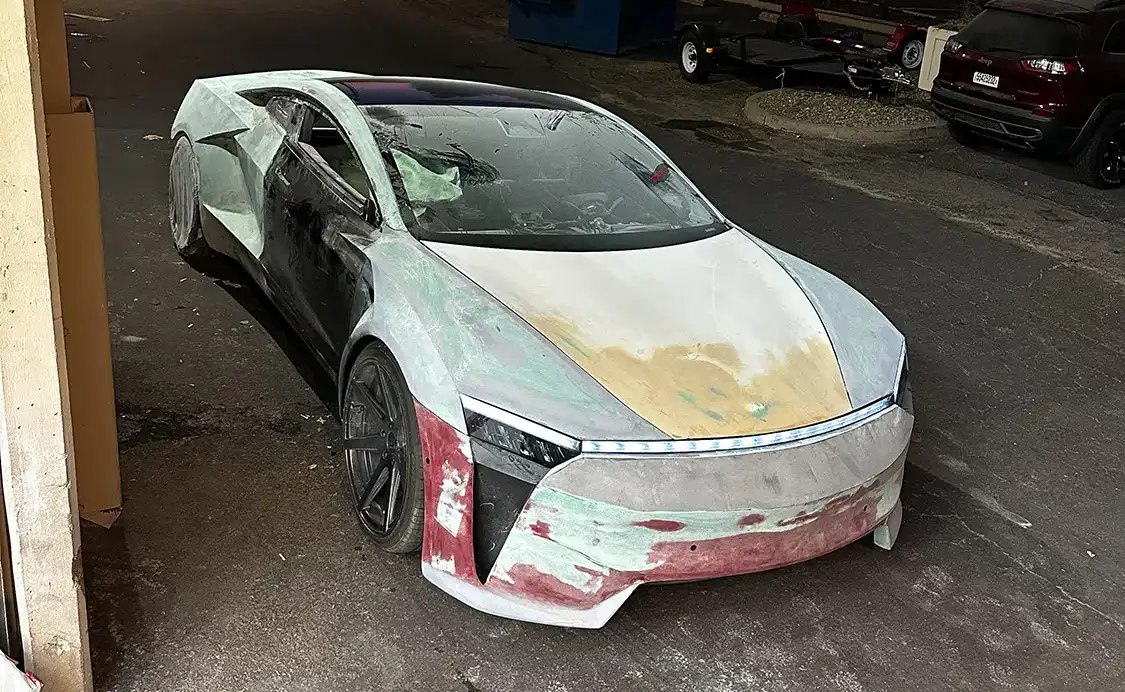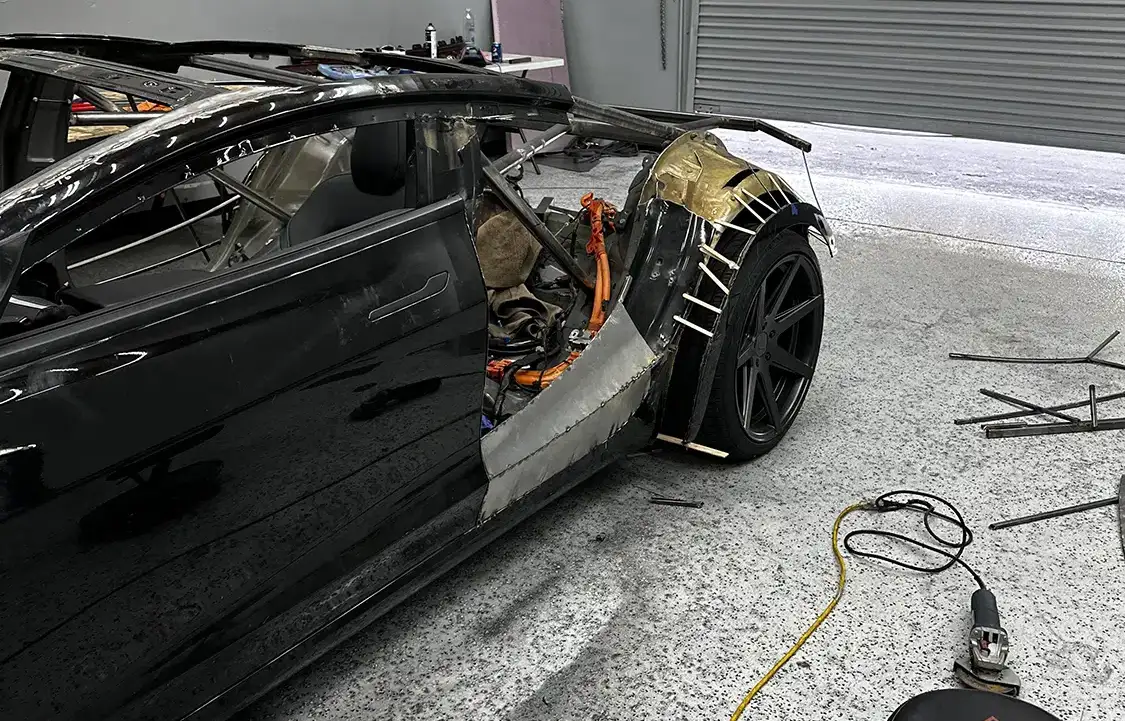 The glasswork is also bespoke: David used two TM3 rear glasses to cover the top and back of the roof after some custom cutting. Then came endless weeks of filling the panels, sanding (in a makeshift sanding booth), and some more filler and sanding. In retrospect, David reckons one would be better off making a body from clay to make a fiberglass mold than going through the pain he had to go through. You live and learn! Now the naked body is ready. David "just" has to complete the interior, finish some trim, and wrap the whole car.
The project took over a year to complete, but David could finally drive his Tesla CyberRoadster for the first time last summer.
"I'm just a guy who loves Teslas and wanted to build something different," David says. "I never thought it would get this much attention. If I can do it, anyone can. It just takes a lot of hard work and determination."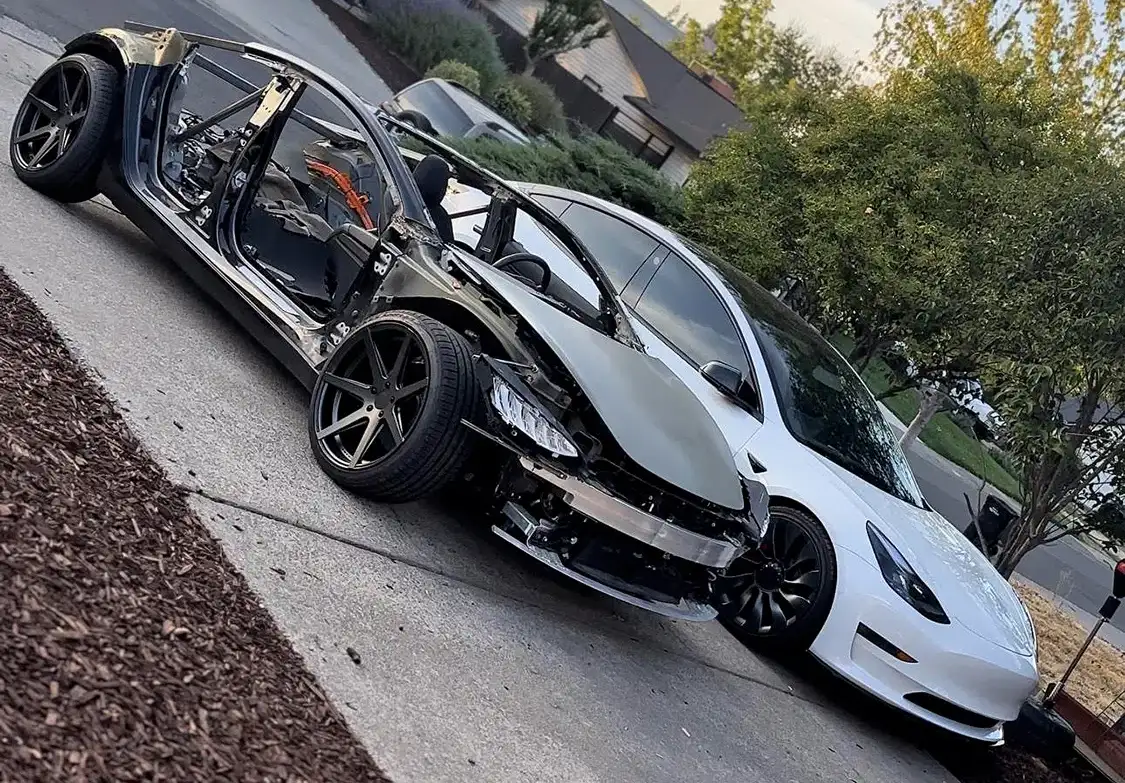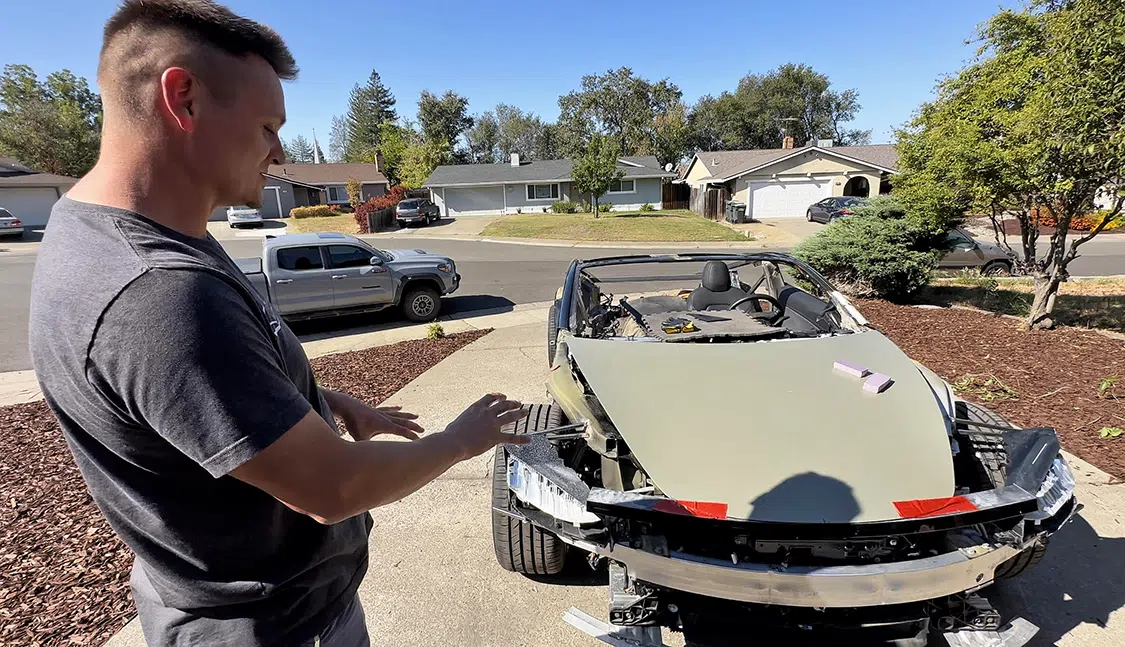 And determination David has lots: He has been building the Roadster after his busy general contractor and family man schedule. Despite his online success, filming for YouTube videos is not his full-time job!
He plans to continue driving and modifying his car, hoping to inspire others to take on their own automotive projects—and he already has another fantastic project in the works!
Of course, building your own CyberRoadster is not for everyone. It is a complex and time-consuming project, and it requires a lot of skill and resources. So, if you dream of owning a Tesla Roadster but don't want to wait for Tesla to start production, consider building your own. It may not be easy, but it is possible. And who knows, you might just end up with the one-of-a-kind car that you have always wanted.
SPECS
David Andreyev 
Location: Sacramento, CA
Model: 2018 Tesla M3 Performance
Vehicle Name: CyberRoadster
Overall Weight: Initially 4,050 pounds (currently unknown)
Time to Build: One year
Cost to Build: $50K
Occupation: General Contractor
Motor & Drivetrain 
Powertrain: Original Model 3 Performance
Power: 358 kW/480 hp
Torque: 660 Nm/487 lb-ft
0 to 60 time: 3.2 seconds
Battery System & Charger 
Pack Design: Original 82 kWh (76 kWh usable)
Cell Type: 2170-size lithium iron phosphate
Charger Location: Relocated in the rear above the bumper
Chassis/Suspension 
Lowering Kit: RSR 1.5-inch lowering spring
Wheels, Tires & Brakes 
Wheels: Rohana RC7 20×10 +25 with 2-inch spacers
Tires: Toyo Proxes S in 255/35R20
Body/Paint 
Paint: Will be wrapped
Color: Undisclosed
Bumpers: 2023 Model S
front bumper, 2015 Toyota BRZ rear bumper
Body Mods: Too many to list
Headlights: Original with custom 12V LED cyber lightbar
Taillights: 2023 Lexus LX600 tailgate light strip, Tesla brake and turn signal
Glass: Front and top are repurposed and modified TM3 rear glass (custom cut)
Rubber Moldings: Original
Body Kit: All custom
Interior 
Install Shop: Cybershop
Seats: Original with a
3-inch drop
Steering Wheel: Yoke by Hansshow
Sponsors and Special Thanks: 
Sponsors: Hansshow steering wheel and Evercoat body filler and putty