Icon's All-Electric 1949
Jonathan Ward and his Los Angeles-based company Icon need no introduction. Appreciated by design masters and fanatics as well as Hollywood stars and classic car aficionados like Jay Leno, Jonathan drops master stroke after master stroke with his redesigned Toyotas and Broncos.
However, he also offers an exclusive series of Derelict '50s and '60s masterpieces. Jonathan superbly enhances the original lines and materials of genuine barn-finds while invigorating them with the latest tech underneath—Art Morrison custom chassis, top-notch modern powertrain, and suspension. Now, imagine what happens when he breaks his own "LS/Vortec everything" rule and goes full electric on a Merc'.
While this build is a few years old, it stands incredibly relevant today in showcasing just how damn cool an EV retrofit can be. Have you seen the wonderfully intricate design, fabrication, and craftsmanship that went into this build? Never mind the naturally weathered façade or the clean interior; the actual chassis work and the electrical system put in place are truly sights to behold.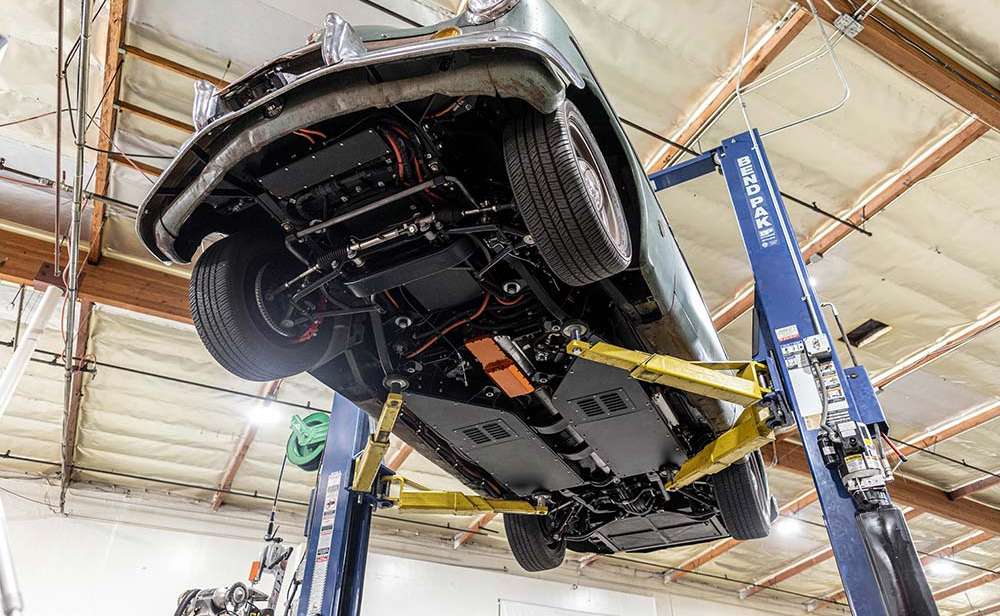 New Steel Frame
Let's take a closer look at the Mercury's frame. This four-wheel independent work of art is the direct product of a legendary collaboration between Jonathan Ward and Art Morrison. Their collaboration gave birth to a 180 Wall DOM US steel mandrel bent ladder chassis with fish oil inside for rust prevention and military spec powdercoat finish outside.
Icon successfully injected a soul into a car that combustion engine purists would be quick to deem soulless.
It really is a shame that this masterpiece is hidden underneath the car, because it's almost shocking to see the engineering that went into the guts of this Derelict. From custom-made heavy-duty steel driveshaft built tough enough to handle the car's high output, to the IFS and IRS systems (and don't forget the ultra-capable Dana 60 rear end) and the chassis itself, they all contribute to give the Merc' the stance of an aggressive old-timey bar brawler.
V-E(ight)
Luckily for casual onlookers, a good deal of the Mercury's electrified components have been put on full display inside the trunk, but more notably underneath the hood. In the spirit of this Mercury Eight, once equipped with a V-8 engine, Ward felt it respectful to pay homage to the car's past by assembling a V-shaped arrangement of Tesla Model S batteries and control units where the old engine was. A radiator and dual e-fans are also present, but not just for looks—they function as the car's thermal cooling system. Ward himself would be the first to admit that the energy spent on machining the controller cases to look like combustion engine components with the cooling fin details and all was a little excessive. But all that work was necessary to attain the ideal level of aesthetic the Mercury deserved.
Expanding on the subject of the car's electric powertrain, there are also Tesla Model S battery modules located in the Mercury's midsection as well as under the floor of the trunk. This weight disbursement aimed to keep the car adequately balanced for performance and safety concerns.
Double Motors
Twin, liquid cooled AM Racing 150 kW motors sourced from Stealth EV and linked to a Cascadia Rinehart 150kW motor controllers have found a home within the transmission tunnel. Together, they can create the equivalent of 300kW/400hp and 639Nm/470lb-ft, which is the exact reason why the driveshaft was overbuilt the way it was.
Now, with this much electric power, you simply can't stop pressing the right pedal and melt its 245/55R18 Goodyear Eagle RS-As like a lunatic. These are mounted on modified Icon forged alloy rims, providing a stock-looking feel yet able to hide the chunky 6-piston Brembo calipers. With so much juice on tap, you'd think the Merc could just pass city limits and make it back home. But no, this beast has a 150-200-mile range on a full charge and is capable of a top speed of around 120 mph, further increasing its sleeper appeal. And before you ask, only a 1.5-hour charge is needed to top off the pack, thanks in part to the CHAdeMO port tucked away behind the front license plate or the rear Tesla Supercharger plug at the original fuel filler point. So you do get the best of both worlds. Jonathan recently updated the communications with a new AEM CAN system.
Now with all these reliable on-road features, you'd expect that a few creature comforts were left out, right? That would be incorrect since Jonathan Ward doesn't believe in sacrificing wants in favor of needs. The Mercury still pumps out cold A/C and comforting heat and supplies enough bench seating to accommodate six grown folks comfortably.
With an Icon build, you get it all, which is especially true in the Derelict department. Not only is full-electric power, along with all the modern amenities present, but so is the vintage charm of an unmolested appearance of a true classic vehicle. This really is the ultimate combo to strive for, isn't it?
This build aimed to create a vehicle that delivered an exhilarating driving experience that could be enjoyed every day. Icon successfully injected a soul into a car that combustion engine purists would be quick to deem soulless. Naysayers, simply turn around and go for a walk.