Legacy EV's Education Roadshow
As EVs gain popularity among OEMs and aftermarket builders alike, many question if the world is prepared to provide the necessary infrastructure to power them. Most concerned citizens referencing infrastructure challenges are solely focused on the electrical grid's ability to get electricity to newly built EVs. But a more pressing and less covered aspect on the topic of infrastructure is workforce development. As EVs begin to earn more than 5% share of vehicles in operation (VIO), who will service and repair these vehicles down the line?
Many have either heard anecdotes or experienced the wait time for repair of an EV. Whether from a minor or significant accident, only a few manufacturer-approved automotive shops exist with the knowledge, skills, and confidence to repair these high-voltage machines.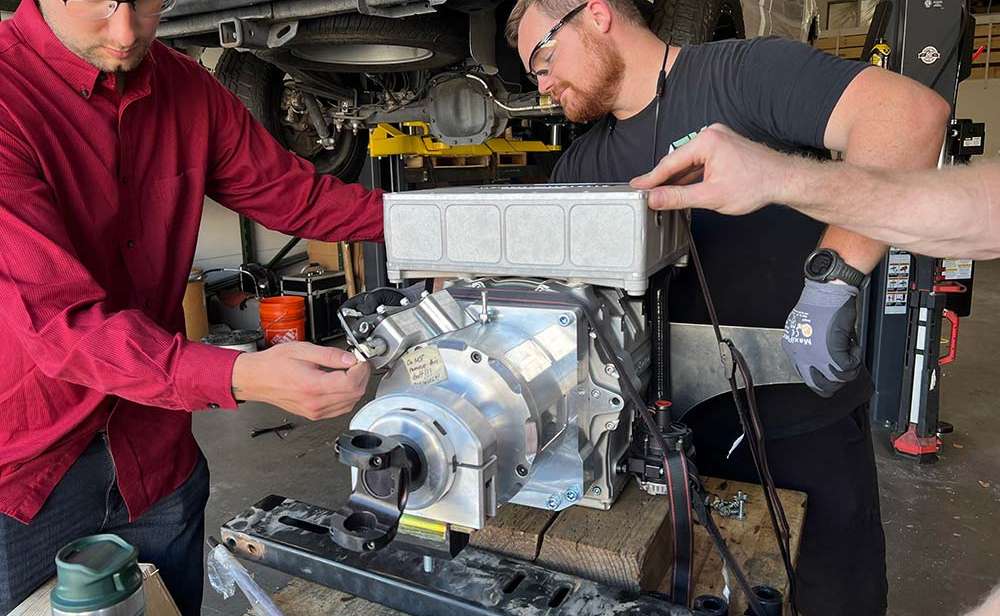 Though EVs require hardly any scheduled maintenance (other than tires, brakes and wiper fluid top-ups), they will still eventually need repair services. Six million car accidents occur in the US every year, and with batteries taking up more than two times the space of a fuel tank in an ICE car, critical damage even in slow-paced accidents is likely to require the repair of an expert EV technician.
With most automotive schools still teaching some variation of combustion engine theory as their main introductory course, the question of how the workforce will support the mass arrival of e-mobility tech on US roadways should be in the forefront of every driver's mind.
The answer to the questionable development of workforce training in the US seems simple, as more education should likely solve the problem. Why then has quality EV education taken so long to reach mainstream availability, while new EV chargers are popping up in every supermarket parking lot from Anchorage to Miami? The answer to that question can be broken down into four distinct categories:
A limited pool of instructors with EV experience and knowledge who feel comfortable teaching courses;
No current standards for prerequisite knowledge to participate in EV education from manufacturers;
No curriculum, tools, or programming currently available to support instructors with product-agnostic, fundamentals-focused EV education;
No available curriculum or training with a hands-on learning approach that is not specific to any one EV product.
To address the problems associated with workforce development shortcomings, Legacy EV, based in Tempe, Arizona, has developed a solution and is bringing its internationally recognized EV education to 10 major cities around the US in 2023.
This curriculum will provide the first outlet for future EV technicians to get their hands on products from a variety of manufacturers and learn about EVs from some of the most well-known builders in the EV industry.
Starting at SEMA 2022 in Las Vegas, Legacy EV will begin taking reservations for its EV Education Roadshow, which is set to begin March of 2023. The Roadshow will begin at the SEMA garage in Detroit. It'll then visit Chicago; Austin, Texas; Denver; Salt Lake City, Utah; Seattle; Portland, Oregon; San Francisco; Los Angeles; ending in Phoenix.
The EV Education Roadshow is a one-week intensive training program where mechanics learn the basics of EV systems as well as how to wire, program, test, and tune EVs.
With the help of Legacy EV's Education Roadshow, automotive instructors, shop owners, and gas-powered mechanics alike will be able to not only understand EVs, but they'll begin down the pathway of becoming EV instructors themselves. Then, using Legacy EV's prebuilt curriculum, comprehensive course standards, and hands-on learning activities, these new instructors will be able to help train and bring forth the next generation of mechanics with expert EV skills and knowledge.
For those looking to stay in the loop for when tickets go on sale for the Education Roadshow, email education@legacyev.com or visit LegacyEV.com and subscribe to its newsletter.
While on the road
An Opportunity to Build a Network of EV Collaborators
n 2022, the transition to EV technology is no longer a question of if or when—but rather, how fast? With Legacy EV's Education Roadshow, it's coming faster than you think, and to a city near you!
As the EV industry continues to develop, so does the need for not just education, but also connecting those passionate about the industry together. From automotive technicians to educators to EV hobbyists, the Education Roadshow will connect people from a wide variety of disciplines and take a deep-dive into what it takes to get an EV motor spinning.
Training technicians will examine the rise, fall, and resurgence of EVs in the market. They will learn how EV systems and ICE systems have a lot in common in their  functioning and gain a nuanced understanding as to how these systems are different from one another.
They will gain hands-on experience with all the components and skills one would encounter as they plan their ICE-to-EV conversion using LegacyEV's latest educational tool, the Legacy EV bench test.
Let's Practice
During the one-week in-person training, technicians learn to mount, wire, program, commission, and tune components in an EV. They will also practice and understand common troubleshooting techniques for EV faults. They will understand the past, present, and (projected) future state of the EV market; identify and explain the functions of the major systems that make up the anatomy of an EV; and work with tools and components required to build, maintain, and repair an EV.
Training Breakdown
Here is a typical schedule at the Education Roadshow:
DAY 1
9-9:30am: LEV HQ Tour
9:30-11am: Intro to EV Anatomy
12-2:45pm: Electrical Theory & Creating Circuits
3-4pm: EV Safety & Understanding Loads
DAY 2
9-10am: Mounting Your Components
10:15-12pm: Pinouts and Planning Your Wires
1-3pm: Wiring the Bench
3:15-4pm: Evaluating the Bench
After Hours Instructional Strategies
6-8pm: Beyond Day 1: Building Teamwork and Collaboration in the Classroom
DAY 3
9-10am: Gear Ratios and Reduction
10:15-12pm: Transmissions in an EV
12pm: Lunch
1-2:30: HV Battery Fundamentals
2:45-4pm: Designing Battery Boxes
After Hours Instructional Strategies
6-8pm: Building Your Instructor Toolkit
DAY 4
9-10:45am: Programming the MCU using Command Line
11-12: Other Programmable Components
12pm: Lunch
1-2:30pm: Datalogging Your System
2:45-4pm: Datalogging in Practice: RPMs on the Bench
After Hours
4-5pm: Tour
5-7pm: LEV Dinner
DAY 5
9-10am: Troubleshooting Faults in the System
10:15-12pm: Troubleshooting in Practice: Faults on the Bench
12pm: Lunch provided by…
1-3pm: Top-Kart Programming Design Challenge / Exit Interview
3:15-4pm: Closing and Next Steps