The EV conversion and builder scene is exploding, and as result the number of new parts and product offerings in the segment is growing exponentially. Let's take a closer look at some of the products that are currently defining the EV builder scene.  
01. Rincon Power High Voltage Battery Disconnect
The Rincon High Voltage Battery Disconnect (HVBD) allows for the safe disconnection of high voltage traction packs. The HVBD features a robust metal-ceramic hermetic seal, high temperature performance, and is ready for harsh environments. Available in three continuous amp ratings, 300A, 400A, and 600A, and featuring industry-leading dielectric performance, the HVBD is a must for safely servicing an EV conversion or build.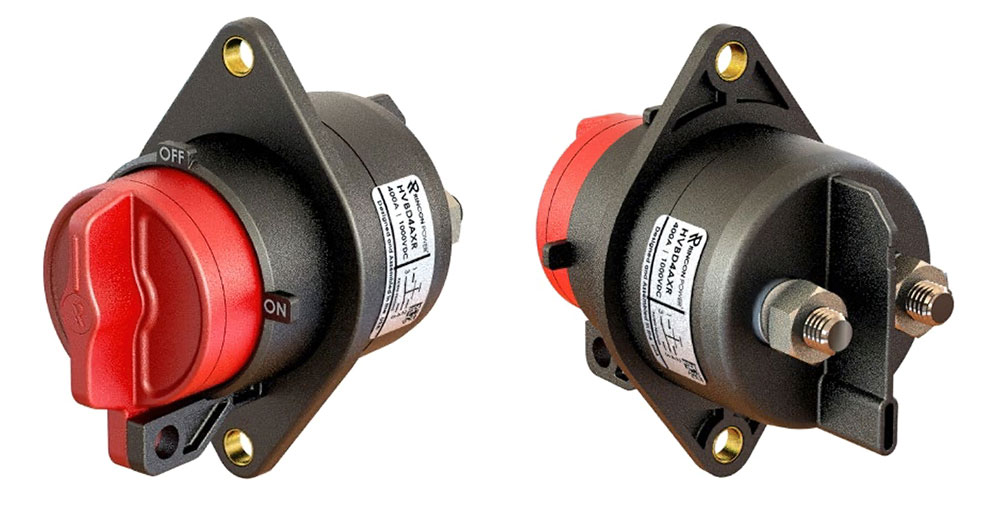 Rincon Power
02. Billet Aluminum Throttle Potentiometer
This Billet Aluminum Throttle Potentiometer from EV West is a way to keep the OEM throttle pedal in your EV conversion or build. This throttle uses a high quality OEM throttle position sensor (TPS) that is rated for 1 million full cycles. It is mounted to machined 6061-T6 aluminum to mate with an indexable shaft supported by a sealed ball bearing and with an additional return spring and mechanical stops. The TPS and its electrical connector are fully sealed. This creates the desired 0-5 volt output that almost all controllers use, giving reliable, linear power delivery.
EV West
03. Torque Trends TorqueBox
The Torque Trends TorqueBox is an ideal solution for those looking to take advantage of the instantaneous torque of electric motors and use a direct drive set-up. Weighing only 36 pounds and capable of handling up to 1200 lb-ft of input torque, the TorqueBox will remove the weight and complexity of an unnecessary transmission in an EV conversion or build.
Torque Trends
04. ReVolt Crate Motor
The ReVolt Crate Motor built by ReVolt systems combines the best of modern electric vehicle technology with the simplicity of a bolt-in crate engine. The reVolt CR-43 is designed to mount to factory LS mounts in the engine bay of your existing car. It will connect directly to your drive shaft to provide an instantaneous 800-plus lb-ft of torque straight to the rear end of your favorite classic car.
ReVolt Systems
05. Thunderstruck Motors TSM2500 Charger
Small form factor (11×9 inches) coupled with IP66 protections make this 3kW onboard battery charger a flexible option for any EV conversion or build. The TSM2500 works with either 110V or 220V input. Additionally, multiple TSM2500s can be put in parallel for even quicker charging times. There are three variations of this charger to choose from depending on battery pack configuration and nominal voltage.
Thunderstruck Motors
06. AEM EV Vehicle Control Unit
The AEM EV Vehicle Control Unit 200 (VCU200) is the missing link for high-performance EV street-conversion motorsports applications. It allows the builder to create customized torque management strategies applicable to a wide range of EV systems and component combinations. The VCU200 will integrate EV systems and unify the tuning experience providing motorsports- and conversion-ready features presented in a high feature, modern, and customizable interface. The VCU300 is also available for even more computing power and multiple motor configurations.
AEM EV
07. Cascadia Motion iM-225 Motor System
The iM-225-DX-D uses the CM200 inverter and HVH250 motor core from Cascadia Motion, to pack a 368 lb-ft punch in a compact package. The iM-225 is only 12 inches long by 16 inches high and capable of putting out 300 hp, making this motor system an excellent fit for a wide variety of EV conversions.
Cascadia Motion