Revved Up and Electric: A Dream Tesla Plaid Build
 We all have that one ride we've been dreaming about and saving for, and for Kelli Hunsaker, a real estate guru, it was a 2022 Tesla Plaid. This electric powerhouse is no ordinary car; it's packed with specs that'll leave even the most seasoned gearheads goin' "whoa!" 
Don't be afraid to go all in with your ride of a lifetime.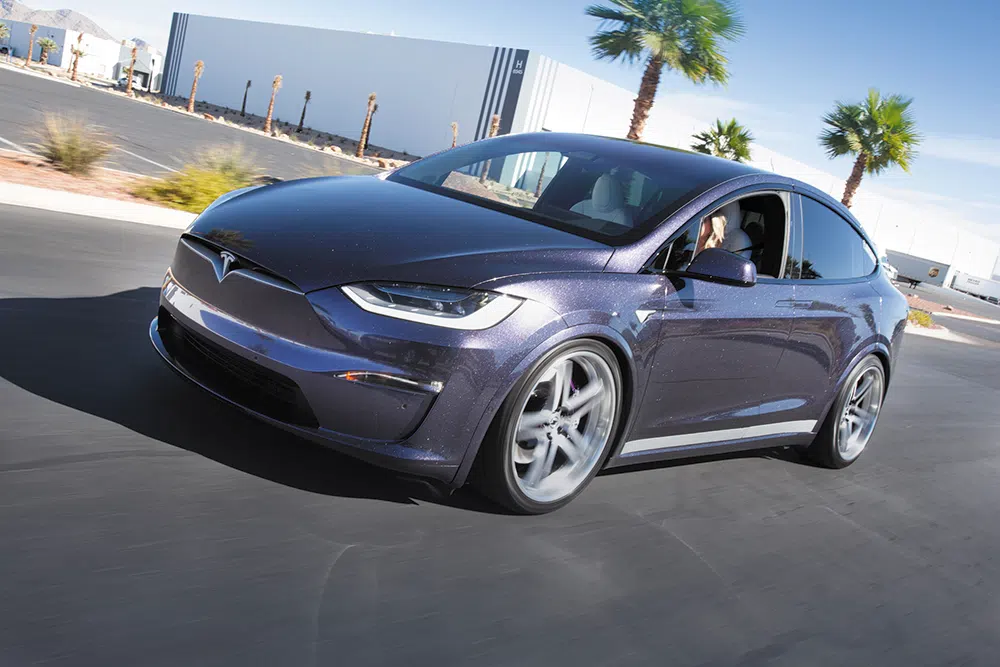 But Kelli wasn't satisfied with just owning a Tesla Plaid; she wanted to make it her very own rolling masterpiece. So, she took a six-month journey to craft the ultimate Plaid, and let me tell ya: She knocked it out of the park.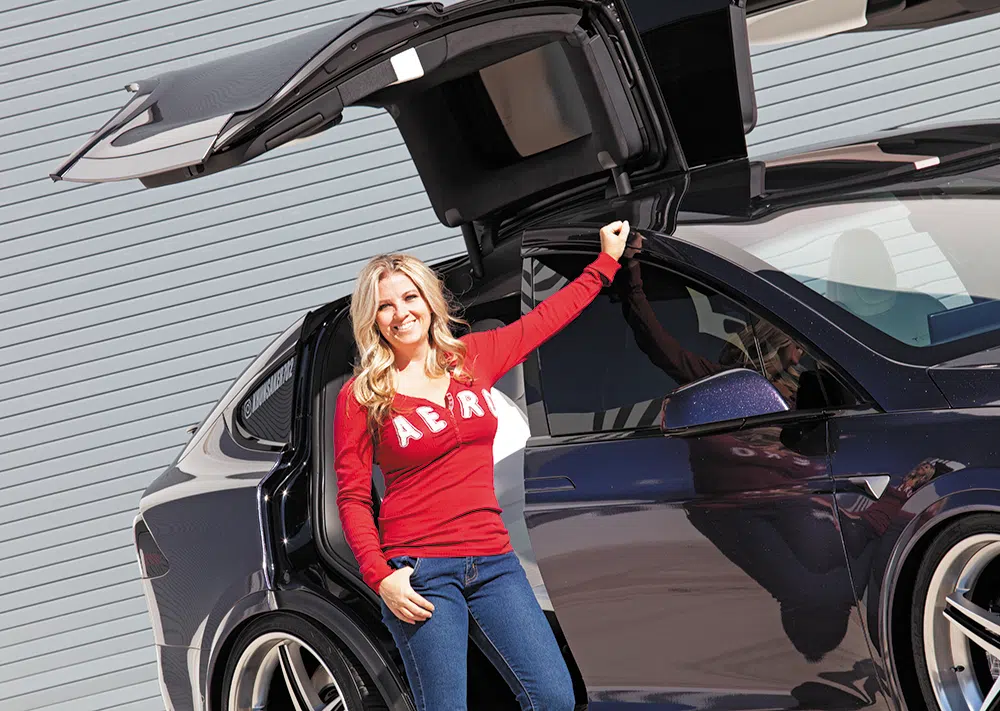 "I've been in the custom car scene for 25 years now, thanks to my hubby Brett who's had a lifelong love for customizing cars and trucks," Kelli says. "Through all the car shows, meets, and cruises I've attended, I've grown to appreciate all kinds of rides and made some amazing lifelong friends."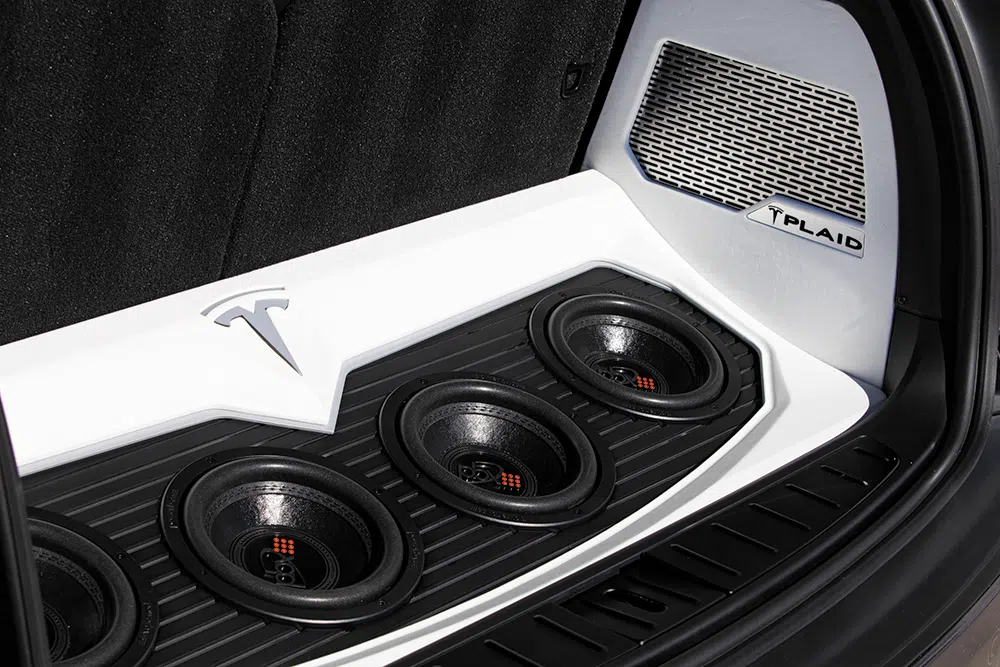 Kelli took the Tesla Plaid to the next level with her $35,000 custom build.
The result? A rolling masterpiece that's turning heads and making appearances at top car events like Tesla Takeover 2022, AutoFest, and SEMA 2022.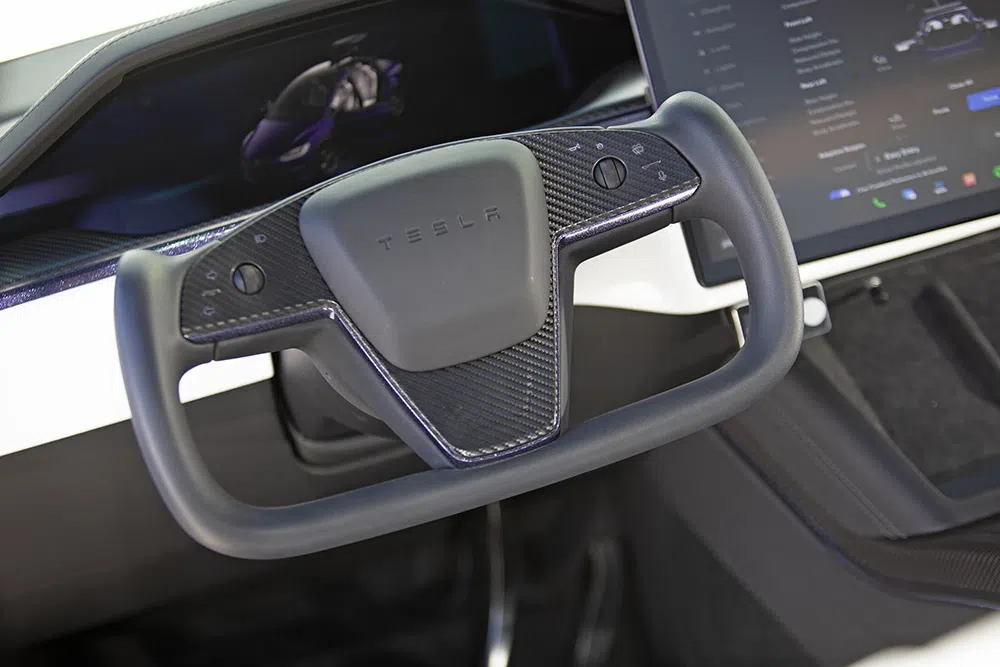 "I wanted to do something unique and be ahead of the curve with the rise of EVs," Kelli says. "And when Tesla released the Plaid Model X, I knew I had to make it mine."
Key Partners
But building a custom Plaid wasn't easy. With all the computer systems and electronics, Kelli faced some challenges. However, with the help of experts like Andrew Evens and MADhouse Customs, she was able to bring her vision to life and create a functional, gorgeous ride. So buckle up and get ready to be blown away by Kelli's NSANE Plaid!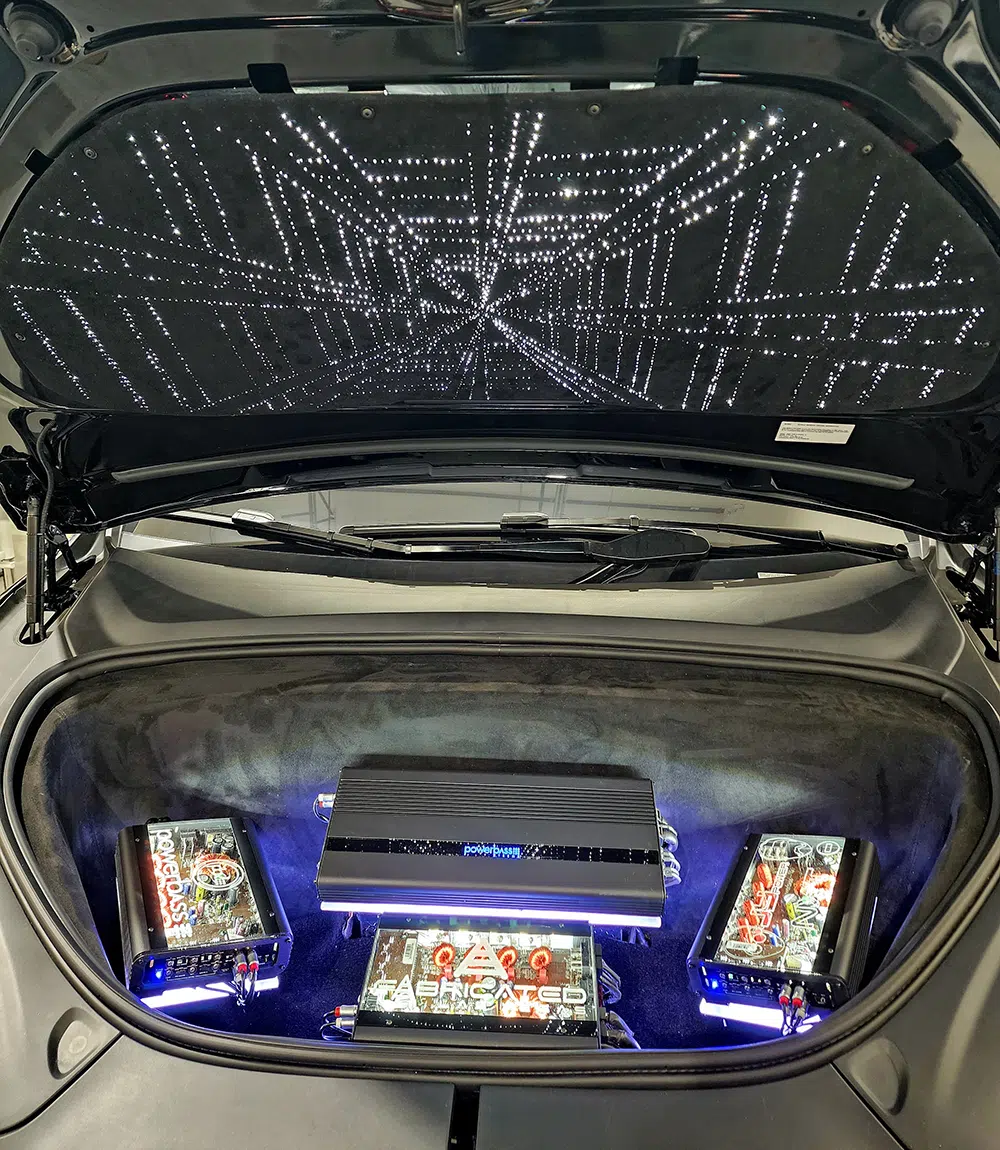 Kelli's Plaid isn't just any ordinary electric vehicle; it's a rolling sound system on wheels! With a stunning Teckwrap Black Cherry wrap and tinted windows, Kelli put her unique stamp on the exterior. But, it was the interior where she really let her creativity shine.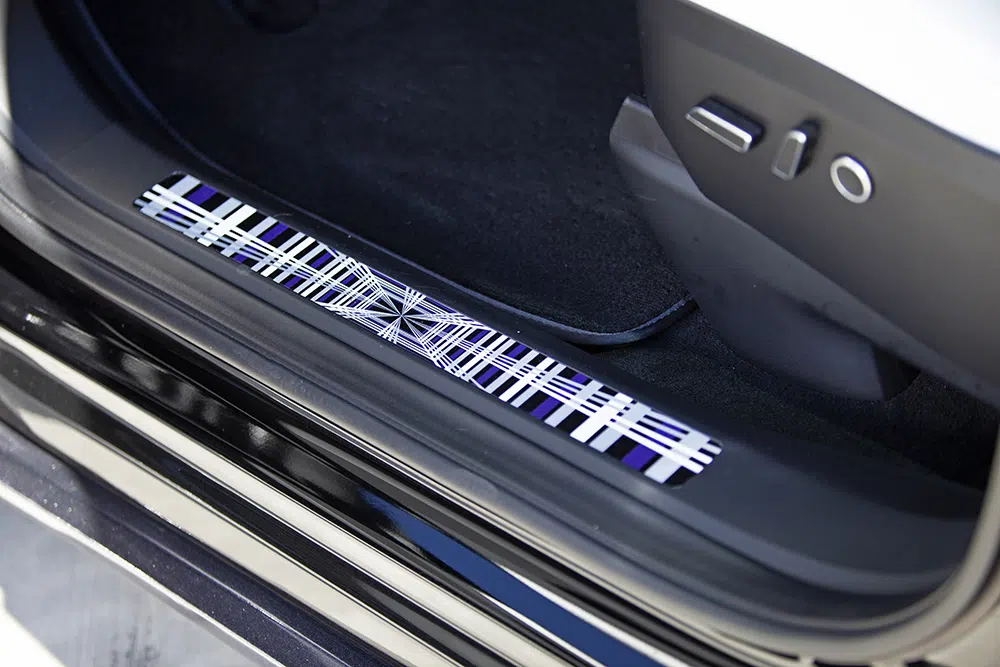 She combined Tesla's classic white vegan leather seats with the yoke steering wheel for that classic look, but when it came to the sound system, Kelli went all out. Andrew Evens at Fabricated LV and MADhouse Customs helped her install a system that packs a serious punch.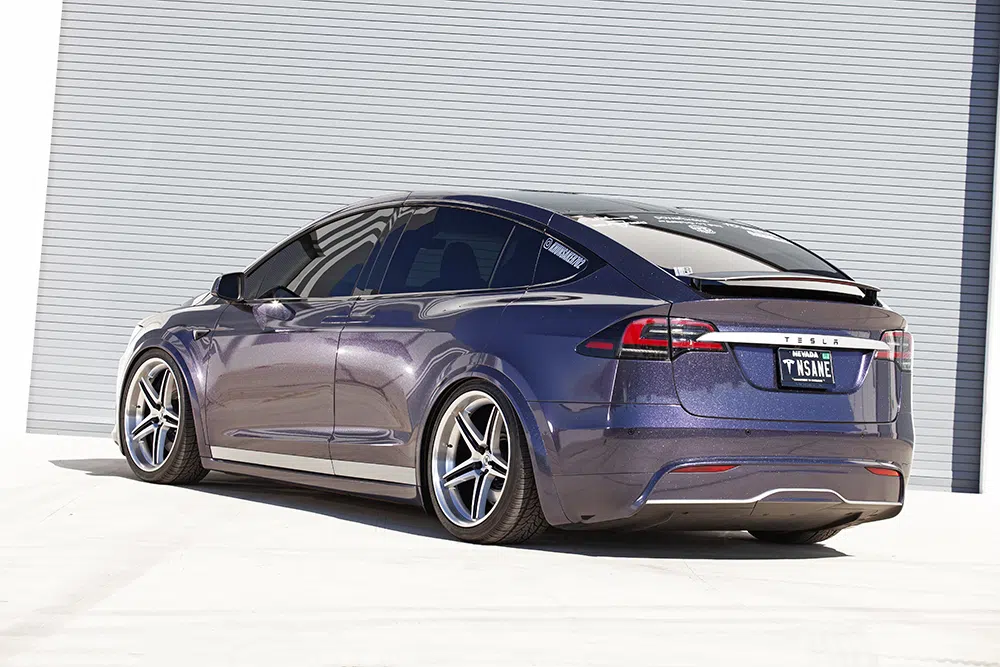 With the limited space in the rear, Kelli went with 8-inch subs and some powerhouse amps, including the PowerBass 3XL-820D subwoofers, the PowerBass XMA-2000D sub amp, three PowerBass XMA-4250IR full-range digital amps, and a Musway Tune 12 DSP. And, because the sound quality was key, she added SoundShield sound insulation.
Air-Ride trick
Turning a Tesla Model S or X into a slammed stunner is no easy feat, but Kelli Hunsaker did just that. With a little magic from N2itive lowering links, a TGK Motoport Tesla Dumpbox, and a touch of wizardry from Andrew Evens, Kelli transformed her X into a head-turning ride that's just as low as it is luxe. To get that perfect drop, Kelli had to work some magic on the Tesla screen, adjusting the suspension settings and putting it in Jack Mode to disable the air compressors. But the end result? A show-stopping, jaw-dropping ride that's the talk of the town.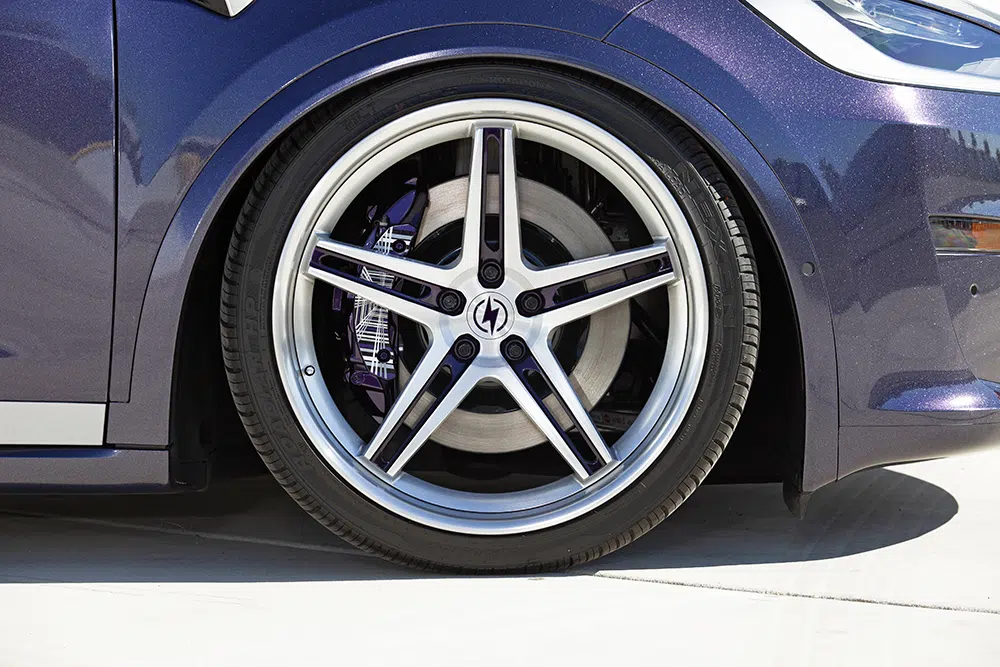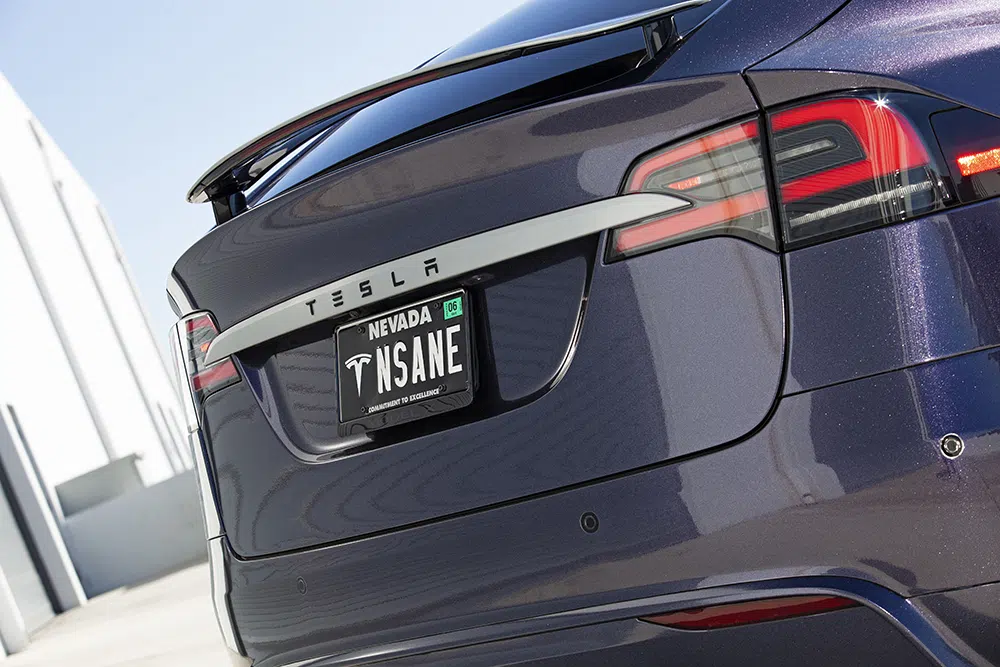 "I wanted my Plaid to be a true masterpiece that appeals to everyone, not just car enthusiasts," Kelli says. "So, I chose a classy and eye-catching color scheme starting with my favorite shade of purple, and added a sparkly over-laminate for a unique touch. I also wanted to incorporate a starry headliner but in a fresh and innovative way. I reached out to FCK Lightbars and found the perfect product to create a colorful Plaid design using 3500 fiber optic strands in the frunk area. It was a week-long project with my friend Andrew, but we pulled it off just in time for SEMA, and the result was worth every second!"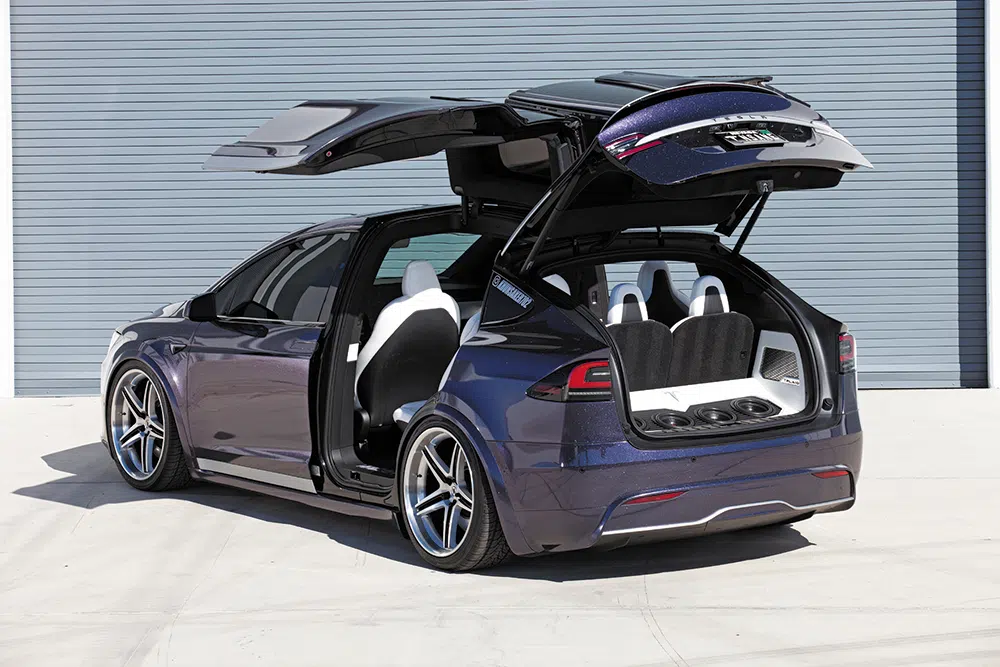 Kelli's first solo build project, which she dubbed NSANE, was a personal passion project that she brought to life with the help of her husband. She had a clear vision in mind and worked with the right peeps to make it happen. And boy, did it pay off! Her Plaid turned out to be a head-turner, winning over even the biggest skeptics of EVs.
Shutting Down Haters
But let's be real. Making this beauty wasn't a walk in the park. Deciding to build it was the easiest part. Kelli had to work hard and overcome some challenges, but the end result was worth it all.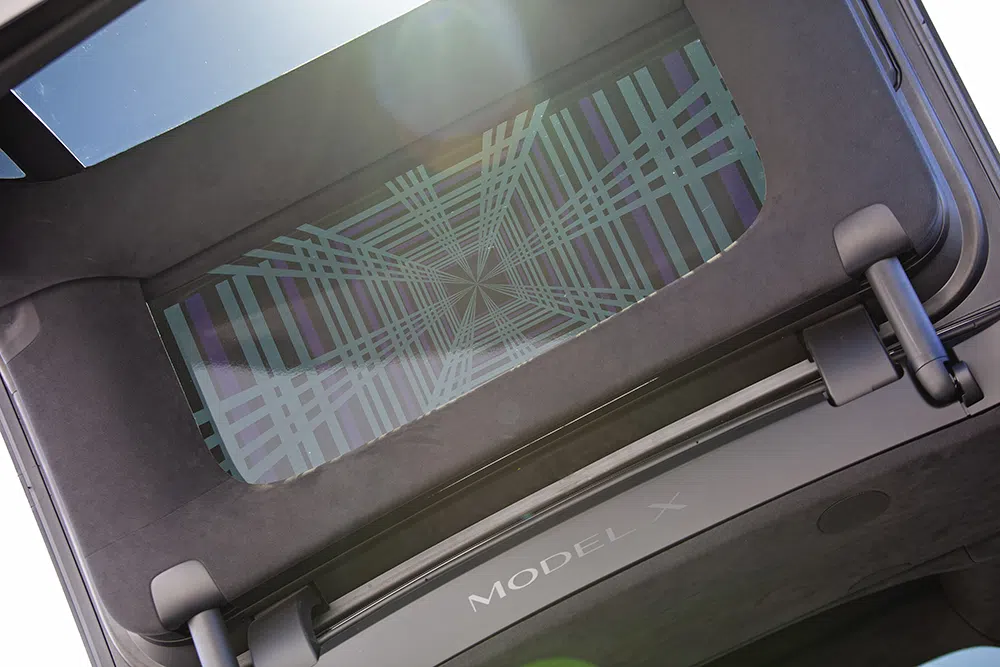 Despite strong opinions on EVs, Kelli's Plaid has converted some haters into fans. Even if they don't fall in love with EVs, they can at least appreciate the hard work that went into the build. Kelli's now itching to get started on her next project and can't wait for y'all to see what she's got cookin'.
Kelli thinks that if you've got the gumption and the right peeps in your corner, you can turn your whip dreams into reality. No cutting corners allowed!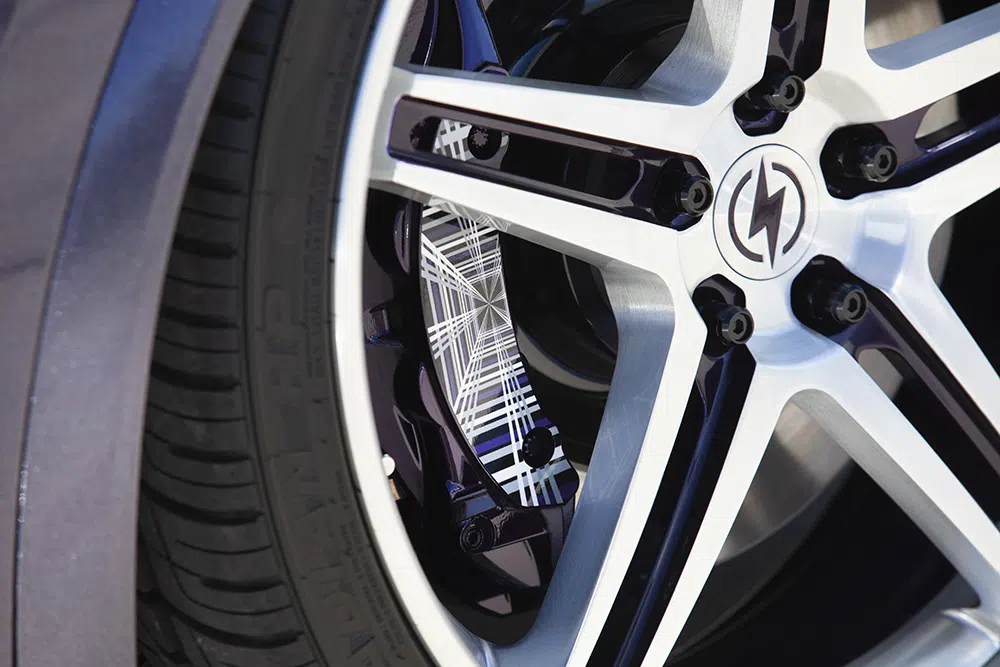 "Why settle for a so-so ride when you can have a sleek, electrifying stunner?" she asks.
And boy, does Kelli know a thing or two about turning dreams into sweet rides! She's thankful to Fabricated LV, MADhouse Customs, Powerbass, FCK Lightbars, JY Power, and SoundShield for helping her build the Plaid of her dreams. So if you're a real estate agent by day and a gearhead by night, take a cue from Kelli and don't be afraid to go all in with your ride of a lifetime.
---
SPECS
Owner
Kelli Hunsaker
Location: Las Vegas
Year, Make, Model: 2022 Tesla X Plaid
Vehicle Name: NSANE
Club Affiliation: Relaxed Atmosphere
Amount of Time to Build: Six months
Cost to Build Without Sponsorships: $35,000 plus the vehicle price
Occupation: Real Estate
Motor & Drivetrain 
Motor Drive Unit Year, Make, Model: Electric 2022 Tri-Motor (Plaid)
Power: 750 Kw
Torque: 1020 Nm
Voltage: 400 V
Max RPM: 23,308
Motor/Transmission Mounts: Stock Tesla
Control System and Software: Stock Tesla
0 to 60 Time: 2.3 seconds
Quarter Mile Time: 9.9 seconds
Vehicle Weight: 5390 pounds
Battery System & Charger
Pack Design: Tesla Modules
Cell Type: 18650 Li-ion cell
Module Manufacturer and Configuration: 500A 6S74P Li-Ion cells modules
Battery Pack Capacity: 100 kWh
Battery Location: Bottom of car
Highway Range: 340 miles
City Range: 311 miles
Charger kW Charge Rate: 16.5 kW AC
DC Fast Charging: 250 kW
Chassis/Suspension 
Installation Shop: MADhouse Customs
Lift/Lowering Kit: Tesla Air suspension with N2itive lowering links and TGK Motoport Tesla Dumpbox
Control Arms: Stock
Shocks: Stock
Wheels, Tires, and Brakes 
Front Wheel Brand, Size, Width, Backspacing: Electric Performance: 22x 9 inches, one-off designed two-piece/two-tone (purple and brushed)
Front Tire Brand and Size: Nexen Roadian HP, 265/35 R22
Rear Wheel Brand, Size, Width, Backspacing: Electric Performance: 22x 10.5 inches, one-off designed two-piece/two-tone (purple and brushed)
Rear Tire Brand and Size: Nexen Roadian HP, 285/35 R22
Front Brakes and Calipers: Tesla w/ painted Calipers in Purple Kandy with custom plaid logo
Rear Brakes and Calipers: Tesla w/ painted calipers in Purple Kandy with custom plaid logo
Gears/Ratio: Stock
Body/Wrap 
Wrap Shop: MADhouse Customs
Color: Teckwrap Black Cherry with 3M Starry Silver over-laminate and PPF
Glass: Tinted all around with Plaid Logo in Falcon Wing ceiling glass
Interior 
FCK Lightbars Starlight Headliner installed in the frunk created by Kelli Hunsaker and installed by Andrew Evens at Fabricated LV
Seats: Tesla white vegan leather
Gauges: Tesla LCD screen
Steering Wheel: Tesla yoke
HVAC System: Tesla
Stereo
Install Shop: Andrew Evens at Fabricated LV
Radio Head Unit: Stock Tesla system
Sub Box: Custom designed and installed by Andrew Evens
Subwoofers: Four PowerBass 3XL-820D (8-inch dual 2-ohm VC 500Wrms/750Wmax)
Amplifiers: One PowerBass XMA-2000D (Sub Amp)—Mono Class D 1400W x 1 (2 ohm), 2000W x 1 (1 ohm) amplifier and three PowerBass XMA-4250IR—125W x 4 (4 ohm), 250W x 4 (2 ohm) full range digital
DSP (Digital Sound Processor): Musway Tune 12
Accessory Batteries: Two JY Power NXT capacitors
Sound Insulation: SoundShield
Other Interior Speakers: Stock Tesla
Sponsors and Special Thanks
Sponsors: Fabricated LV, MADhouse Customs, Powerbass, FCK Lightbars, JY Power, SoundShield
Thanks: Brett Hunsaker, Andrew Evens, Erik Harbour, Travis Young, Relaxed Atmosphere Car Club