The 101st running of the Pikes Peak International Hill Climb witnessed a notable achievement by the Unplugged Performance Tesla Model S Plaid racecar. Referred to as "Dark Helmet" as a nod to the movie Spaceballs, the vehicle completed the hill climb in under 10 minutes, specifically 9:54.901, setting a new record.
What distinguishes Unplugged Performance's Tesla Model S Pikes Peak racer is its retention of the factory powertrain and drivetrain, despite sporting radical aerodynamics and high-performance components like brakes and sway bars. Consequently, in terms of power, the Model S Plaid Pikes Peak racer is relatively similar to other Plaid sedans produced at the Fremont Factory.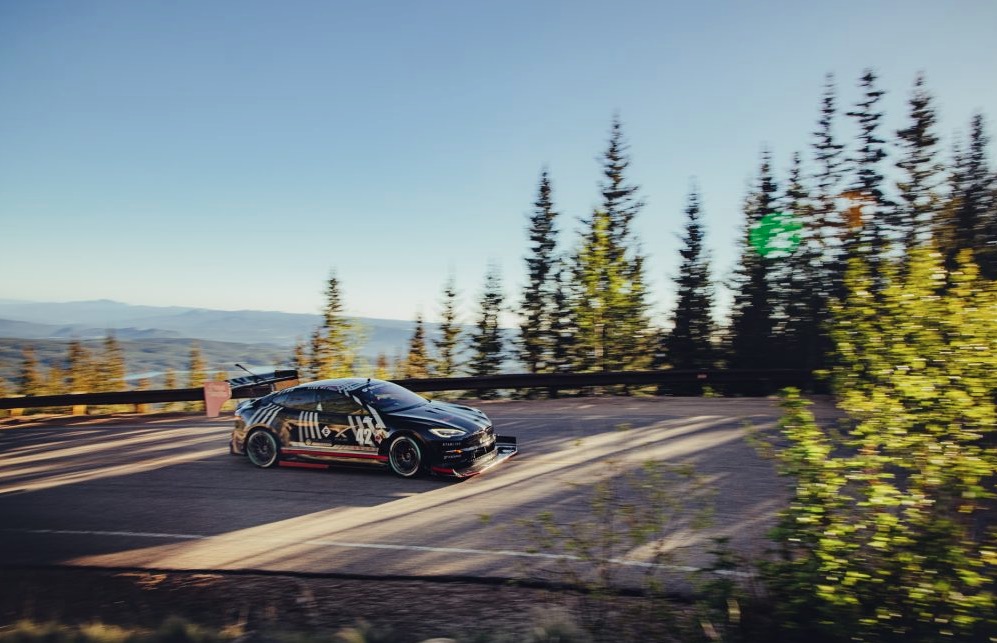 Nonetheless, Unplugged Performance significantly upgraded the vehicle, as per a press release from the Tesla tuning shop. These enhancements include UP x Ohlins TTX 4-way coilovers, billet aluminum adjustable control arms, sway bars, a Superlight Carbon Ceramic Big Brake Kit, and a Carbon Fiber Brake Cooling Duct Kit, all of which contribute to improved performance and control. The car was also fitted with Unplugged Performance UP-03 lightweight race wheels wrapped in Yokohama A005 Biomass tires made from sustainable materials.
Randy Pobst, an esteemed racecar driver with extensive experience at Pikes Peak, successfully navigated the race in "Dark Helmet," completing it in 9:54.901. In his post-event statement, Pobst highlighted the vital role of Unplugged Performance's modifications and the vehicle's tires in achieving this milestone. These upgrades allowed the Model S Plaid to utilize its formidable power during the race fully.
Unplugged Performance CEO Ben Schaffer emphasized the Model S Plaid's inherent nature as a family car, despite its power and speed. Considering this perspective, the successful hill climb of the Model S Plaid at Pikes Peak this year is quite impressive.
Schaffer expressed his satisfaction: "We are thrilled with our success at the 101st running of the Pikes Peak International Hill Climb. Dark Helmet had a class win in 2021 on a shortened race, but to run the full course this year with our fastest qualifying time ever and set a modified production EV record is a testament to the relentless pursuit of excellence by the Unplugged Performance team."