We Test Legacy EV's Training—and Start Buildin'!
 The Legacy EV In-Person Training is an excellent solution to the pressing issue of workforce development in the EV industry. With the popularity of EVs among OEMs and aftermarket builders, it was a matter of time before the world would need a trained workforce to service and repair these vehicles. Furthermore, as EVs began to earn more than a 5% share of cars on the road, it was clear that the world would soon need skilled technicians who could repair high-voltage machines.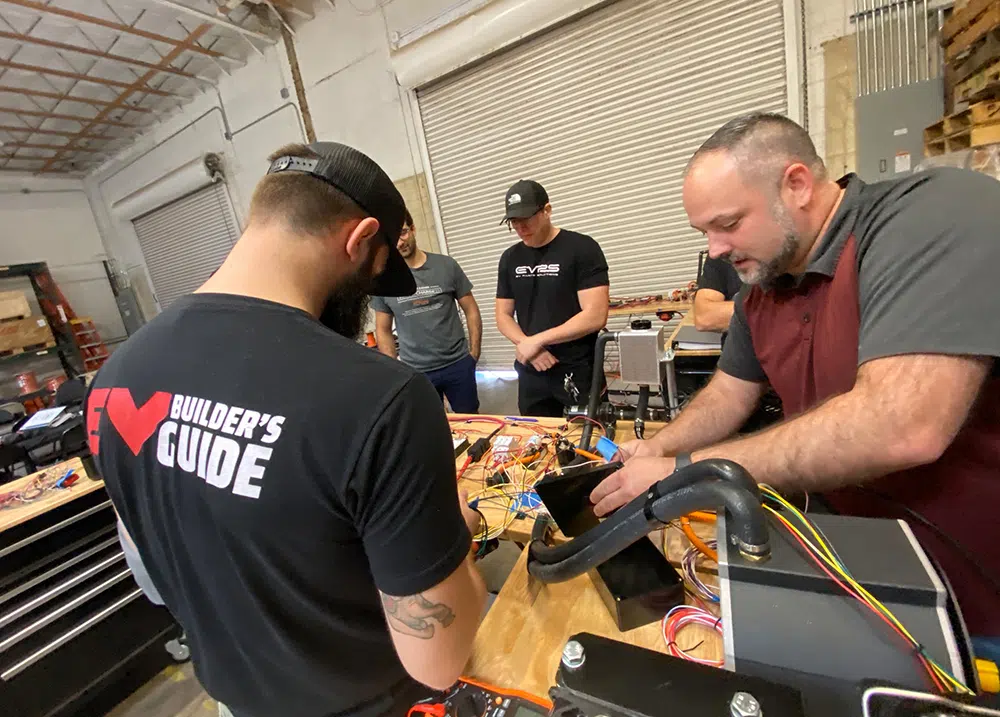 However, the answer to the questionable development of workforce training in the US seemed simple, yet it was taking time to reach the masses. The problems associated with workforce development shortcomings could be attributed to the limited pool of instructors, lack of standards for prerequisite knowledge, no curriculum to support instructors, and the absence of hands-on learning approaches that were not specific to any EV product.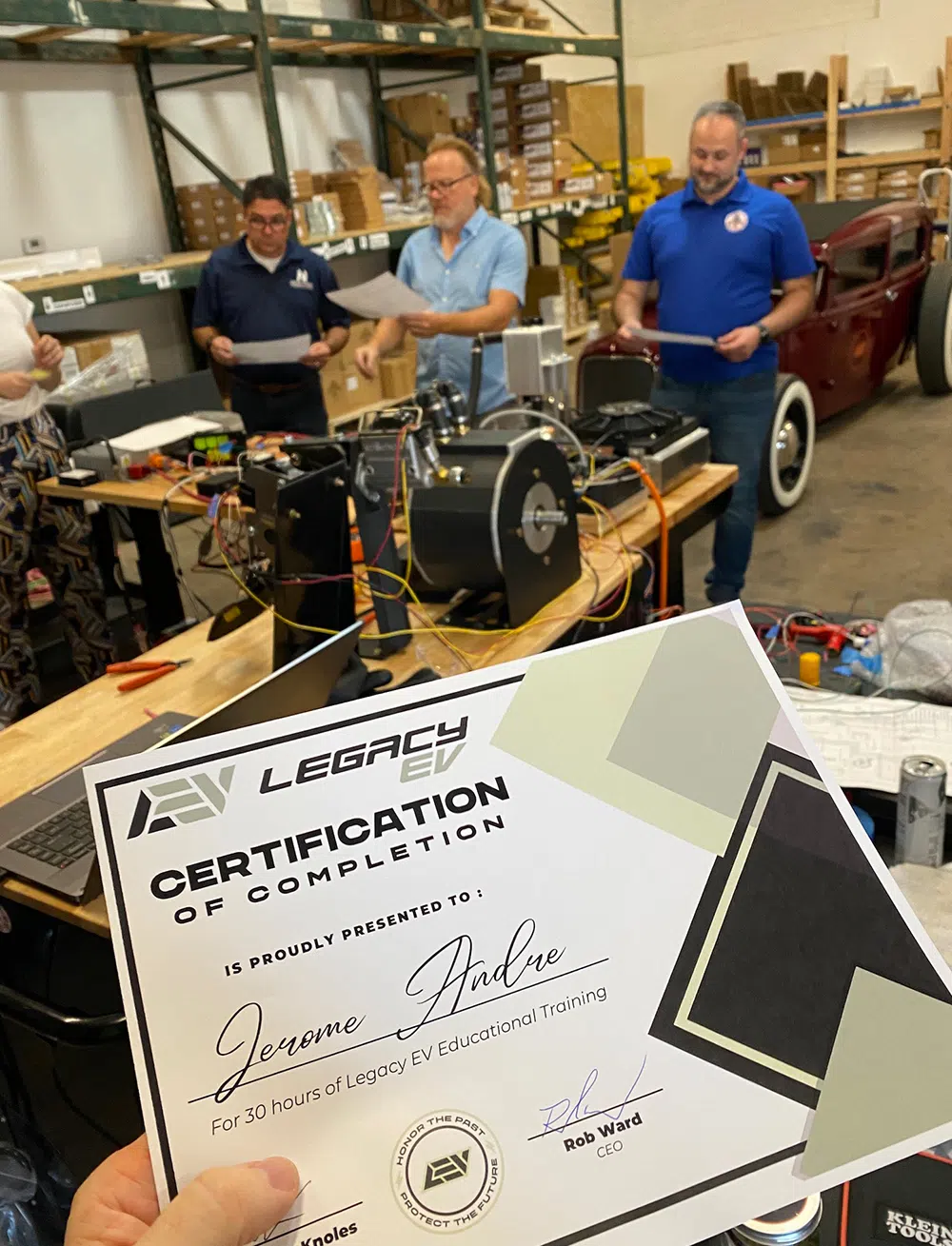 To address these problems, Legacy EV, based in Tempe, Arizona, has developed a solution and will be offering its internationally recognized EV education and training, with the first event happening in Phoenix.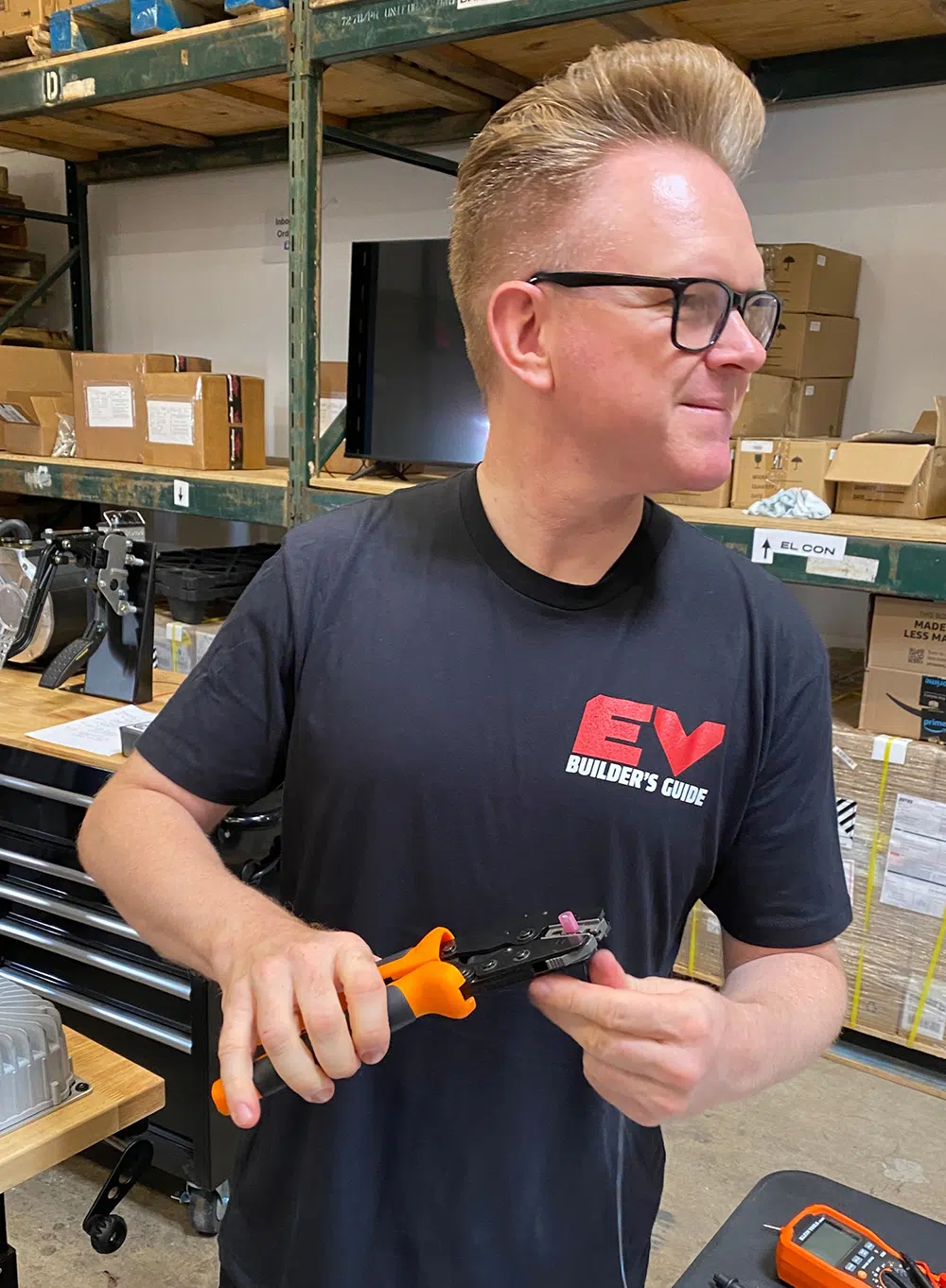 To kick things off, the company invited a handful of EV experts for a one-week intensive training program to test its inaugural EV Education In-Person Training. And we got the opportunity to be part of this panel, revisiting the basics of EV systems and learning how to mount, wire, program, commission, tune a complete EV system, and even practice fault-finding in various components.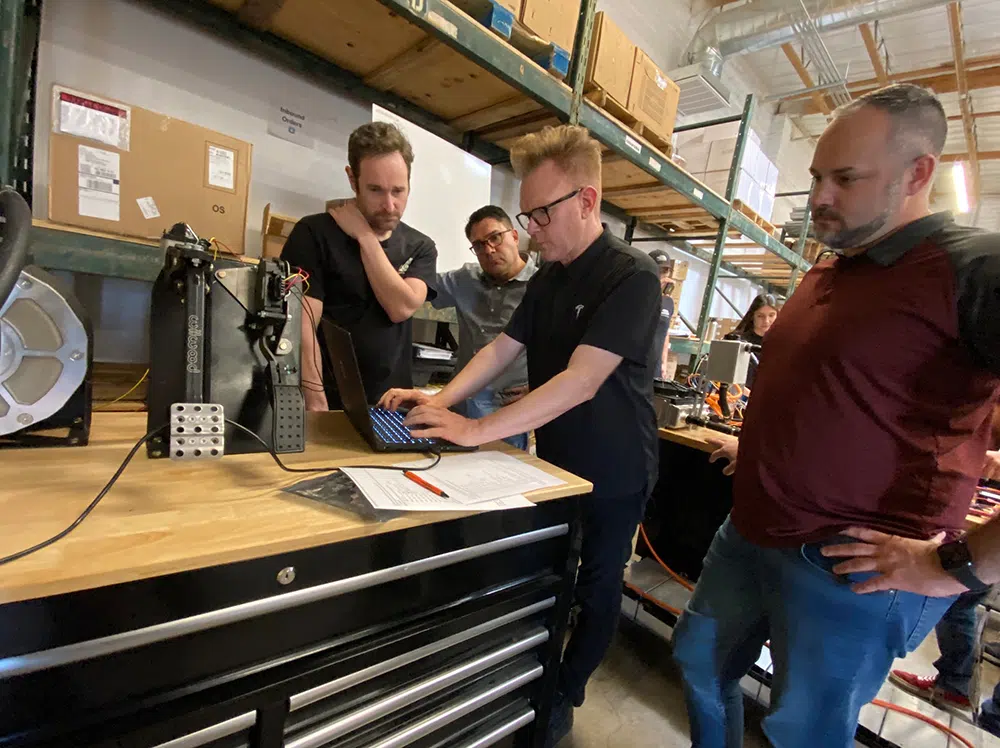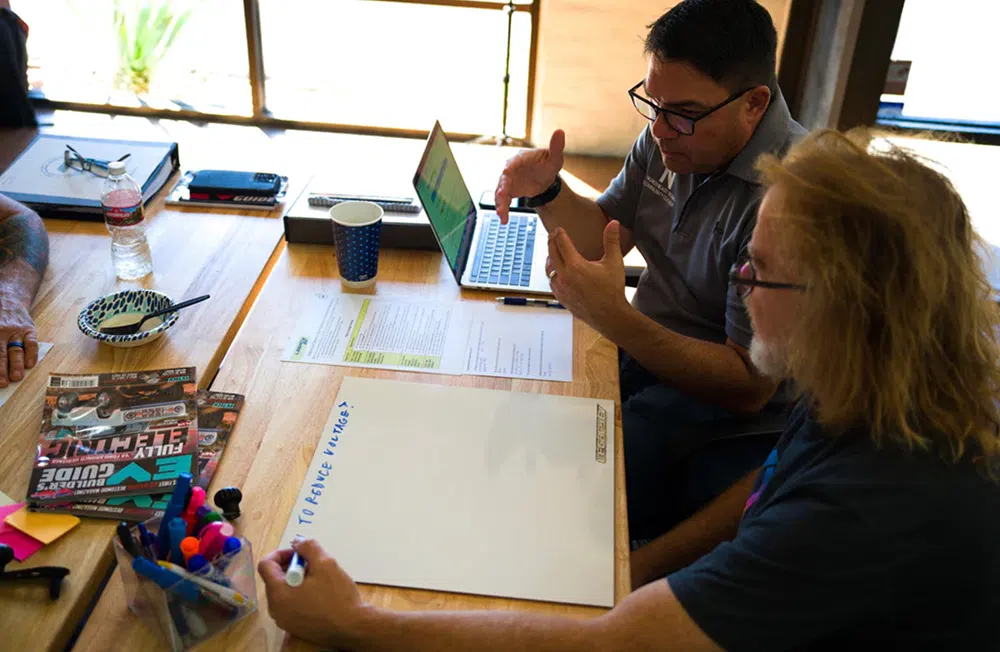 The training is delivered by educators and training experts Baily Hershberger and Tom Santilli, who entirely designed the training and developed the various training rings we worked on. They are basically a complete EV system assembled in a compact bench—high voltage back and all!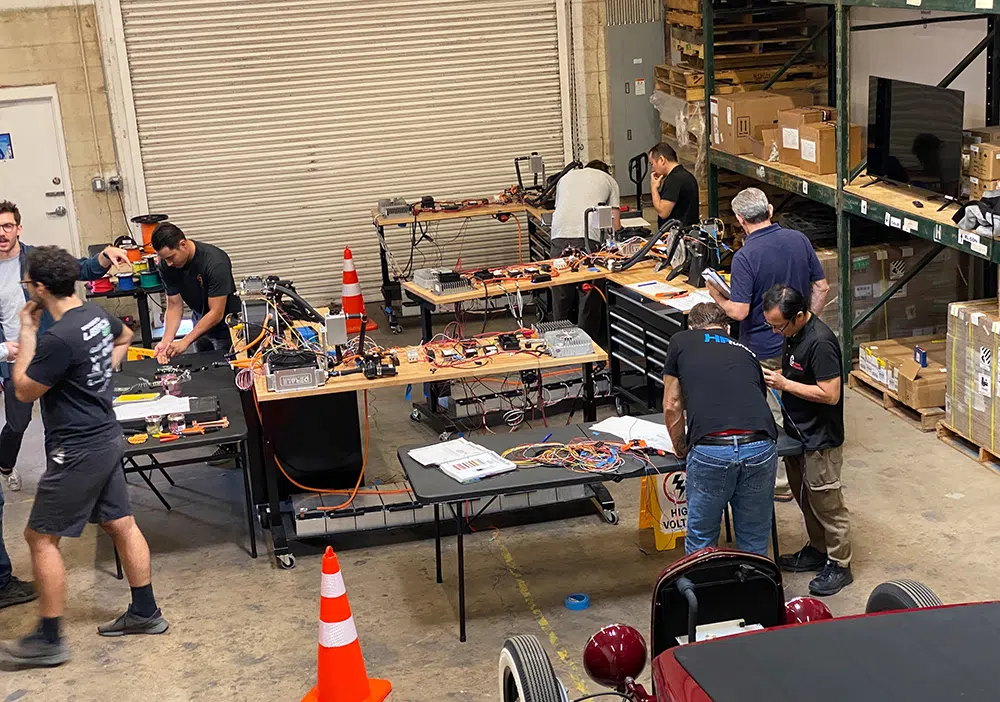 An all-star cast of electric vehicle specialists graced the first session, including Logan Necochea of Vintage Iron & Restoration; Terry Breheny, the mastermind behind the Ωhm on the Range events; Gene Tarantino of Sierra Nevada Hybrid; the dynamic duo of Zachary Strawbridge and Kevin Rose from Northeast Texas Community College; Kevin O'Brien of Good Used Parts; Kelan Barr of Thunderstruck Motors; and the editor of EV Builder's Guide, Jerome Andre. The event was also attended by Hunter Hamstra, vice president of NetGain Motors, and the Torque Trends team, making it the ultimate gathering of the who's who in the EV world.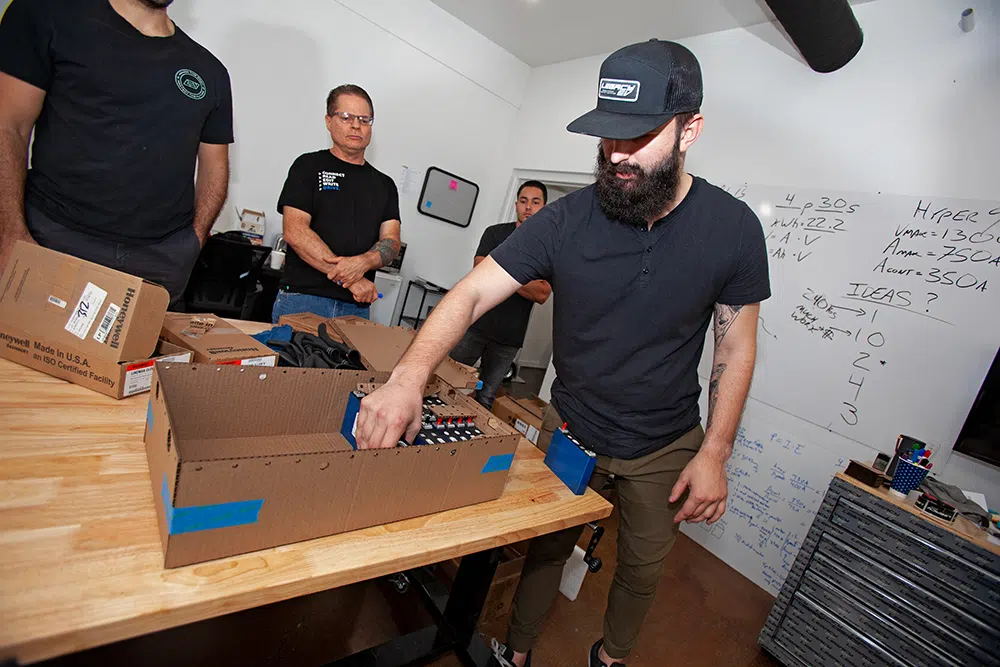 After a thorough debrief and insightful feedback, the Legacy EV team fine-tuned their approach and are revved up to embark on the in-person training to meet with electric vehicle technicians from coast to coast.
Silicon Desert
The in-person training will kick off in Phoenix, where there are 11 different open-for-business or in-development companies in the EV value chain. Legacy EV's goal is to  prepare people in Maricopa County for the new job opportunities in the EV marketplace. According to the Arizona Commerce Authority, the number of jobs in Arizona releated to the EV value chain will increase by 123,779 by 2031. Automotive instructors, shop owners, gas-powered mechanics, and other attendees will not only understand EVs, but also begin down the pathway of becoming EV instructors themselves.
Legacy EV's prebuilt curriculum, comprehensive course standards, and hands-on learning activities will also help these new instructors train and bring forth the next generation of mechanics with expert EV skills and knowledge. The in-person training, combined with Legacy EV's virtual Certified Technician Program, will provide future EV technicians the opportunity to get their hands on products from a variety of manufacturers and learn about EVs from some of the most well-known builders in the EV industry.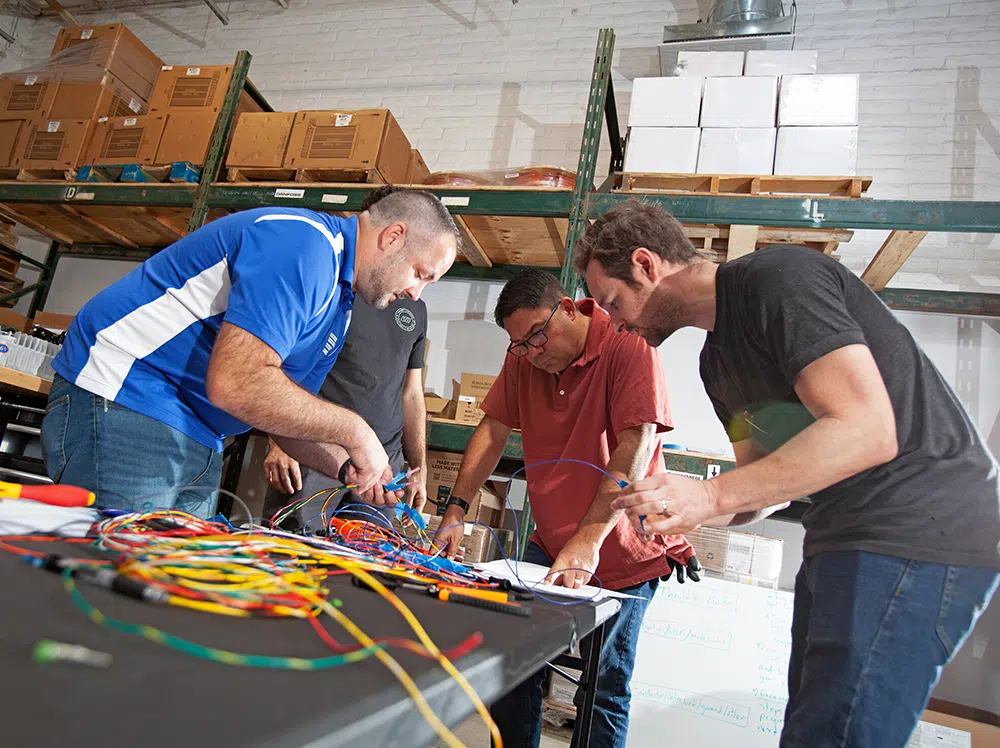 At the end of the one-week in-person training, learners will demonstrate an understanding of safety procedures for working with high-voltage systems, understand the basic electrical circuitry involved in installing a high-voltage system into an electric vehicle, and understand how to properly mount, wire, program, commission, test, and tune an EV system.
Those interested in participating in the training could email education@legacyev.com or visit LegacyEV.com and subscribe to its newsletter.
Day to Day
The first day was dedicated to understanding the history of electric vehicles. The trainers provided a comprehensive overview of the rise, fall, and resurgence of EVs and how they have come to be the driving force in the automotive industry today. We learned about the various EV systems and how they differed from internal combustion engine (ICE) systems and gained a nuanced understanding of how these systems function.
The second day was all about hands-on experience. The attendees were divided into groups and assigned to different stations, each dedicated to a specific aspect of EV maintenance and repair. They were tasked with using Legacy EV's latest educational tool, the Legacy EV bench test, to examine and work with various components of an EV system.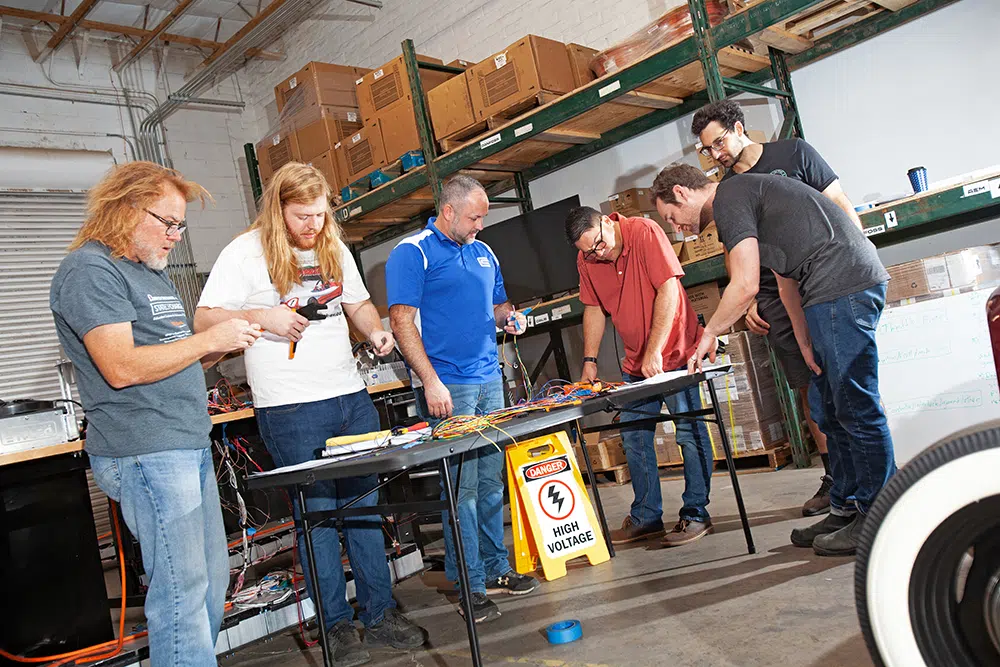 We were able to get our hands dirty as we learned how to mount, wire, program, commission, and tune components in an EV. We also practiced common troubleshooting techniques for EV faults, gaining a deeper understanding of the inner workings of these systems.
The third day was focused on the future of EVs. We learned about the projected state of the EV market and the role we could play in shaping it. We were introduced to the latest tools and components required to build, maintain, and repair EVs and had the opportunity to ask questions and get clarification on any topics that were unclear.
The fourth day was dedicated to getting behind the wheel. Attendees were taken on a test drive, experiencing the latest in EV technology first-hand. They were able to get a feel for the smooth and quiet ride of an EV and understand the benefits of driving electric over traditional gasoline-powered vehicles.
The final day was all about bringing everything together. We came together for a group discussion, sharing our experiences from the week and exchanging ideas on how we could share and use what we had learned.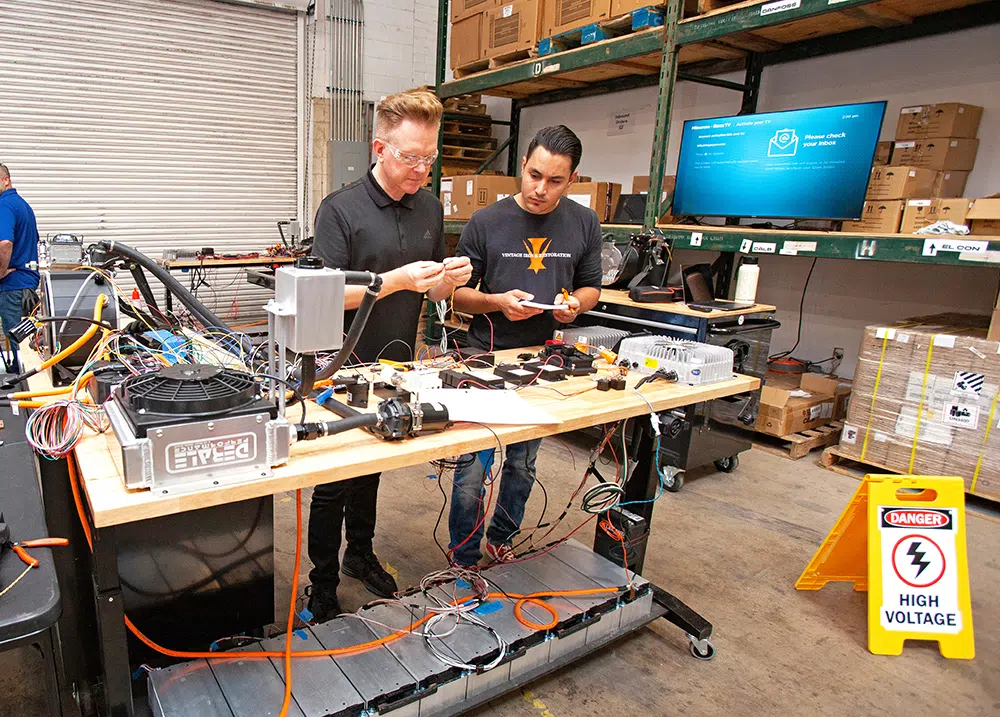 At the close of the week-long event, we left with a newfound appreciation for the electric vehicle industry and the vital role we can play in shaping its future. We gained hands-on experience with the components and skills required to build, maintain, and repair EVs and connected with like-minded individuals who shared their passion for this exciting technology.
The Legacy EV In-Person Training has proven to be a resounding success, providing a comprehensive and hands-on educational experience for those passionate about the EV industry. The transition to EV technology is no longer a question of if or when, but rather how fast it will happen, and the attendees of the training were unanimously ready to be at the forefront of that change.
---
The Daily EV Scoop
The Legacy EV In-Person Training is Packed with Electrifying Education!
Here's a sneak peek into what a typical week looks like:
Day 1: Get to Know Your EV 
9:00-9:30 am: Take a spin around Legacy HQ
9:30-11:00 am: Get up close and personal with the anatomy of an EV
12:00-2:45 pm: Learn the ins and outs of electrical theory and circuit creation
3:00-4:00 pm: Brush up on EV safety and understanding loads
Day 2: Assemble and Connect 
9:00-10:00 am: Mounting components like a pro
10:15-12:00 pm: Pinpointing and wiring up the works
1:00-3:00 pm: Wiring up the bench and putting it to the test
3:15-4:00 pm: Evaluating your handiwork
6:00-8:00 pm: Building teamwork and collaboration skills during after-hours instruction
Day 3: Power Up and Program 
9:00-10:00 am: Get a grip on gear ratios and reduction
10:15-12:00 pm: Transmissions in EVs: shifting gears
12:00 pm: Refuel with a tasty lunch
1:00-2:30 pm: High-voltage battery fundamentals
2:45-4:00 pm: Designing battery boxes like a boss
6:00-8:00 pm: Building your instructor tool kit during after-hours instruction
Day 4: Data, Debug, and Dinner 
9:00-10:45 am: Program your MCU using the command line
11:00-12:00 pm: Other programmable components to keep your eye on
12:00 pm: Recharge with a delicious lunch
1:00-2:30 pm: Data-logging your system and analyzing the results
2:45-4:00 pm: Data-logging in practice: measuring RPMs on the bench
4:00-5:00 pm: Take a tour and see what's next
5:00-7:00 pm: Celebrate the week with a Legacy dinner
Day 5: Troubleshoot and Top Off 
9:00-10:00 am: Spotting and fixing faults in the system
10:15-12:00 pm: Putting troubleshooting skills to the test with real-life faults on the bench
12:00 pm: Fuel up with a final lunch provided by Legacy
1:00-3:00 pm: The Top-Kart programming design challenge and exit interview
3:15-4:00 pm: Closing and looking ahead to the next steps.
---

The training program comprises 20% theoretical learning, 30% direct instruction, and 50% hands-on practical experience.

As the popularity of the in-person training increases over the year, Legacy will expand its reach by becoming instructors at local community colleges and junior colleges.