If you're reading this guide, there's a 99% chance I'm preaching to the, ahem, converted. EVs in general have faced a significant, yet unfounded, backlash over the years. But the EV revolution has tremendously changed the game in the last 24 months, with substantial EV adoption worldwide.
That said, die-hard motorheads did not initially show the same excitement for anything powered by electrons. But witnessing the sheer number of fantastic conversions introduced at the last SEMA Show, there is no doubt enthusiasts and, consequently, the aftermarket world, are finally embracing retrofitting and EV modifications overall.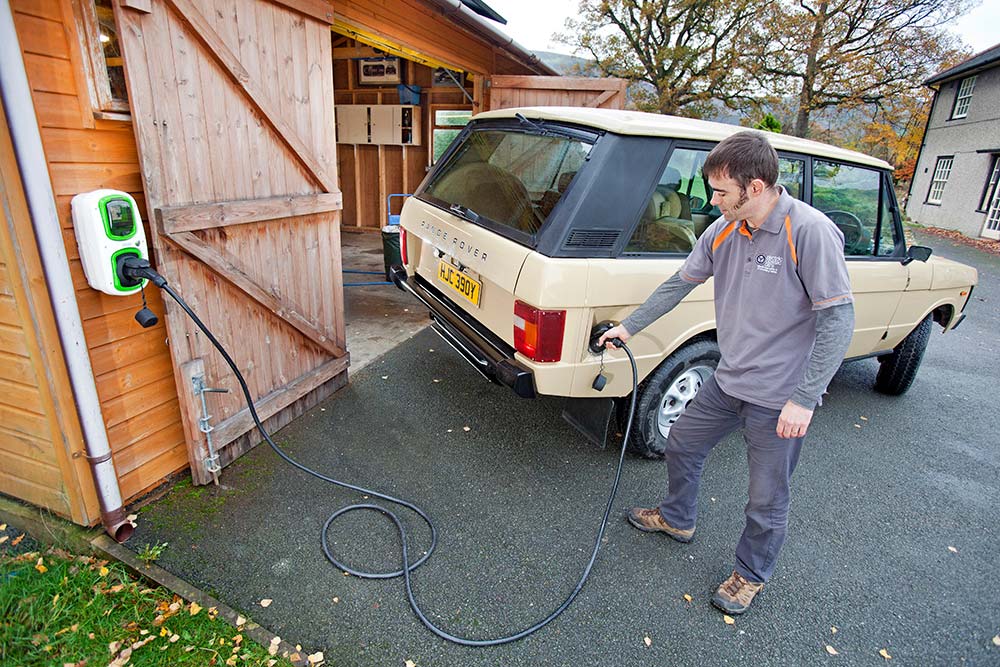 To the naysayers attempting to prove to the world that EVs in general and retrofitted classic cars are a calamity and cannot be exciting or fun, well, guys, I've got two things for you. One, try it before you dismiss it. Isn't your affection for big V-8s unswervingly linked to your quest for ever more torque and more power? Well, I've got news for you: Nothing beats an e-motor at this!
I have only ever experienced exhilarating fun with retrofitted classics and modified EVs. I have been off-roading in a fantastic classic Range Rover on sublime (if very wet) tracks surrounded by wind turbines in Wales in the U.K. What a blast it is to crawl over mountains in absolute silence. Ironically, wind power recharges the Range Rover via the local grid, if it is not charging from the rooftop solar panels and fixed energy storage system. Talk about having fun while having less of an impact on the environment.
On the opposite side of the EV spectrum, last week I ran hot laps near London in a specially prepared Tesla Model S P90D Ludicrous. The best part is that you can also drive this lowered, big-braked missile on slick tires (DriftLimits.co.uk). The P90D is a rocket right out of the box, and it will embarrass most supercars. But thanks to basic mods and girthy tires, this gave me the most fun I've had in a long time on a racetrack—while potentially having a quiet conversation with four passengers if I wanted to. Madness!
I anticipate the hot-rodding side of the EV revolution will equally cover retrofitting and production EV modification and upgrades. For the latter, I am not simply talking about body kits and wheels, but eventually full-on tuning and even retrofitting better-performing motors in production EVs. In fact, it is already coming—more about this soon…
The retrofitting quest started the day the first EV crashed and someone saw the relevance of taking its guts out. The Performance EV modification craze began when the second modern production EV came out. We are at the beginning of an exciting EV hot-rodding revolution, and I am excited to share more about it all in these pages.
The promise of EV even more intimately.
The fact that the aftermarket industry and modifying scene have embraced retrofitting so quickly shows how far the EV revolution has come.
"The EV space is growing but right now is the best time to be there because it's early," Maverick says. "That's why we love the idea of rolling out EV Builder's Guide and establishing it as the definitive magazine for EV builders. We're increasing everyone's access to EV conversion training and products."
About Jerome
Jerome Andre has contributed to Hot Rod, Muscle Car, and off-road publications and TV shows since the late '90s. For the last six years, he has followed his passion for EV tech and consulting for EV and Legacy manufacturers.