Legacy EV's All-Electric '71 C10
In a scene dominated by LS engine swaps, the custom truck community has very few attention-commanding motor upgrades, though the tried-and-true 350 or something along the lines of an LT mill are readily available and reliable. Of course, builders can find other alternatives to these selections, but many have disregarded one particular path as a legitimate source for power and torque—electric!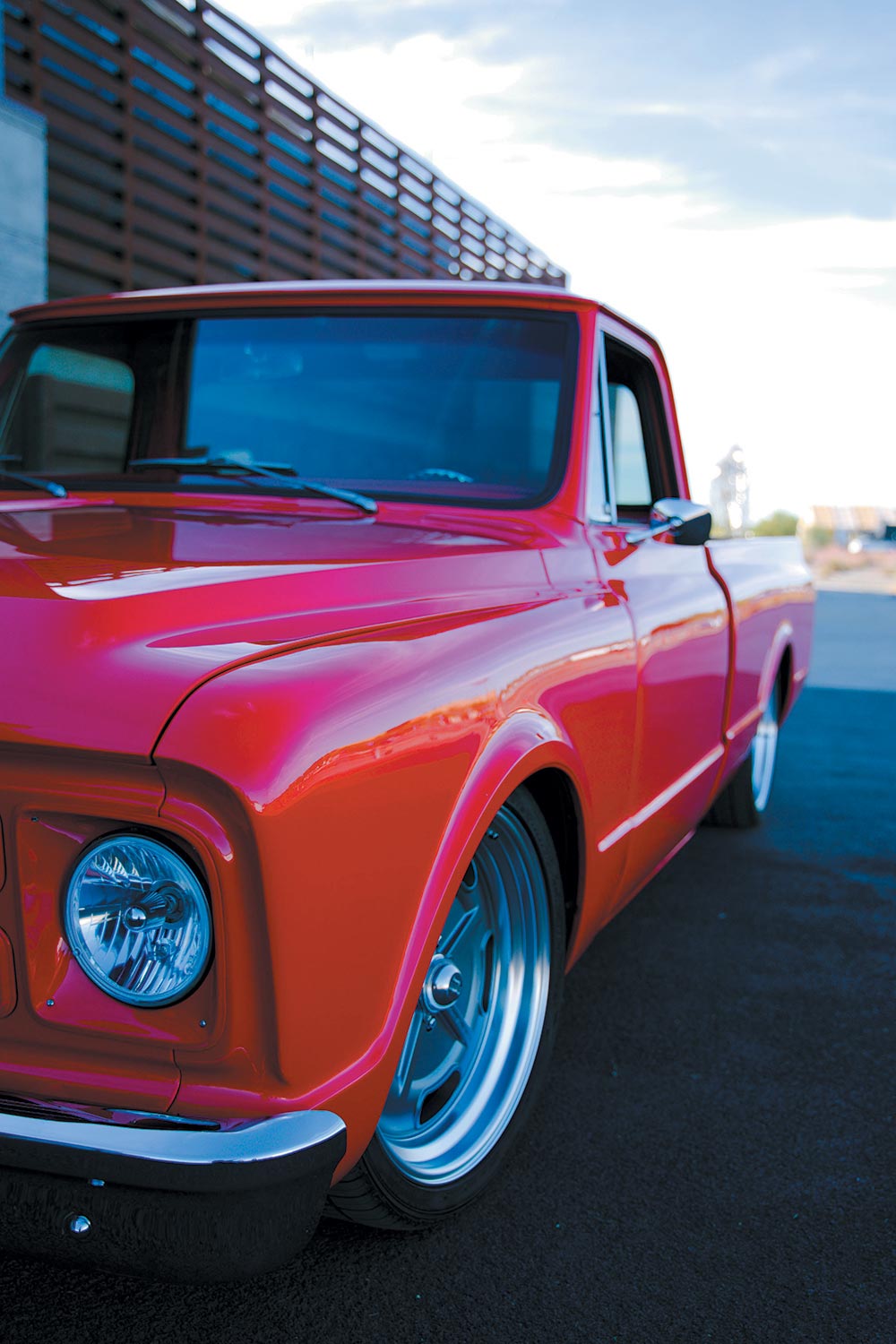 That's right. It is possible to build and drive a truck without a gas-guzzling engine underneath the hood. All we needed was for someone to come out and prove to us that assembling the parts and fabricating the install is feasible, even though the entire process may still sound as foreign as building a spacecraft.
But have no fear! Wait to cast any and all doubts until after you take a good look at what has been made possible in the wonderful world of custom pickup trucks.
Enter Legacy EV
Robert Ward is a car guy through and through, and while he can appreciate the magical scent of high-octane gasoline, he also appreciates the fact that the appeal of electric vehicles is still not far off on the distant horizon—it's here now. Consumers are ready to climb aboard the next phase of transportation as seen in the rise of non-gas vehicles such as Tesla and other offerings from major auto manufacturers. What Robert hopes is that builders and customizers will be the next ones to hop on the trend as well.
But hopes and dreams aren't all he is banking on. Robert has gone all in as CEO of Legacy EV, a distribution company that specializes in converting gasoline-powered cars and trucks into modern electric vehicles. And to get the show started, he has set out to create an all-electric, show-worthy Chevy C10 that operates just as smooth as it looks.
"This truck here is one of the first of its kind," he said. "It runs on two motors and has instant torque from 0 RPM. It's a blast to drive and proves that that electric vehicles aren't all slow-moving and boring."
Robert will be the first to admit that putting together the individual components for an electric motor swap can be tedious and is one of the sole reasons a lot of builders haven't yet flocked to this route. To alleviate some of the headache that goes into a job of this nature, Legacy EV is now able to take all the guesswork out of the equation—and it's because of the success of this C10 project that this level of assurance is possible.
"We have a full support team of expert engineers that has helped get our mission rolling," Robert said. "We've gone through the process and know what is needed to mount the electric motors and how to get the gearing right. Actually, the conversion is a lot less work than you'd think, as it gets rid of about 3,000 existing components and then only installing about 36 electric ones."
Shifting into EV
To get the non-gas-powered ball rolling, Robert took the C10 to Ridgefield, Washington, where his other venture, Old Town Autos, is located. OTA is a full fabrication and restoration shop that Robert oversees, which made for a smooth ride during the course of the electric C10 build. It was there that the majority of the work was done to the 'ol Chevy. From the engine conversion to the air-ride suspension, interior, and body and paintwork—it was mostly all done in-house.
Now, the first thing that sends folks for a loop with the electric motor conversion is the engine bay. It currently sits empty and has been carpeted and finished to serve as a trunk. The components that power the truck now take up residence underneath the custom flush-fit fiberglass bed cover. The concept is different, we will say that about the conversion, but it works, and that's all that matters.
This '71 C10 is powered by two 2020 NetGain 3-phase electric motors, complete with a Legacy EV 3.1 kit to make the conversion possible. While this information might not mean much to many people out there at the moment, hopefully it will start to hold more value and actually click to more customizers out in the field. The LS1 wave took time to build into what it is today, and in some respect, Robert is hoping the same will happen with the rollout of easily accessible electric setups.
These types of systems have come a long way, and there are still plenty more variables to work out based on the many specific needs from individual builders. Robert's truck, for instance, isn't currently outfitted with an air conditioning system, but it can be done, so he might add it later down the line since he'll be making the permanent move down to Arizona where Legacy's HQ is located. All-wheel-drive is a feature that he gets asked about quite often, and that can be accomplished with the addition of a third motor.
And while electric motors generally run almost silently, enthusiasts who are used to the rumble of heavily modified combustion engines may feel like something vital is missing. Even though this C10 is able to roast tires like a beast, it is a different type of beast that needs some time for truck fans to understand what it is, and what it isn't, and Robert fully acknowledges that.
Conversion Complete
Even though Robert and his team can boast about being one of the first in the C10 community to successfully pull off a full-electric motor conversion, other underlying reasons have fueled the project. Legacy EV's mission statement plainly encourages honoring the past while protecting the future, which directly translates to equating an electric-powered vehicle, new or retrofitted, to a sustainable, climate friendly necessity.
To help others get there easier with their car or truck of choice, Legacy offers its expertise in selecting and delivering the correct components required for a complete conversion during one conversation, rather than having to spend months acquiring piece by piece from different sources that may or not jive well together.
"We understand that there are enthusiasts out there who have been trying to convert vehicles over to electric but have been discouraged by one thing or another, but we're here to turn that around," Robert said.
From parts, support and all-important peace of mind, Robert, along with the rest of the Legacy and Old Town Autos teams, are looking to play a crucial role in developing the new wave of custom EV builders. An alternative solution to fuel that works does exist, and while the demand may not be overwhelming at this very moment, all trends in the industry point to things picking up sooner rather than later.
SPECS
Owner
Robert Ward (Legacy EV)
Engine
Shop: Legacy EV
2020 Netgain 2x electric 3-phase motor
Legacy EV 3.1 engine swap kit
2020 Torque Trends transmission
'73 C10 12-bolt rearend
Chassis
Air-ride components added to factory frame
Front and rear 'bags
Air Lift Performance manifold
Wheels, Tires & Brakes
20-inch American Racing Salt Flat wheels
Falcon tires
Wilwood dual master brake pedal
Exterior
Red paint
Custom flush-fit fiberglass tonneau cover
Interior
Bench seat covered in tan leather upholstery
Dakota Digital instrumentation
Billet Specialties 14-inch steering wheel
JVC stereo system
Custom center console w/ battery management display, heater controls and cup holders