In 2018 David Lorenz scribbled down some ideas for a new business venture. He wanted to identify different vehicle types which he could convert to electric. This is how retrofit specialist Lunaz started, as Rod Kirkpatrick report.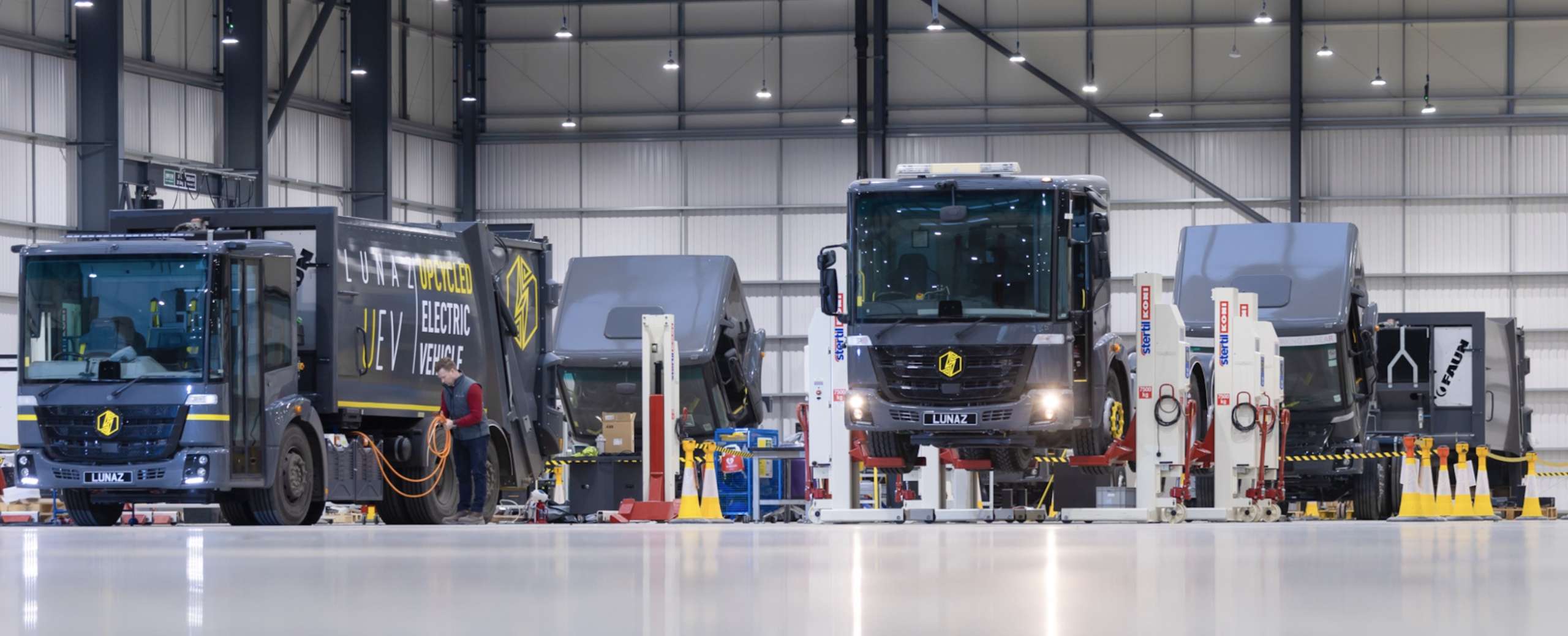 "I drew a spider diagram for electric power trains – it included classic cars and bin lorries!" he chuckled.  Wind the clock forward and Lorenz, the founder of Lunaz, has now filled a huge factory space, yards from the Silverstone circuit in Northamptonshire, UK, with a state-of-the-art production line where the most exotic and premium British classic cars are being electrified and re-imagined into very expensive works of automotive art. Rolls Royces, Bentleys and Aston Martins share the space with Jaguars and Range Rovers. Each car is stripped to bare metal before being rebuilt and given its new 21st-century power-plant.
The company has just moved into a second 140,000 sq ft warehouse next door. This is where Lunaz is giving the same treatment to a fleet of six-year-old 27-tonne Mercedes thrash collecting trucks or 'bin lorries'. Lorenz continued: "We're among the UK's fastest-growing companies; we've raised thirty million pounds in investment and have a unicorn growth trajectory.
"We are now going to market with lorries which are better for the planet and the taxpayer and are functionally better than when they were new. More than 80% of embedded carbon over the total lifetime is saved when upcycling rather than replacing an existing truck with a new EV equivalent.
Converting trucks to electric also stops them from being shipped abroad to carry on polluting for years to come – we're helping with the circular economy. And for every twenty trucks, one million pounds will be saved by councils.  Our first trucks will be on the streets next year – upcycled and electrified."
"Buckinghamshire Council has already signed a fleet electrification agreement  – they are transitioning their entire fleet to electric over the next ten years. We're also talking to private waste management companies. The first trucks being converted are the same model of diesel-powered Mercedes Econic, all built in 2016. But the 82-strong engineers at Lunaz will adapt other types in the future as they can predict exactly when, how many and which vehicles will come to market.
Most bin lorries come off-fleet on a seven-year cycle with about seventy to one hundred thousand miles on them, but the lorries are good for about a million miles. We don't build one-off vehicles – it takes a year-and-a-half to engineer each development model," explained Lorenz."
"Each truck type is stripped, its components scanned before they can be re-designed, re-built and given their new powertrain. One size does not work for all, so our lorries are tailored around duty cycles – how many lifts they need to do – with plug-and-play modular battery options."
"Our trucks must outperform their ICE (internal combustion engine) equivalent,"

"Lunaz Operations Director Kirk Trewin said: "Recycling lorries are perfect for running electric powertrains as they spend ten to twelve hours resting overnight when they can be charged up with a slow and low-power charge – which batteries like. We fit them with a large 370kW motor which will take them to 62mph – in service; they'll be limited to 56mph. They also come fitted with an onboard 22kW charger. Each modular battery is 65.5kW – and we can fit six. In service, these trucks can range from four-hundred and to one-thousand-six hundred daily lifts. It's more efficient on the shorter urban routes to carry fewer batteries – bin lorries are one of the few commercial vehicles that get heavier as they route. Lighter batteries mean increased payload and more efficiency."
"If a vehicle is designated a new route, we can easily add or remove batteries. Our lorries are installed with the latest tech too, with cameras for wing mirrors, an updated dashboard and 360-degree cameras with pedestrian and cyclist detection. We've also improved over the original trucks with a comfier middle passenger seat and brass – rather than poly – bushes fitted to some of the moving parts on the Faun Zoeller body. They're also fitted with a regenerative braking system and a ZF transfer gearbox with high and low ratios to filter power to the rear axle.  This is fitted over the front axle – where twenty-per-cent of the weight needs to be to stop the truck wheelieing when it's fully loaded."
Info: https://lunaz.design